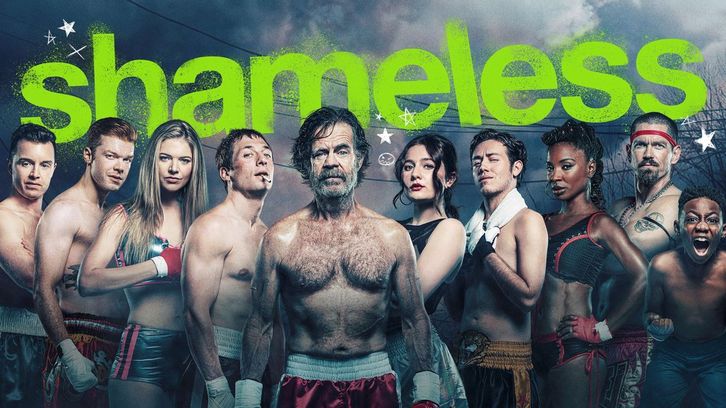 After the punching of a little girl in "Fugees", this week had the punching in the face of an old man. Why not? "The Church of Gay Jesus" was pretty great. The storylines were interesting and the dialogue captivating. There was sad, there was funny and there was some bat shit crazy. So all in all, this week's Shameless was an incredibly well rounded episode, where all the characters were back to their prime.


"What is the point in smiling?" - Svetlana
For one, I couldn't be happier that Kev and V are back to being nice. The dominance and hating on Svetlana had overstayed its welcome. After breaking down in front of them in last week's episode, Svetlana reluctantly accepts help from the couple: sugar daddy hunting on the internet. She definitely one of the most underrated characters on this show. This led to a great dynamic between the three of them and made way to some hilarious scenes. Despite still not being on her A-game, at least Svetlana isn't alone anymore; there is only so much one can handle.
Lip is also in a downward spiral, but I was happily surprised to see that he didn't revert back to drinking. He reverted back to breaking a bunch of shit, but it's still hell of a lot better than drinking. His storyline though, was so depressing; it was seriously bumming me out. That's not necessarily a bad thing though. There visibly was a darker hue to his scenes and there was a lot of emotion being transposed in these moments. The bus ride following his finding out that professor Yohens was dead had my poor little heart in a knot.
I just wanted to give him a big hug.
"I think I'm too angry to keep it." - Lip
After meeting professor Yohen's estranged daughter and realising at his memorial that maybe, just maybe, he wasn't all that special, Lip wasn't feeling his best. Everything he wanted to say had already been said and he had a hard time dealing with that. I thought it was a perfect portrayal of this flawed individual.
On another note, Fiona's newfound freedom did not last for very long. When there isn't some sibling cramping up her style, it's a family of homeless people she feels bad for. She is back to being the kind hearted character we've come to love. I found her somewhat cold and distant for the first part of the season, and I get why she had to go there, that she was finally living for herself, but I missed her selflessness and her generosity. Also, this episode gave some great insight on Ford's character, of how he is as person, and slowly, I think he's growing on me.
Anyone else?
"Ian has a cult. They think he's gay Jesus." - Fiona
So, Ian is gay Jesus and he has followers. That makes sense. He has a lot of followers. They're at his house. They're at his work. They're everywhere. The more I see how Ian acts and the more he looks like he's in a manic phase of his illness. Will we get to witness some extravagant delusions of grandeur? He's all over the place, stretched thin, and even Trevor isn't completely on board with it. I loved that Fiona went to the church to support him even if she didn't totally understand what exactly was happening. I'm a sucker for these types of moments, and they've been too few and far between recently.
Frank on the other hand, couldn't be happier about his son's fame, because it means he can monetize on it, so he can retire.
To think about, it's kind of genius.
Say what you will about Frank, but he knows how to hustle for some cash, and so will Liam by the end of this season.
Debbie's whole storyline this season has been about making money, and this week's episode isn't different. There is not much to say that hasn't already been said. This week, she works night shifts welding when the union workers aren't there. It pays well, but it's a dangerous job, and by the end of the episode, she has a huge pipe fall on her foot. Will they be able to cover that at the free clinic?
I think not
. I smell trouble on the horizon for the red head.
Speaking of trouble… Just when you thought Carl was going to get away with it, and that Cassidy was actually mellowing out, a fake suicide attempt appears. And everything goes to hell. Despite everyone telling him not to go through with it, Carl marries Cassidy. It's not enough that she destroyed all his military uniforms and gifts him of a blood filled necklace, she also fakes a suicide to guilt him into marrying her, and it works. It cannot end well for Carl.
Maybe he's going to need a new identity to get out of this one.
This episode definitely got me excited about the next few episodes! How about you?