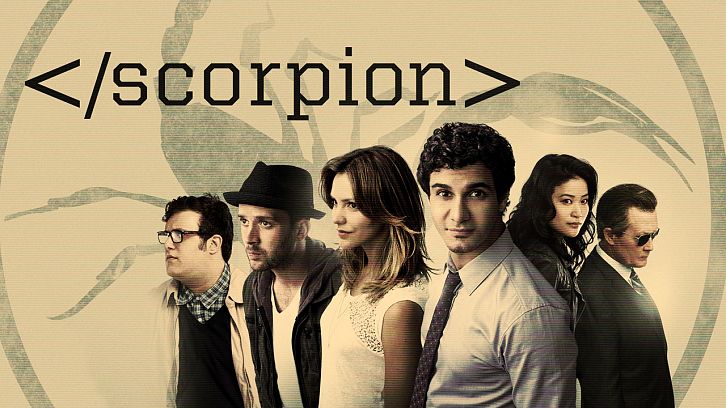 It's Thanksgiving for Team Scorpion, but that doesn't mean it isn't also business as usual. Toby is busy trying to make headway in Cabe's therapy by discussing his childhood memory of his father's death. According to Cabe, his father's death is a non-issue. The police came to the door, informed his mother, and his mother peacefully explained what happened and supported him.

While Cabe and Toby are in therapy, and Paige and Happy are getting ready to start Thanksgiving prep, a very angry Florence appears dragging Ralph by the arm. Apparently, he fell through her vent while crawling around trying to retrieve moths for a Scorpion project. Although Paige has Ralph apologize, Florence doesn't seem the type to forgive and forget.

The moths, which in their worm phase are part of a solution to break up a trash island in the Pacific, tip Florence off to an inaccuracy in Scorpion's plans. The binding agent in the solution only has a 93% chance of working. "Lucky" for the team, Florence, as a chemist, has an alternative.

Left without much of a choice about their plus one, Walter, Paige, Sly, Happy, (and Florence!) head out to sea on a rented boat, while Toby decides to stay back and attempt to get further with Cabe. Once at the plastic island, Florence's binding agent solidifies the plastic together, and Walter, Happy, and Florence are able to walk across the mass releasing the worms that will eventually eat the plastic.

Unfortunately, Florence didn't account for the fact that her binding agent includes materials that jelly fish will eat right up. And with a bloom of jellyfish surrounding the mass, the solidified plastic island is quickly disintegrating. In addition, the jelly fish are blocking the engine from turning over, causing Paige and Sly to be unable to move the boat.

Sly and Paige are able to shoot the harpoon gun into the plastic mass, creating a rope line above the water connecting it to the boat. However, the harpoon only stays staked in the mass long enough to get Florence across, and when it comes undone, it punctures the boat.
Florence is able to concoct a polymer that will plug the hole, but that still leaves Walter and Happy stranded. The rest of the team figures out that they can use Sly's fish smoothie to camouflage Walt and Happy's human smell, allowing them to swim through the jellyfish. As Sly uses Ralph's pumpkin launcher to send the smoothie to them, Paige attempts to help Florence, who, to be honest, is just getting meaner and meaner. She even goes as far as accusing Paige of having had it easy her whole life and never having to work for anything, as well as continually insinuating that the team isn't actually geniuses. At this, Paige, quite spectacularly, puts Little Miss High and Mighty in her place.
Although Walt and Happy are able to swim to the boat, they have to stay in the water long enough to apply the polymer from the outside for it to work. As their camouflage smell begins to wash off and they start to get stung, Sly's new
Chair of Blades
book knocks off the shelf where he'd "safely stored it" and hits the steering wheel, throwing Florence around and down in the water - straight into the jellyfish bloom.
Walter's able to rescue her, but not before she gets stung repeatedly. Although the boat is no longer sinking, they still have no way to move, and now urgently need to get Florence to a hospital. Walter decides that if they douse the area of the boat around the engine with fuel and light the water on fire, it will scare away the jellyfish. (Of course, it might also blow them up.)
Thankfully, that doesn't happen and they're able to get the boat moving and Florence to safety. Back at the garage, Toby, who's secretly been using different senses to trigger Cabe's memory all day finally gets somewhere. Cabe was actually with his father when he died. A bodega they were in was robbed and his father was shot dead in front of him. He's convinced himself over the years that the story he told Toby was true. The real memories are coming back up because he's always believed he'd failed his father, and now, with his trial and possible prison sentence, he believes he's failing Scorpion.
Following Cabe's breakthrough, the team (plus a recovered Flo) gather to celebrate Thanksgiving. As Cabe stands at the head of the table and carves the turkey, he vows to try not to rewrite his memories anymore, and finally start to move on.
Random Thoughts:
-Walina? Dear god...It was sweet to hear Walter talk about possibly having children one day though.
-Poor Sly! All he wanted was to read his book and drink his fish smoothie.
-Best quote goes to Walter about Florence. "Congratulations. You perfected glue."
What did you think of Team Scorpion's Thanksgiving? (Yep, I'm still behind!) Were you surprised that Toby got through to Cabe? Do you expect to see more of Flo? Let me know below!