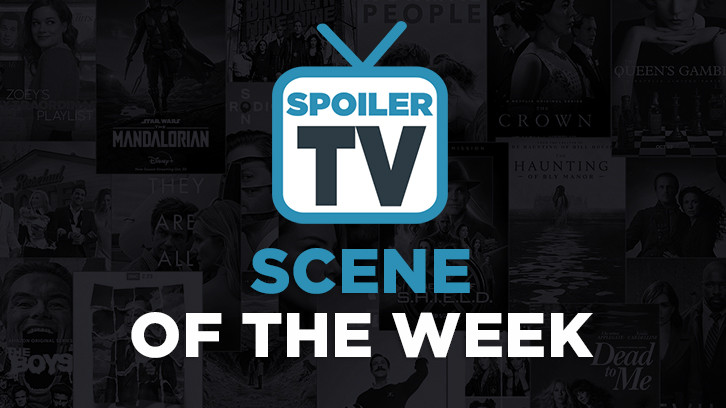 A weekly feature in which we're trying to find the most compelling, best acted, written, directed and just generally great, memorable scenes that we've seen in past seven days on TV.

9-1-1, "Worst Day Ever", January 24, 2018, Actors: Oliver Stark, Aisha Hinds, Peter Krause, The Scene: Buck and Henrietta go to Bobby's
Beth: Buck and Henrietta go to Bobby's to check on him and he says help. We know that Bobby is damaged and an addict but this scene showed how his addiction has ruined his life with the empty apartment and vacant place settings. I loved when they embraced him and let him know he wasn't alone. This show has something special.

AGENTS OF SHIELD, "Best Laid Plans", January 26, 2018, Actors: Henry Simmons, Natalia Cordova-Buckley, Dominic Rains and more, The Scene: Mack and Yo-Yo confront Kasius
Justyna: I absolutely loved Mack and Yo-Yo working together to stop Kasius in this episode. They took care of everyone in the Lighthouse, gave the people hope and motivation to fight, and found a way to outsmart Kasius. I was worried things will go badly during the hour, so it was a great surprise to see such victory for the humans. There's still a lot to be done and I do have a bad feeling about Mack and Elena, but for this one moment, I couldn't be more happy and proud of how much they've achieved. Also, these two continue to have some of the best lines. Seeing them against someone like Kasius was quite an interesting change, like two different worlds colliding. Finally, declaring that the fight is far from over right before the explosion, right there with Flint and Tess by their side, might be one of the most badass scenes with Mack and Yo-Yo yet. Though my focus was mostly on the rest of the team in the previous episode, these two were a real highlight of the hour. As much as I enjoyed the other scenes taking place in the same time - the impossible flight and the fight to the death. With all the high stakes and the team so close to being reunited, I'm afraid it's time for the painful impact to hit our characters but for now, for this one shining moment, I want to focus on how Mack and Yo-Yo managed to save everyone and win the first battle with what they got. Kudos to the brilliant cast & crew! Can't wait to see the next episode.

ARROW, "We Fall", January 25, 2018, Actors: Emily Bett Rickards, Jack Moore, Stephen Amell and more, The Scene: Felicity's speech
Justyna: I haven't been a regular viewer of the show for a while now but I was very happy to watch this episode yesterday. I thought it might be one of the best of the season and the big part of it was William's interactions with Oliver and Felicity. Though it's clear he wasn't okay with his dad being the Green Arrow before, during this hour he learned a great deal about Oliver's other life and just how important it is. The most significant and memorable scene of the episode for me has to be Felicity's speech when she tells William her story about Oliver and Green Arrow while they (and the viewers) watch the fight between Team Arrow and Cayden James' men. The simple truth is that heroes don't always survive but what they're doing, protecting those who can't protect themselves, means the world to so many that it is worth being worried and supportive of them in their mission. I loved that while it was emotional, the scene was never too much. The speech perfectly matched the fight and the words only highlighted what the heroes were trying to achieve. Wonderful work by Emily Bett Rickards and the crew. In the end, William truly understands his father's choice and while it's a bittersweet realization, it signifies an important change for the characters. Kudos to cast & crew for great work on the episode.

BASKETS, "Wild Horses", January 23, 2018, Actors: Zach Galifianakis, Louie Anderson and more, The Scene: The final scene
Claire: The final scene where Christine, Chip and Dale are being interviewed on the local news about their new rodeo. Dale has accidentally been poked by a syringe full of horse tranquilizer and it finally kicks in while he's in mid sentence. He simply falls to the ground and Mama Baskets keeps right on talking; as if nothing's happened. The entire episode was great!

BLACK LIGHTNING, Lawanda: The Book of Hope", January 23, 2018, Actors: Tracey Bonner, William Catlett and more, The Scene: LaWanda is murdered
Jennise: I really didn't think the show would choose not to take the route of 'the superhero creates a happy ending' but, instead they went for the outcome most real for the scene.
Donna: How shocking was the brutal shooting of LaWanda. Showing us that this hero is needed in these hard times.

CHICAGO FIRE, "Slamigan", January 25, 2018, Actors: Jesse Spencer, Monica Raymund, The Scene: Matt and Gabby talk it out
Beth: Matt and Gabby talk it out after reuniting Bria with her father. This Bria storyline has been frustrating because of Gabby's tendency to once again shut Matt out, but he told her that he would be on her side always but she can't push him away. I love these two together and this scene reminded me why 10x over.

GREY'S ANATOMY, "Personal Jesus", January 25, 2018, Actors: Chandra Wilson, Jason George, Sarah Drew, Justin Bruening and more, The Scenes: April and Matthew talk about their lives & Bailey and Ben have the talk with Tucker & April's shower scene & Jo finds out she has power of attorney over Paul & Jo and Jenny confront Paul
Saloni: April and Matthew talk about their lives and he asks her about her now "3-year-old" child and how she found the perfect one in Jackson. My heart broke for her in this episode. It was a day straight from hell for her. Sarah Drew was great.
Marko: Bailey and Ben have the talk with Tucker. In an episode with so many highlights, this one truly stood out. It was heartbreaking and shocking to me. I don't live in the states, I'm not surrounded by PoC and often forget how much discrimination and pain they feel on daily basis. The actors performed exceptionally, the lines felt like a knife cutting me.
Patrycja: April's shower scene. You could truly tell how broken she is with the numb look on her face and the fact that she slept with an intern. It's out of character for her and truly seems as though she has just given up and doesn't care anymore.
Max: Bailey & Ben give "the talk" to Tuck. One thing that's especially powerful about Grey's is how rich their history is; many of us have been watching for 14 years. So having followed Bailey through her pregnancy, Tuck's birth, a divorce, and so on, it was so crushing to see her now have to sit her son down and give him 'the talk' about how to act around police. Zoanne Clack did an incredible job writing the scene, and all 3 actors were incredible. It was heartbreaking but important and the image of Tuck sitting with his hands behind his head in his living room has stuck with me for days.
Luana: Bailey and Ben give Tuck "the talk". This scene was so simple, and yet it broke my heart. The fact that they have to tell their little boy there is a protocol he needs to follow not to die, that he can't just be a normal kid who plays around and thinks no one will hurt him, was utterly heartbreaking.
Jamie: Jo laughs when she finds out she has power of attorney over Paul. Just such a gratifying moment of karma.
Beth: Jo and Jenny confront Paul. This scene was so satisfying because what Paul did to these women was horrifying and it was amazing to see his face when they were standing united.

LETHAL WEAPON, "Double Shot of Baileys", January 23, 2018, Actors: Damon Wayans, Clayne Crawford, The Scene: Murtaugh reveals he's had Riggs' truck all day
Jennise: Riggs' childhood is proving to be more difficult for him to deal with than the death of his wife. These issues are like buried claymores he is unaware of until they explode. This one left him so blackout drunk he couldn't find his truck. But Murtaugh had his back and Riggs actually thanked him for it. It was a simple scene but in the grand scheme, kinda important.

NASHVILLE, "That's My Story", January 25, 2018, Actor: Hayden Panettiere
The Scene: Juliette breaks down
Luana: Hayden Panettiere is amazing, and, in my opinion, she hadn't been given much to work with lately, so it was refreshing to see her finally dig deep, even though the cult story can't really end well I hope she keeps improving herself.

ONE DAY AT A TIME, "Locked Down", January 26, 2018, Actors: Isabella Gómez, Sheridan Pierce
The Scene: Elena and Syd kiss on the balcony
Jamie: This was just so cute and awkward. Elena is terrible at flirting which makes this even more relatable.

SHAMELESS, "A Gallagher Pedicure", January 21, 2018, Actors: William H. Macy, Emma Kenney, Christian Isaiah, The Scene: Debbie enlists Liam to cut off her toes to save her foot
Tyler: Debbie enlists Liam to cut off her toes to save her foot and avoid surgery, but when he passes out she goes to do it herself. But then when SHE passes out, Frank walks in and does it himself without any hesitation or context. It was an uncomfortable scene to watch and some serious dark comedy, which reminded me of earlier Shameless days.

STAR TREK: DISCOVERY, "Vaulting Ambition", January 21, 2018, Actors: Sonequa Martin-Green, Jason Isaacs, Michelle Yeoh, The Scene: Lorca is revealed to be from the Mirror Universe
Milo: This show has been awesome ever since its return and this revelation that Lorca was from the mirrorverse was really powerful. It made so much sense and confirmed the theory that I had concerning the character. Jason Isaacs has turned out to be one of the most badass characters yet, and the impact of him not being from this universe had a really powerful effect, as he's added plenty of agency to his character going forward.
Donna: The Lorca reveal was fantastic. I know a lot were surprised with this twist. Though I suspected this having it confirmed was brilliant.

SUPERGIRL, "Fort Rozz", January 22, 2018, Actors: Melissa Benoist, Chris Wood, Brit Morgan and more, The Scenes: Kara and Mon-El talk on the balcony & Livewire's sacrifice
Luana: Kara and Mon-El talk on the balcony. These scenes are becoming my favorite thing on the show (right alongside Kara's talks with Alex), I just love it so much when these two are together, they have great chemistry on screen, whether it be as friends or as a couple it's always something I can't take my eyes off, and you can just tell how much he has grown since the first time he appeared on the show.
Donna: Livewire's sacrifice, from nemesis to hero, this character and her witty barbs will be missed on the show. Giving her life to save Supergirl in the battle with Reign.

THE ALIENIST, "The Boy on the Bridge", January 22, 2018, Actors: Daniel Brühl, Luke Evans and more, The Scene: Dr. Kreizler's chase comes to a dead end
Laura B: There was so much I loved about this pilot. Such great cinematography and a Gothic crime drama feel of something like Penny Dreadful, Ripper Street, or Hannibal that also made this so enjoyable. I chose this scene for its dizzying nature through the streets, manandering madness up the staircase, and the eerie finish of the door closing right in front of Kreizler, only for him to open it and walk through it, as John Moore catches up behind, then revealing the killer escaped through a hole high in the roof!

THE FLASH, "The Elongated Knight Rises", January 23, 2018, Actors: Grant Gustin, Candice Patton, The Scene: Iris comes to visit Barry in jail
Naomi: Iris comes to visit Barry in jail, and she cannot hide her sadness about being separated from him. Barry looks around and spots the shifting camera. When he and Iris are out of its view, Barry phases his hand through the glass so they are able to hold hands. As usual Grant and Candice bring the emotional wave that is West-Allen to drown us all. The way they look at each other all teary-eyed is such a punch to the gut, and Barry using his powers to comfort Iris was so damn sweet. Get out of jail and back to your wife please!

THE GOLDBERGS, "The Goldbergs: 1990-Something", January 24, 2018, Actors: Tim Meadows, Nia Long and more, The Scenes: Backstreet Boys singalong & Mr. Glascott wants to get rid of dodgeball
Samantha: Backstreet Boys singalong. I was preparing myself for the absolute worst, but this turned out to be a standout scene in the episode. One of my favourite Backstreet Boys songs & I really love how everyone came together.
Claire: Against popular opinion, I liked this spin off episode. The scene where Tim Meadow's Mr. Glascott wants to get rid of dodgeball because it's mean. He hires his outspoken, tough sister (played by the talented Nia Long) to help him in the office. She's walking out of the gym with a huge bag of balls. Coach Mellor sadly laments: "no, not my dodgeballs, don't take my balls."

THE GOOD DOCTOR, "Seven Reasons", January 22, 2018, Actors: Freddie Highmore, Hina Abdullah
The Scene: Shaun confronts the patient with being a terrorist
Marko: I love Shaun but his logical thinking is infuriating at times and I'm so glad Naja (the patient) didn't keep quiet. Marvelous moment with great performances by both Freddie Highmore and Hina Abdullah.

THE GOOD PLACE, "The Burrito", January 25, 2018, Actors: Maya Rudolph, Kristen Bell, Ted Danson and more, The Scenes: The Judge announces her decision & Michael explains to Shawn why he ended up helping the humans
Justyna: First of all, one of my favorite things about the show is seeing how far all the characters have come since the moment we met them, especially the main duo. Michael, a demon and architect of the humans' misery, became the group's true friend. And Eleanor, known for her selfishness, has been taking care of her friends for a while now and when given a choice, she chooses them over herself every time. While Chidi and Jason's tests were clearly failed, I was proud of Tahani for her choice. Though she did confront her parents, she learned how to accept their words and not let them define her. But in the end, it's Eleanor who ends up being the only person who truly passed her test. Despite having a real chance to get into the Good Place, when the Judge announces her decision, Eleanor makes sure her friends don't have to feel bad for being the reason why she's going back to the Bad Place. She chooses to lie about the result of her test and I loved the expression the Judge makes when she understands Eleanor's choice. After all, these four people made each other better and Eleanor would rather stay with them in Hell than go to Heaven alone. And if that's not a beautiful character development, I don't know what is. Wonderful work by cast & crew on this great show. Can't believe it's almost the end of the season.
Saloni: Michael explains to Shawn why he ended up helping the humans instead of torturing them for 1000 years; because instead of making each other miserable, they made each other better. I love how Michael was able to evolve with the four of them. It's not something I expected when the season began but they've pulled it off so well. Bonus points to Michael for quoting Eleanor's insult to Shawn, "ya basic," and that sly dig at Pretty Little Liars.

THE RESIDENT, "Pilot", January 21, 2018, Actors: Emily VanCamp, Manish Dayal, The Scene: Nic talks to Devon about Conrad
Jaz: Nic explains to Devon why Conrad is the best resident supervisor to learn from. This scene reminded me just how much I missed having Emily VanCamp on my television screen. The monologue has that graceful, emotive and articulate delivery that only Emily VanCamp can provide. Watch and Learn, she's the one who knows how to deliver a tight performance!

THE X-FILES, "The Lost Art of Forehead Sweat", January 24, 2018, Actor: David Duchovny
The Scene: Young Fox Mulder watches his first episode of the Twilight Zone
Naomi: This scene was so ridiculous! The huge grown up bobble-headed Mulder with a child's body was the best!

THIS IS US, "That'll Be the Day", January 23, 2018, Actors: Milo Ventimiglia, Chrissy Metz, Justin Hartley and more, The Scenes: The fire & Kevin gets back his dad's necklace & Kate brings the puppy home to Toby
Klutzy girl: The fire that changes the Pearsons' lives forever starts. After a year and a half of teases, we finally see how the fire that killed Jack Pearson started. And it was something so simple too - an old crockpot that wasn't unplugged. The house burning intermixing with flashbacks of happier times hurt so badly. I'm not ready for what's next but this was a great, albeit horrifying, scene.
Samantha: I don't even watch this show and that ending had me in a flood of tears. The music, flashbacks as the house slowly burned. Completely and utterly devastating & the next episode will be even worse.
Saloni: Kevin receives his dad's necklace in the mail from Charlotte and as he checks her name off his list of people to make amends with, he flips the page and it says "Dad." Kevin cries and cue my own tears. It was crushing to watch, especially because we saw how Jack's final day was with Kevin before the fire.
Marko: Justin Hartley really brought his A game this season. Getting back that necklace made me so happy but Kevin's tears broke my heart. It felt so honest.
Claire: I'm not even a fan and I had to watch this episode. The scene where Kate, able to overcome something painful, brings home that beautiful puppy to Toby. A little joy was necessary in this episode.
Jamie: The fire. I'm not a super fan of this show, more of a casual watcher but man this scene was emotional.