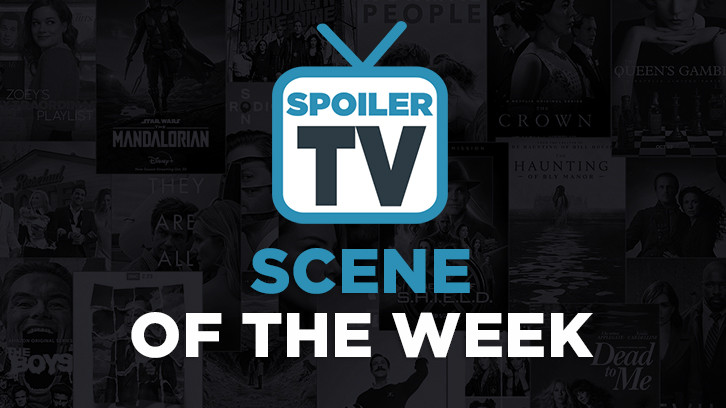 A weekly feature in which we're trying to find the most compelling, best acted, written, directed and just generally great, memorable scenes that we've seen in past seven days on TV.

AGENTS OF SHIELD, "The Last Day", January 19, 2018, Actors: Ming-Na Wen, Willow Hale, Ava Kolker, The Scene: Robin dies in May's arms
Justyna: Despite the fact that May has always been a truly important part of team, it feels like it's been a while since she had a chance to shine like she did in this episode. As we all know, not being able to save the little girl's life back in Bahrain has been the biggest regret of her life and had quite an impact on everything that's happened to her since. The way she held her back then and the way she holds Robin in this scene might be one of the most memorable references yet. This is what made this reveal feel especially powerful and emotional. May took care of little Robin after her mother passed away and she became her mom, standing by her side and protecting her from everything, making her feel special and never alone. For a mind as fragile as Robin's, this act of love and kindness made all the difference in the world. The scene taking place in two different points of time, yet in parallel for Robin, was both heartbreaking and beautiful to watch. May's faith in Robin helped her get stronger and survive, and she did see the vision of saving the world in the end, just like Melinda always knew she would. This death, this memory feels like such an important progress in May's story, a beginning of new chapter, with motivation to fight back instead of fading away. Wonderful performance by Ming-Na Wen and both actresses playing Robin. Kudos!
Beth: The ending with May and Robin. Heartbreaking, but also beautiful.

AMERICAN CRIME STORY, "The Man Who Would Be Vogue", January 17, 2018, Actors: Darren Criss, Édgar Ramírez, The Scene: The opening
Diana: The first 8 minutes are a masterpiece. They get into the sick mind of Andrew Cunanan and how he arranged the murder. Not to mention the beautiful and poetic song in background, until the moment when he shoots Gianni Versace in front of his house.

AMERICAN HOUSEWIFE, "The Anniversary", January 17, 2018, Actors: Katy Mixon, Diedrich Bader and more, The Scene: The Otto family throws a surprise for Oliver's date
Marko: AH is on fire this season and the Otto's are quickly becoming my favorite TV family. Also Oliver is such a cutie. So happy he stepped up his game.

BLACK LIGHTNING, "The Resurrection", January 16, 2018, Actors: China Anne McClain, Dabier
The Scene: Jennifer knees Will in the groin (picked by Jamie)

GREY'S ANATOMY, "1-800-799-7233", January 18, 2018, Actors: Ellen Pompeo, Camilla Luddington, Bethany Joy Lenz and more, The Scenes: Jo talks to Paul's fiancée & Meredith reassures Jo & Meredith and Arizona stand up for Jo & Casey reveals why he hacked into the DMV
Patrycja: Meredith reassures Jo that she knows exactly who she is no matter what Paul says about her.
Marko: Jo talks to Paul's fiancee. The performance of both actresses was impeccable. So strong and delicate at the same time. You could see the fear and pain hiding behind Jenny's face while Jo broke my heart with all the pain she had suffered through with Paul. Major kudos to Camilla and Bethany.
Diana: Meredith and Arizona stand up for Jo when dr. Wilson is trying to reach Jenny (Paul's fiancée) to talk to her about Paul. The whole episode actually was an amazing piece of feminism and female friendship: great acting by Camilla Luddington.
Jamie: Casey reveals to Bailey why he hacked into the DMV.

LETHAL WEAPON, "Better Living Through Chemistry", January 16, 2018, Actors: Clayne Crawford, Damon Wayans, Jordana Brewster and more, The Scene: Riggs remembers his mother's death
Justyna: It's the second week in the row when Riggs gets hurt and is close to death which causes him to remember something from his past. Last time it was a memory of his wedding, heartbreaking in knowing that the love of his life is already gone, but this one hits even harder because it takes the viewers and the character back to the day when Riggs' mother died. The reveal that she killed herself when she realized she lost her battle with cancer is only made more powerful by the fact it's Martin who found her right after the gunshot is heard. The music in the background, the adult Riggs lying there without possibility to fight back, his friends running in to save him... All these little parts made for a truly memorable and meaningful sequence. It made it impossible to make a different choice for SOTW. There were quite a few brilliant scenes in the hour, though, including both the conversations between Riggs and Cahill - in the office talking about his anger and then on the ledge. "When I'm staring into the abyss, you're the only thing that keeps me from falling in." I continue to very much enjoy this show, thanks to both the comedy and drama, and the wonderful cast & crew. Kudos!

SPEECHLESS, "D-i-Dimeo A-c-Academy", January 17, 2018, Actors: Micah Fowler and more
The Scene: JJ decides to fight for his dream
Claire: JJ is upset when told he won't graduate high school this year and he quits school. But after a visit to a local college campus, he knows he can't quit. And that he must keep working to realize his dream of going to college.

STAR TREK: DISCOVERY, "The Wolf Inside", January 14, 2018, Actor: Shazad Latif
The Scene: The "Ash is Voq" Reveal
Milo: This was handled in an emotional and effective way that got the best out of both Shazad Latif and Shazad Latif.

SUPERGIRL, "Legion of Superheroes", January 15, 2018, Actors: Melissa Benoist, Katie McGrath, The Scene: J'onn J'onzz impersonates Kara
DJRiter: J'onn J'onzz impersonating Kara Danvers and the awkward conversation about James Olsen's kissing skills. As good as she as as the Girl of Steel, someone should dub Melissa Benoist the Queen of Comedy Moments. She seems to have a ball playing these scenes of J'onn impersonating her. From her body language, her speech pattern and facial expressions, this is comedy gold!

THE BLACKLIST, "Abraham Stern", January 17, 2018, Actor: Megan Boone
The Scene: Liz gets rid of the dead body
George: Liz using the techniques she gathered from The Stewmaker's file to get rid of the dead body. This was a great call back to a loved Season 1 blacklister. It was the perfect blacklister to use to showcase Liz's current downward spiral she's experiencing from her revenge kick.

THE FLASH, "The Trial of The Flash", January 16, 2018, Actors: Grant Gustin, Candice Patton, Jesse L. Martin, Hartley Sawyer, The Scenes: Barry asks Iris not to reveal his identity & Dibny tells Joe what life awaits him if he makes the wrong choice
Naomi: Iris rushes into the courtroom and is about to tell Barry's secret identity in an attempt to save him from a guilty verdict. Barry races to Iris to stop her and somehow envelops both of them in a barrier (speed force?) with his speed. They are moving so fast, time stands still and gives them an opportunity for a heart to heart about what lies ahead for them. This was a beautiful scene for us West-Allen fans because we love them, but it was also dope because little by little the writers are showcasing new abilities that Barry has acquired from his time in the speed force.
Beth: Dibny tells Joe what kind of life awaits him if he plants those carpet fibers to free Barry. I thought it was a great moment of growth for him. He is changing and trying to make the most of his second chance and protecting the people who helped him have it.

THE GIFTED, "X-roads", January 15, 2018, Actors: Emma Dumont, Percy Hynes White and more
The Scenes: The Mutant Underground Splits Apart & Polaris takes down the plane
Milo: The Mutant Underground Splits Apart. Even if Andy's decision to join up with the bad guys wasn't exactly surprising, it still packed a powerful emotional weight - as did Polaris' betrayal too.
Jamie: Polaris takes down the plane.

THE GOOD DOCTOR, "Islands Part Two", January 15, 2018, Actors: Freddie Highmore, Richard Schiff, Emily Hinkler, The Scenes: Dr. Glassman signs the job recommendation & Jenny has a panic attack
Naomi: Dr. Glassman signs the job recommendation and gives it to Shaun as he explains the reason he brought him to work in San Jose was not entirely based on Shaun's genius, but his fear that Shaun would not make it anywhere without his assistance. He also reveals that he doesn't want Shaun to go and promises to be less of a helicopter guardian if he decides to stay. Dr. Glassman ends the scene by making sure to tell Shaun he believes in him. This was a heartwarming scene; it was nice to see Glassman come to the realization of his true early motives though everyone else already knew.
Marko: Jenny has a panic attack while being alone for the first time. Emily Hinkler broke my heart into tiny little pieces. Such a phenomenal performance. No words can describe it, just go and watch and watch THE GOOD DOCTOR.

THE GOOD PLACE, "Rhonda, Diana, Jake, and Trent", January 18, 2018, Actors: Ted Danson, Kristen Bell and more, The Scene: Michael solves the trolley problem
Justyna: I had such a hard time to only choose three scenes this week for the article because there were at least a couple more that I felt truly deserved to be here. However, the moment I watched this scene, and it's been a while, I knew with absolute certainty this would be one of my choices. Michael solving the trolley problem and making a decision to sacrifice himself to save Eleanor might be one of the best scenes this show has done. It speaks volumes about character development, highlights the real friendship that grew between the show's main characters (a human and a demon) and remains important, yet is so short and simple in execution. Also, I loved the reference to the trolley problem! This scene is exactly why I don't think that "Michael being against the Team Cockroach" theory could ever work the way it did before. It would sacrifice all these important milestones that we've seen during this season and especially the relationships developed in the meantime. Especially Eleanor and Michael's friendship. Wonderful work by the writers and the cast. Can't wait to see what's next for this show.
Klutzy girl: Michael sacrifices himself and pushes Eleanor through the portal. I love that he specifically tied the situation back to the Trolley Problem. He's undergone a lot of character development, and it's obvious that he cares about the others.
Milo: Michael sacrificing himself for Eleanor. The twist that Eleanor didn't have a pin and Michael had to give up his was excellent, especially as I kept fearing another betrayal from Michael was coming. This really worked and made way for an effective end to the episode.

THE MIDDLE, "Mommapalooza", January 16, 2018, Actors: Charlie McDermott, Daniela Bobadilla, Paul Hipp and more, The Scenes: Axl and Lexie confess their feelings for each other & The end scene
Klutzy girl: Axl and Lexie confess their feelings for each other. Lexie accidentally telling him she loved him and Axl asking if they could kiss in a fancy restaurant then telling her he loved her too was just so adorable and sweet. I think these two are a great couple, and I'm excited to see where the show takes them next.
Claire: The end scene where Reverend Tim Tom sings a song about moms and how moms are actual people, who knew? Love the roving Rev. Paul Hipp is great! Also figured out what happened to this show in its final season. Except for a handful of good scenes, I think it has stunk. I thought maybe the writers were abducted by aliens and replaced with pod people, but it's much simpler than that. For us, their loyal viewers of 9 years, they are making the show so bad so that we won't miss it next year. Accomplished! How thoughtful!

WILL & GRACE, "The Wedding", January 18, 2018, Actors: Eric McCormack, Bobby Cannavale
The Scene: Will and Vince get closure
Diana: In the end, Will and Vince clarify their former relationship and get closure, then they hug in peace. So touching. I'm still rooting for them to get back together though.