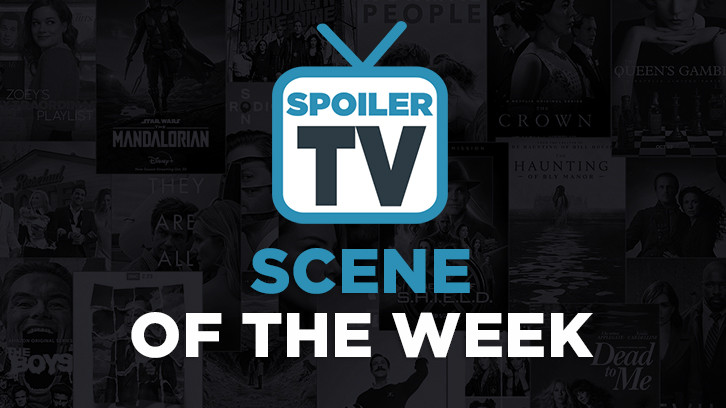 A weekly feature in which we're trying to find the most compelling, best acted, written, directed and just generally great, memorable scenes that we've seen in past seven days on TV.

AGENTS OF SHIELD, "Together or Not at All", January 12, 2018, Actors: Clark Gregg, Iain De Caestecker, Henry Simmons and more, The Scenes: The team reunites & Fitz tells Mack and Yo-Yo about his gifts from the past
Justyna: There were so many little moments that I loved about this episode. This time it wasn't as much about the big sequences and changes as it was about character interactions and fighting together to stay alive. May and Enoch meeting back on Earth, Daisy fighting Kree when Fitz removes Jemma's ear implant, the gravitonium reveal, Fitz's gifts from the past - that's just few examples that come to mind when I'm choosing my favorite scenes from the hour. But since Fitz's hope for a little credit is already mentioned below, I figured that I would go with the reunion. Just for the simple fact that they're finally together again. Just missing May. Considering that we're in the future and there's no real breaks for the team in this show, I have a feeling there's still a lot of fighting and hard times ahead of these guys. Which makes these small moments, with genuine smile and relief on their faces, mean even more. Hope we get to see everyone truly reunited soon. There's no one on this team that I would be okay with staying away. Loved Coulson and Mack's reactions the most, especially when seeing Fitz. This lovely team embrace is so far away from their professional relationships back in the beginning of the series. Kudos to cast & crew for another great episode!
Beth: Fitz tells Yo-Yo and Mack where to find the gems he'd hidden on level three, and they seem ungrateful because of the roach infestation. It was hilarious because Fitz finally broke and wanted some credit for all he had done to ensure his friends had a fighting chance in the future!!

LETHAL WEAPON, "Diggin' Up Dirt", January 9, 2018, Actors: Clayne Crawford, Floriana Lima, The Scene: Dying Riggs remembers his wedding day
Justyna: I didn't realize how much I missed these flashbacks of happier times with Riggs and his wife until we started the hour with them. Watching their old life has a way of always putting things in perspective and adding a lot of heart and depth to the show. As much as I enjoyed the interactions between Riggs and Ronnie, the most memorable moment of the episode for me has to be the part when Martin almost dies and he goes back to the memory of his wedding day. Just the sight of Riggs hanging from that tree was scary enough, but it's the flashback that was truly heartbreaking. The fact that Miranda admitted years ago that her life without Riggs would be impossible makes knowing he's forced to live without her even harder. I continue to very much enjoy this show thanks to its mix of comedy, action, heartfelt scenes and well written characters with brilliant interactions. But it's moments like this one that always get to me the most. Kudos for the great work of cast & crew on the show!

NASHVILLE, "Second Chances", January 11, 2018, Actors: Chris Carmack, Sam Palladio, Jonathan Jackson and more, The Scene: Will and Gunnar take Avery to perform
Beth: Will and Gunnar take Avery to perform and bring Cadence along to watch her dad rock it out. It was a throw back to season 4 with the three men and a baby and it made me so happy. These three to me are the forgotten men of Nashville and to see them go back to that wonderful dynamic of supporting each other and performing was a treat. Avery and Gunnar in particular have seemed to have lost their way when it comes to their talent and performance ability, so to see them having genuine fun on stage was great!

SCHITT'S CREEK, "Dead Guy in Room 4", January 9, 2018, Actors: Noah Reid, Dan Levy, Catherine O'Hara and more, The Scenes: David and Patrick talk about their new relationship and feelings & Moira thinks she might've killed the motel guest
Laura: 2017 was actually a good year for coming-outs and LGBTQ+ storylines. None of them were more pure than the story of David and Patrick. David, the new owner of the General Store, makes it into his own. Patrick, who wanted to help David make his dreams come true, and also developed a crush on David. David, who accepted Patrick's graces and realized what he had here. Patrick, who had never kissed a boy before. Best part of this? It was all mentioned in the premiere again too. Patrick gets awkward because David wants to sleepover and he wants to take this really slow. After finding out that David literally wants to just sleep there, it all gets better. It's all awkward and adorable and totally perfect. Patrick mentions that their kiss made him think that this is how first kisses should be. This is how he was supposed to feel during it. Oh, hold me. This was such good content and after being burned by so many ships before them due to lack of communication, this kind of communication is excellent. And important to see. I can't wait to see the journey these two take this year.
Samantha: So Moira's dramatic 'bombshell' that she killed the motel guest, turns out to actually be her refusing to give them some of her sample medication. I honestly don't know what I love about this scene most. David asking Moira to start from the beginning and then constantly interjecting to make her get to the point? David wondering whether her 'confessing' makes him an accessory? It was an absolutely brilliant scene, as always perfectly played by Catherine O'Hara who is an absolute joy to watch as Moira Rose and Dan Levy who is not only fantastic as Daniel Rose, but also as a writer on the show.

SPEECHLESS, "The H-u-s-Hustle", January 10, 2018, Actors: Minnie Driver, Lennon Parham, The Scene: Maya and Sarah realize they're both passionate mothers
Samantha: As soon as Sarah revealed that she was against the handicap kids getting a new lift, I was ready to join Maya in hating her. But through them being trapped in the lift, we got to understand Sarah's point of view. The fencing club is the thing that makes her son the happiest in the world, so of course she'd want to do what it takes to keep it running, the same way that Maya uses people's fear of her to make them do things for JJ and the other handicap kids. I hope that with the realization of all they have in common, we get more scenes in the future between these two. The potential is there for a great, and judging by parts of this episode, hilarious friendship.

STAR TREK: DISCOVERY, "Despite Yourself", January 7, 2018, Actors: Mary Wiseman, Jason Isaacs and more, The Scene: Captain Tilly talks to the Shenzhou Captain
Milo: I love the whole concept of the mirrorverse being able to give the crew different roles and Discovery did that very well, putting the unlikeliest of people, the nervous and overly chatty Tilly in charge of the Discovery. Seeing her initial conversation with the Shenzhou Captain was excellent, especially with Lorca forced to pull off a Scotty homage in the form of his Scottish accent to mask his identity as an engineer.

THE GOLDBERGS, "Dinner with the Goldbergs", January 10, 2018, Actors: Sam Lerner, Hayley Orrantia and more, The Scene: Geoff yells at the Goldbergs
Samantha: Geoff blasts the Goldbergs behavior at the restaurant. This scene was just absolutely hilarious. To have Geoff, one of the more mild mannered characters on the show completely rip into the family? Honestly one of the best, if not the best, scene that this show has ever produced.
Claire: Though, if my family had been that horrible to hard working waitstaff, like Adam Goldberg's real life family, I don't think I would be so revealing about it. Thought it was a very non funny episode and I usually look forward to the Goldbergs each week. But great scene.

THE GOOD DOCTOR, "Islands Part One", January 8, 2018, Actors: Freddie Highmore, Antonia Thomas, Eric Winter, Paige Spara, The Scenes: Claire stands up to Coyle & Shaun's first kiss with Lea
Marko: Claire stands up to Coyle.
Jaz: Shaun shares his first kiss with Lea.

THE GOOD PLACE, "Best Self", January 11, 2018, Actors: Kristen Bell, William Jackson Harper, Ted Danson and more, The Scenes: Team Cockroach names Michael an honorary human & Eleanor tells Chidi about her feelings for him & Eleanor, Chidi, Michael and everyone say goodbye to the fake "Good Place"
Justyna: Once again, brilliant episode. This one provided us with quite a few important interactions between characters and development of the relationships between them. But it's Michael's change that ends up being most memorable for me. Even after realizing that they don't stand a chance, Team Cockroach chooses to forgive Michael for his lie and even names him an honorary human, one of them. It's a lovely sentiment that works hilariously with his comments about humans. Despite him criticizing and offending humanity, it's still clear that the gifts from the group mean a lot to him. And out of all of them, he does truly seem like the best version of himself yet. Can't wait to see where this show goes next! Let's start with the Bad Place. Kudos to cast & crew for all their great work!
Klutzy girl: Eleanor is honest with Chidi about her feelings for him. I love that she came right out and told him the truth. I love these two so much and how their relationship has developed over the past two seasons. Looking forward to seeing what happens next!
Saloni: Eleanor, Chidi, Michael and everyone else leave for the bad place, saying goodbye to their version of "the good place." I don't know if this means we'll never see this neighborhood again but it was a great, interesting way to leave it behind as Team Cockroach is on the train and the design just evaporates into blackness.

THE MAGICIANS, "The Tales of the Seven Keys", January 10, 2018, Actors: Hale Appleman, Summer Bishil, The Scene: Margo and Eliot have a pop culturey chat
Katherine: The Premiere Episode of "The Magicians" - in which Margo and Eliot have a pop culturey chat with important undertones. This is one of the best, most hilarious things to ever happen on television. Recently. In my opinion. Realizing that the psycho Fairy Queen is using the eye she plucked from Margo to spy on them, Eliot initiates a conversation with her comprised mainly of pop culture references. Need to keep quiet? They need to Best Episode of Buffy. To Hush. See? The bonus subtitles explaining what they were "really" saying were both helpful and amusing. Margo and Eliot's banter is one of my favorite things about the show (it was a fun episode all around). Watching them chatter away using this unique form of code after realizing that Margo is Grace Park in S1 of Battlestar (her favorite storyline, BTW) showcases one of the reasons the creators have me coming back each week to see what random creative wackyness they come up with next.

THE MIDDLE, "The Other Man", January 9, 2018, Actors: Patricia Heaton, Atticus Shaffer
The Scene: Frankie orders seven slices of cake for Brick
Saloni: Frankie orders seven slices of cake for Brick to cover up for all the birthdays she's forgotten. After their sweet conversation in the car, this was a great way for them to end their night. I love the relationship between these two.

THE X-FILES, "This", January 10, 2018, Actors: David Duchovny, Gillian Anderson
The Scene: Mulder and Scully versus the assassins
Sam: I loved how as soon as they heard people outside, Mulder and Scully got immediately into fight mode. Mulder pushing over the couch and Scully sliding underneath the table, getting her gun out and flipping the table over to use as a barricade was just cool. The Ramones playing in the background while it all goes down gave it an extra spark of awesome.

THIS IS US, "The Fifth Wheel", January 9, 2018, Actors: Justin Hartley, Mandy Moore, Jon Huertas, Sterling K. Brown and more, The Scenes: Randall, Kevin and Kate talk by the lake & The bar scene with the "others" & The Therapy session & Rebecca tells Kevin she never had to worry about him
Klutzy girl: Randall, Kevin and Kate talk by the lake. I thought this was a fantastic, emotional scene and all three of them killed it. I loved Randall trying to make Kevin laugh (and succeeding!) by asking if it's official that he's Rebecca's favorite. And his apology meant a lot too. I'm glad Kevin's getting the help he needs, and I hope the Pearsons actually start to talk to each other about their grief and assorted feelings.
Claire: The bar scene with the "others." It was very revealing especially about Miguel. They're at a bar getting drunk while the Pearsons are at Kevin's rehab talking about their family's history of addiction. I thought it was hilariously ironic. The 3 non Pearsons have great chemistry!
Marko: The Therapy session.
Beth: The end scene where Rebecca tells Kevin she never had to worry about him. This hit home for me on so many levels because I have heard this in my own life and I burst into tears when I saw it on screen.

YOUNG SHELDON, "Demons, Sunday School, and Prime Numbers", January 11, 2018, Actors: Iain Armitage and more, The Scene: Sheldon announces that he wants to create his own religion
Claire: Sheldon declaring that after researching many different religions, he is going to create his own religion based on Mathematics. Great episode! Almost every scene was worth nominating.