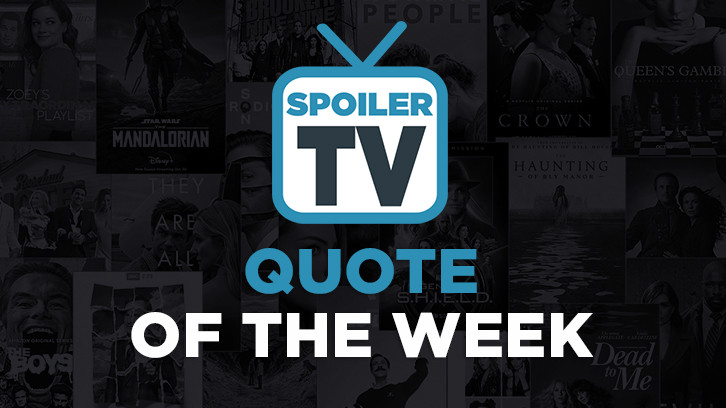 A weekly feature highlighting the best quotes on TV as picked by the Spoiler TV team. We'd love to hear your picks too so please sound off in the comments below.





Agents of SHIELD -
1. Fitz:

"I feel like I'm not getting enough credit here. I have traveled through time and space to find you. I think we're moving past that a little bit too quickly." (Beth Whitley)
The Goldbergs -
1. Erica: "Geoff, you're making a scene." Geoff: "Oh, right, because the last thing we want is some unwanted, negative attention! This family should be barred from any and all dining establishments. I
'm talking Beefsteak Charlie's, China Garden, Applebee's, even Tony Roma's." Barry: "I hear they make a top-notch shrimp scampi." Geoff: "Oh, my God. At a steak place, you get steak. And at a place for ribs, you eat ribs with your dominant hand without complaining that the world is prejudiced against you." Adam: "Burn! He got you good." Geoff: "And you, you know, despite your age, you still look like and sound like a tiny boy, so just order accordingly." Beverly: "He's right. You barely touched that steak." Geoff: "And you. You turned your purse into a mini-fridge. You took an hour to order, then stole food from that table, and then sent it back." Pops: "Hey, we're trying to enjoy Devon's graduation dinner in peace!" Geoff: "And you! That's just a nice family trying to have a special meal together. Leave them alone!" Murray: "What's Captain Soup going on about?" Geoff: "And you, with your menu rules and your communal soda and you're forcing me to just eat soup? You think I didn't want steak?! I chose this place! I love their meats and their sides, and why do you keep eating through everything I'm saying right now? You know, you really are ruining our good people's name, and you know what I'm talking about."
(Samantha Benjamin)
Hawaii 5-0 -
1. Steve: "No matter how far away we go, this island always draws us back home." TanI: "Think Danny's gonna feel like that when Grace goes off to college and he can go back to Jersey." Steve: "Don't let that old curmudgeon fool you, this is his home. He's never gonna leave here." Tani: "Oh, he's not gonna leave here because he doesn't want to leave here or because you're not gonna let him." Steve: "Both."
2. Grover: "Hey, when someone's hurting, when you're suffering, it also affects the people who love you. They suffer too."
3. John: "I have a concealed weapons permit." Steve: "Not anymore." (Dahne)
MacGyver -
1. Jack: "Safe, what is safe about giving a knife to a monkey? Do you have any idea what that could do?" Mac: "I don't know, Jack. What?" Jack: "You probably just started Planet of the Apes, man."
2. Bozer: "Uh, you couldn't have mentioned the need to switch drivers before we pulled onto the road again?" Mac: "Have you met me? I am just making this up as I go along, man. Go."
3. Jack: "Don't tell me. Let me guess. You started the robot apocalypse." Matty: "Yes, we have a runaway robot." Jack: "Well I called that one, didn't I?" (Dahne)
Major Crimes -
1. Provenza: "Okay, Buzz. Time for you to get your 'kicking in the door' badge." (Prpleight)
The Middle -
1. Brick: "The truth is if you go through life expecting other people to make things good for you, you're going to be disappointed. The only person you can depend on is yourself. And I guess I'm lucky 'cause I like myself, so whenever I'm with myself I'm happy. I've never once let myself down." (Claire Serowinski)
Schitt's Creek -
1. Moira: "Um, I woke up yesterday morning with a spring in my step." David: "Start later, please." Moira: "I could never know where the day was." David: "Fast forward it." Moira: "I ran into the elderly gentleman outside his room and he asked me for a painkiller." David: "And?" Moira: "I told him I didn't have one." David: "Okay." Moira: "But I did have one. In fact I had several sample packets in my purse. I had come from the pharmacy, and they were just out in a bowl. But I refused the man, and the next thing I know, he turns up dead!" David: "Well, why didn't you just give him the pill?" Moira: "Because David, because I can barely come to terms with the fact that I've resorted to hoarding sample packets of a basic headache medication, let alone reveal it to the world. This is what my life has come to, David, killing a man over a complimentary bolus." David: "Okay, well are you even sure that the pill would have saved his life?" Moira: "We'll have to let the courts decide." David: "The courts? Well, know that you've unloaded this on me, what am I, an accomplice?" Moira: "David, I came here to be talked off a ledge, not pushed! Can you imagine this in prison?" (Samantha Benjamin)
SWAT -
1. Deacon: "Yeah. When I started, Annie and I, we made a will, and we planned for one thing - what they would did if something happened to me. Never planned on anything happening to her. I did figure out one thing though." Hondo: "What's that?" Deacon: "I know what my chair is. It's Annie."
2. Ashe: "I treated them like they deserved to be treated. This is a prison, not a country club." Hondo: "I'll remind you of that when I toss your a** in one."
3. Hondo: "If we decode it, we find out." Luca: "Well don't look at me. I'm a shooter, not Sherlock Holmes." (Dahne)
This is Us -
1. Beth: "The others? What are we, on Lost?" (Saloni Gajjar)
2. Randall:
"I wanted to be there for you and I wasn't, I did a bad job today." (A D Oguta)
The X-Files -
1. Mulder:
"Scully, you look so adorbs just there. All curled up in a ball in the booth of a skanky bar with your fingers wrapped around the grip of an assassin's glock." (Naomi Anna)