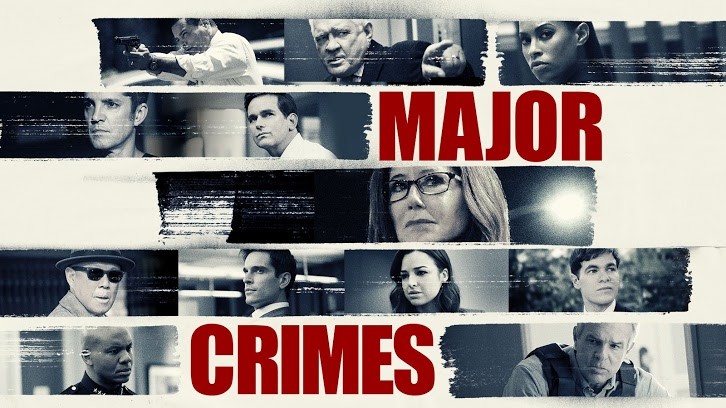 Buzz finally twigs to the fact that someone is in their system. He shuts down the TV and ushers everyone out of the room to discuss the issue.

Tao goes through how the hack could have happened, and it occurred to me that this hacking element might have worked better (or made me happier) if Tao had made a comment about it being a bad idea to allow a witness to text an image to an officer's phone.


Now that he knows they were being watched, Provenza has a plan. I am really enjoying watching Provenza be a detective. The scene with Provenza attempting to explain the technical situation to Chief Mason was one of my favorites. Pineapples and Threat Actors, oh my.
They figured out who Stroh's accomplice is on this job and started playing their own psychological game with him. Major Crimes' ultimate goal being to get him to download an infected file onto his system, which would lead them to his and Stroh's location.
We finally learned why Stroh returned to Los Angeles, and it's not all about Rusty. It's about the money his mother set up for him when she decided to disappear. Hunt Sanford, Gwendolyn Stroh's other son, closed several of her accounts, including several in the Caribbean.
The foreign accounts were blackmail payoffs that she set up to protect Phillip as well as the one
for
Phillip. Hunt had no way of knowing this, and his mother's dementia made it impossible for him to find out what they were for.
He was a good son watching out for his mother's best interests. Everyone, except Hunt, knew how Phillip was going to reward him for that.
Did anyone else find the scene where Gus asked Rusty to sleep with him a little odd? It just seemed weird to me for Gus to be asking to share Rusty's bed instead of asking Rusty to take him back. It was just weird. You won't forgive me but will you sleep with me. Was that just me?
The other big moves in this episode involved planning for the end of the show. They began tackling the question of where will our regulars be when the show is over.
Sanchez has been offered a promotion and position in a department more conducive to the live of a single father. If I heard correctly, he'd be taking over Assistant Chief Mason's former position.

It looks like Provenza will continue to run Major Crimes…though he'll need a good technology translator. Maybe Tao will stay?

I suppose Gus and Rusty will get back together as Rusty heads off to Law School.

During the meeting in the Chief's office, Buzz made a comment and the Chief zeroed in on him. Luckily, Buzz made a really good point. There was such an odd intensity to that moment (Mason shut Tao down when he attempted to answer for Buzz.) that I'm convinced that Buzz is going to be offered a position with the LAPD as an actual police officer.


Overall, I thought it was a good episode. I'm happy the LAPD, once again, has control of the investigation. The least surprising person in the Major Crimes Unit, Julio Sanchez, completely agrees with Provenza's declaration that Stroh will not survive this case. Julio was gloriously blunt about it.
I don't have a problem with the sentiment, but I don't think it's very wise of Provenza to keep announcing this in the squad room (the Unit may agree with him, but other cops stroll through there daily.)
Maybe Patrice has given Provenza reason to consider retiring.
I was a little surprised that Stroh's motivations are monetary, but it fit. I still think Dylan's girlfriend is a goner.
Dylan stole Stroh's money so, unless he's planning to hand Stroh over to the LAPD, (or the LAPD gets to him before Stroh finds out about the theft) Dylan is definitely not long for the world.
What did you think about the episode? What do you think about the endings being set up for the regulars?