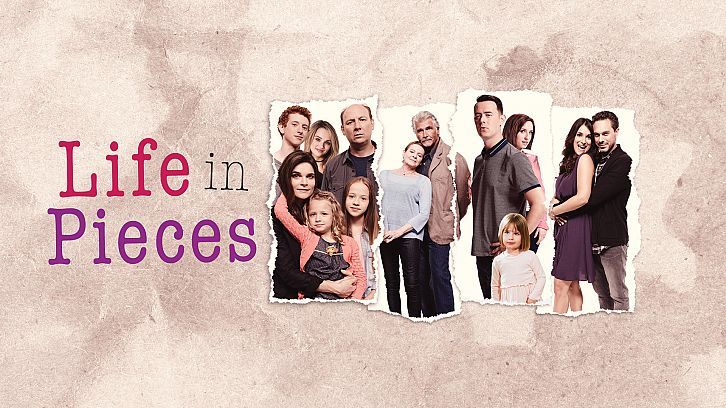 Life in Pieces
Episode 310

This episode was funny yet stilted. The title of the episode says a lot, yet so little. "Emergency Interview Driving Lunch". Instead, it should have been titled "What if...30 minutes goes fast."

I personally am a huge fan of ironical sense of humor which is one of the reasons why I like this show. And they did have a lot of funny moments in this episode. But, for me at least one "What if..." short story I could have lived without.

This surrounds Matt and Colleen. Right off the bat, there is a funny, OMG I can't believe she just did that bit. Colleen so happy and in the moment, couldn't help but take a selfie of her, Matt and the container that will hold Matt's sperm. So begins the spastic energy of this episode.

Matt only has 30 minutes to get his sperm sample to Fertility Clinic.

WHAT IF...
Every short story starts the same. Matt has his "sample" in the little plastic cup, he almost drops it and then carefully puts it in a lunch brown paper bag and then...

The Emergency
WHAT IF HEATHER CALLS...
Matt has his "sample" in the little plastic cup, he almost drops it and then carefully puts it in a lunch brown paper bag and then... the phone rings and... it's Heather. She panicking, oh no she "Lava" in her chest! Lying on the floor in the middle of the coffee shop, all melodramatic, she begs Matt to come pick her up and drive her to the hospital. He asks, aren't you married to a doctor? She said that he's at a doctor's appointment.
On the drive to the hospital, they talk about a Japanese Sex Robot and that Heather is Greg's fake old high school crush and how she had this big elaborate plan on ending the charade. Like epic.
"Japanese Sex Robot..."
This and the convoluted conversation Heather has with Matt as she is lying on a hospital bed, talking about machines keeping her alive, spare no cost. "You put me into a freakin fax machine if that keeps me alive," she said with passion. "Can we get a doctor in here?" Matt said in a panic.
All that drama, and she had acid reflux. Love it.
"Coffee and Red Wine...You don't eat wine..."
The end of that story, the 30-minute alarm goes off...and he's missed his window.
Story 2 The Interview
IF GREG CALLS...
This story was funny especially when Greg is talking to Matt on the phone and Greg's interaction with his loopy parents, but like another story in this episode was sometimes uncomfortable to watch.
Greg calls Matt and begs Matt to come over and help out with Mom and Dad. He only needs him for like 10 minutes, he has an interview...
Their dad is acting loopy. One of the funniest scenes is when their Dad (James Brolin) is standing on the bottom stair wondering why the escalator isn't moving, then he's like there it goes, and almost falls backward, as if the moving escalator is moving without him. It was hilarious, especially with the physicality of it.
Their mom took too much anti-anxiety medicine, and zoned out.
It got a little cringe-worthy at the end of this story when everyone interrupted Greg's interview. I get it, but I cringed.
The end of that story, Matt has missed his 30-minute window again.
Story Three - Baby Driver
IF A TELEMARKETER CALLS...
Matt again picks up the phone when he shouldn't and it's a telemarketer for an insurance company, telling him he's overpaying on car insurance. So, of course, he's on his way to the fertility clinic to drop off his sample, he's listening to the pitch since it's the only way to get off their call list, and when he tries to turn off his phone he gets into an accident.
So he calls Tim who can't see cause the eye doctor dilated his eyes to come pick something up for him. Well, Tim can't drive, but...guess who has their learners permit? His daughter Sam.
Interesting driving ensues. And finally, Tim and Sam arrive at their destination. And in the parking lot, Sam is told what is in the brown paper bag that she is holding in her hands...Matt's "Man Sample". That was priceless.
The end of that story, his sample again is not delivered on time. But hey, Tim and Sam are going for ice cream!
"Man Sample"
Story Four - Stolen Lunch
IF COLLEEN CALLS
So, full disclaimer, I fast forwarded a part of this story. All I'll say is there is a mix up with 2 brown paper lunch bags...One having lunch inside, the other not. If you want to know more, see the pictures below.
I think the picture says it all.
IF NO ONE CALLS
This story opens differently, with Matt and Colleen sitting and holding hands in the fertility clinic waiting room.
Matt said, "I thought about it, a lot can happen in 30 minutes..."
The female lab tech, with Matt following, opens an exam room, a man yells out "Someone's in here."
The lab tech asks Matt, "You want to wait or go to another room?" with the door to the occupied room still wide open.
Matt says, "I want you to close the door..."
She says, "So we wait."
End of Episode
So what you think about this episode? Please leave a comment.