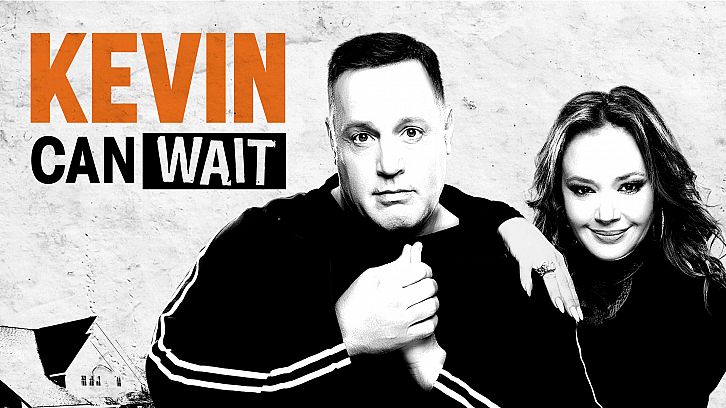 Kevin's first date in twenty five years gets off to a good start, but quickly goes from nice first date to psychotic first date. Maybe, Kevin can't date.

Kevin's "couples friends" are tiring of their "double dates" with Kevin and Kevin, alone; especially because he's a lousy date.

Vanessa's meeting with a new client, Rebecca, lands Kevin his date and Vanessa a free designer bag. Kevin is leery; afraid the kids aren't ready for him to date. They're ready, but Kevin's not. Family and friends all gather to send him off. They're excited. He's nervous.

Rebecca is sweet, beautiful and into Kevin. She has hired the firm to serve her ex with a restraining order. But the first bad sign is during dinner, when she texts her mom to tell her that she thinks she's found the "one." This is about one hour into their date.

While serving Rebecca's ex the papers, he reveals to Vanessa and Rootger the truth about Rebecca; that the last four out of her five exes have restraining orders against her and the fifth one "mysteriously" fell off of a cruise ship. She also doesn't work for the designer handbag company as she's told Vanessa, either. She just gets arrested for stealing them. Will Vanessa get to keep her "free" purse?

Kevin knows the date isn't going well after taking Rebecca for burgers; when she starts talking about them spending Thanksgiving together. That IS a bad sign especially since Thanksgiving is ten months away. Rebecca convinces Kevin to give her another chance that she didn't mean to be so pushy. So, Kevin mentions his son in law's idea of an Escape Room.

Vanessa and Rootger go in search of the couple when Vanessa can't get Kevin to answer his phone. She had earlier told him that spending time on his phone during a date would be rude; good advice, bad timing. Vanessa remembers Chale's escape room suggestion and the duo track the happy couple down to the cheapest one on Long Island.

At the escape room, things are going down hill fast and Kevin is desperately trying to get out of the locked dungeon and away from his completely overwrought date. When Vanessa finally reaches him by phone to warn him about Rebecca, Rebecca overhears their conversation and comes on even stronger; asking Kevin why he's so afraid of commitment. The guy running the escape room won't let Kevin out so he finds a false wall to get away from Rebecca.

Rootger and Vanessa show up and watch on, by video, as Kevin threatens to go "full on Wreck It Ralph" on the room if they don't let him out. Vanessa wants to see this and tells the guy to wait. And, of course, Kevin goes full on wrecking the entire escape room. He returns home to his hopeful family with: "it sucked, almost died, psychotic, feel sorry for the next idiot who gets stuck with her." And of course that idiot is... Kyle; poor Kyle.

The ending shows Rebecca hitting on Kyle at a bar and he is loving it; not knowing what he's in for. If I know Kyle; he'll hit it off great with Rebecca, cute couple?
Really liked the episode, thought it flowed nicely with some very funny moments. Vanessa and Rootger also have some great comedic chemistry.


Favorite moments: Rootger is sure Kevin is dead after he gets a full body chill until Vanessa reminds him that he's drinking a milkshake. Also, when Rootger tells a client: "we weren't born tomorrow." He is hilarious!

Would love to know what you thought. Some people are still upset that they haven't explained Kevin's wife's death more thoroughly and now he's dating, what are your thoughts? I think it's time to move on.