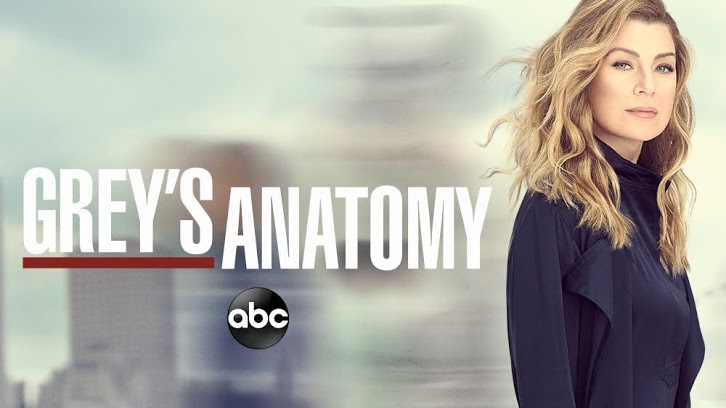 After last week's hard-hitting episode Grey's wasn't afraid to go even further.

We jumped back into April working on Paul who, as we found out in last week's episode, was hit by a car. We quickly find out that Jo and Alex didn't do it and as much as Meredith says she believes them (did she actually believe them? because it didn't seem like it) she tells them to hide, maybe even leave the country and go to Canada or at least contact a lawyer.

The further I got into the episode the more I began suspecting Jenny as the one who hit Paul and Jo ended up thinking the same. However, we quickly learned that Jenny thought it was Jo who done it and things begin to get a little confusing. Jenny tells Jo that she isn't angry and in fact is grateful. They then find out that Paul is fine and only has a concussion which leads them to finish the heart-to-heart they began in last week's episode. Jenny apologises to Jo because she was right. Jenny shares her story of how slowly Paul made her distance herself from the people around her including her family until it she just had him left. He beat her and convinced her it was her fault. She felt stupid because she believed him and couldn't believe that she allowed herself to get into this relationship. She fell for Paul's act just like Jo did. And Jo understands. They didn't fall in love with an abuser; they fell in love with someone who made them feel wanted. Jo explains that Paul is charming, brilliant and persuasive and that "the good outweighed the bad, until it didn't."

With Jo and Meredith by her side, Jenny goes to Paul's room at tells him that she is going to report him to the police. And for the first time we see his entire cruel and evil routine play out. He begins by being charming whilst trying his best to get sympathy from Jenny. He then calls her stupid when she stands up to him. And within a matter of seconds he's charging towards the three women. But it's the last time he will ever try to hurt a woman because he slips and hits his head once again causing him to go brain dead. By far this was one of the best moments in the episode because three powerful and strong women stood up to a man and told him he was wrong.

Since Jo is still legally Paul's wife it is up to her to decide what happens with Paul. She begins to laugh until she cries when she realises this. In the end, Jo and Jenny decide to donate Paul's organs meaning that something good came out of the situation. And at last, they are free.

In between the Paul storyline Grey's tackled the huge topic of police violence. A 12-year-old boy named Eric is brought into the ER with a gunshot wound to the neck. We quickly find out that he had forgotten his house key and tried to get into in through the window like he had done many times before. That's when a police officer seen him and shot him believing that he was trying to break in. The boy's face is one of the most heart breaking I've seen on Grey's Anatomy as he looks at the police officers carefully watching him.

The story hits close to home for Jackson who as a young boy experienced police brutality himself explaining that when he was young he was violently arrested as he was walking home in an upper-class neighbourhood for simply "fitting the description". Throughout the episode Jackson stand up for Eric and very well explains the bias of the police officers. We are heartbroken when we find out that Eric doesn't survive after he was suddenly taken into the OR.
Eric's death causes Bailey and Ben to have "the talk" with Tuck. This is by far the most heart-breaking and powerful scene I've watched in a long time. It is a talk that no parent should have to give, and no child should have to hear. It's a talk about how Tuck needs to act in front of the police if he is ever arrested because he is African American. He needs to be polite, calm, clearly state to the officers what he is going to do, and never, never ever run. The two aren't trying to say there is something wrong with Tuck or scare him. They are just concerned parents that want their son to come home every night safely.

The episode also focused on something that I've very rarely seen on tv; someone questioning their faith. At the start of the episode April began treating Paul before moving on to delivering a baby. She quickly learns that the baby's father is Matthew; yes, her ex-fiancé, the guy who she ditched at the alter for Jackson. Things got a little awkward from there on between the three. But everything runs smoothly, and a beautiful baby girl is born and Karen, Matthew's wife, seems to be doing just fine. Eric then arrives in the ER and April quickly runs over to help. After an examination and scan it looks as though he'll recover. However, neither are fine.

Karen is suddenly taken into the OR by Arizona who doesn't want Aprils help. Eric also ends up in the OR and once again she isn't needed. April is hit hard by Eric's death along with Jackson. Then another patient, who took the Bible too literally and tried to cut off his hand, gets in a heated discussion with April about religion and the stories in the Bible. His points are valid and the look on April's face shows she might be questioning her faith. Once her discussion is over things don't get easier. She finds out that Paul died even though, to April's knowledge, he only had a concussion. Right after the news of Paul's death Arizona informs April that Karen also didn't make it.

The final scenes show April drinking away her sorrows at the bar. She looks broken. The final scene is of April in the shower being joined by an intern she hooked up with. Her face is numb and expressionless. I don't think we've ever seen April this dark. It's a huge contrast from the happy April we seen at the beginning of the episode who said that "God doesn't give us anything we can't handle."

Other notes

The first one has to be about Sarah Drew and Camilla Luddington doing a fantastic job in the episode. April's shower scenes really showed how much questioning her faith has affected her and Jo laughing after she realised the irony of her legally being Paul's wife and having the power to make a decision on what happens to him is fantastic.

I loved seeing Maggie with Tuck and his friend doing the science experiment. I think she's great with kids and it is definitely something I'd like to see more of.

I'm interested to see how Matthew's return will affect April especially after the revolution she faced in this episode.

Let me know what you thought of the episode in the comments below.