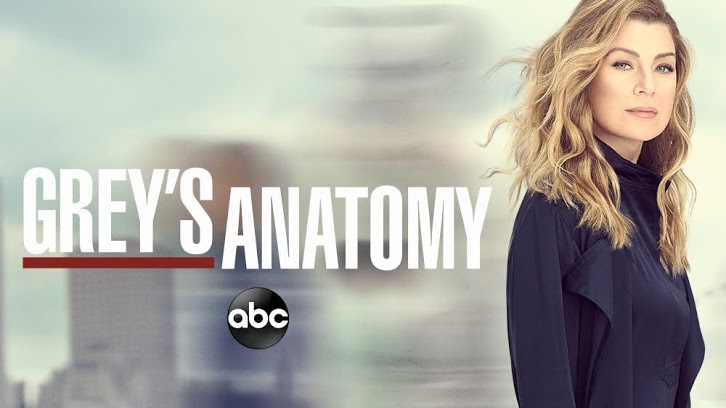 Like always Grey's never fails to disappoint. Picking up from where we left off in the mid-season finale, Grey's returned with a fantastic episode. Although, I'm not going to lie, it didn't deal too well with the tone changes. One minute we go from the horrific topic of abuse to people flirting in towels…. Anyways, the episode starts just where we left off with Jo running into her abusive husband, Dr. Paul Stadler, whilst trying to help Alex and Amelia save a young patient.

Now, straight away the episode delivered a shocker when Paul introduced his fiancée, Jenny (Bethany Joy Lenz) which revealed his reason for showing up; a divorce. The second surprise was that Paul Stadler is a globally renowned surgeon. So renowned in fact that both Arizona and Webber fawned over him. He's creepy charm really manages to fool people. And to add to that as soon as he sees that the hospital is in a crisis he volunteers to help. Only a few minutes into the episode and I'm already creeped out by this guy.
Since we picked up from where we left off in the previous episode, Meredith is still in surgery with Glasses giving blood to save her patient. However, because of the large amount of blood loss he faints, and Paul is obviously there to step in. He tries to fool Meredith by being nice and completing her on her Harper Avery award, but Meredith isn't having enough of it and quickly shuts him down. She tells him she knows exactly who he is and that she is Jo's friend. Obviously, he tries to blame Jo and claim that she is unstable, a drunk and all but Meredith doesn't buy any of it. The camera then moves to reveal Jo sitting in the gallery listening to the full exchange.

Once Meredith finishes her surgery she finds Jo and hugs her whilst reassuring her that she knows exactly who she is. I loved this moment and thought it was actually really powerful. Jo, Meredith and Alex then try to figure out a plan of how to deal with the situation and it becomes clear that Alex and his temper need to stay as far away from Paul as possible. So, Meredith steps in and doesn't leave Jo's side as she signs the divorce papers. We're relieved, and it seems as though the nightmare is over… but wait, this is Grey's Anatomy after all, it can never be that easy.

Jo catches a glimpse of Paul walking out with his fiancée and knows she must do something. Whilst Arizona distracts Paul with her fangirling Jo tries to talk to Jenny. Jo tells her about Paul's manipulation and how he made her believe that the abuse was her fault. She tells her about how quickly the abuse grew and grew with each story she reveals. Jenny's eyes scream help me, but she doesn't say a word. Quickly, Jo gives Jenny a way to contact her and manages to hide before Paul returns and the two leave.

But this still isn't the end. For reasons still unknown to us Jenny tells Paul about her conversation with Jo and Paul comes back to confront her. He quickly grows angry and we get a glimpse of the verbal abuse Jo suffered. Luckily, Meredith is there and stops him before anything can happen by pretending to call security. Paul leaves with the very information he needs to at any moment find Jo because Jenny gave him the contact information Jo gave her. Obliviously, this causes Jo to panic but Alex reassures her that nothing will happen to her because she is safe with him and Jo wishes that Paul was dead.

Then suddenly, it's a brand new sunny day in Seattle with a happy Meredith walking into the hospital to see Jo and Alex holding each other as they look in disbelief at a hit and run victim being worked on in the ER. That victim is Paul Stadler.

"What did you do?" Meredith asks right before the episode ends.

This doesn't look good.


Other notes

I most definitely did not enjoy the flirting between Jackson and Maggie after they saved their patient. It made me cringe and all I could think about was the fact that they're step brother and sister. I am very glad that Maggie addressed that and the fact that it would be a very difficult relationship at the end of the episode and instead of going out with Jackson she left with her tinder date. However, everything still seems to hint at the fact that no matter how the fans feel the relationship will develop in the upcoming episodes.
I thought that Bailey enlisting the help of a new intern to deal with the hackers was great. I love seeing her stand up and take the lead when she's had enough. Also, this storyline ended on a great note when the intern revealed that he hacked into the DMV to change his gender on his driving license because he is transgender, and the DMV wouldn't change it for him. I loved this moment and I really hope we get to see more of this intern and find out a bit of his back story.
Now, I'm still not quite invested in this DeLuca and Sam storyline, but I did love hearing Webber call them out and I hope to see more of that.

Lastly, I have to mention how amazing Camilla Luddington was in this episode along with Matthew Morrison. Storylines like this are very difficult and delicate and so far, they've done a really great job.

Let me know what you thought of the episode in the comments below!