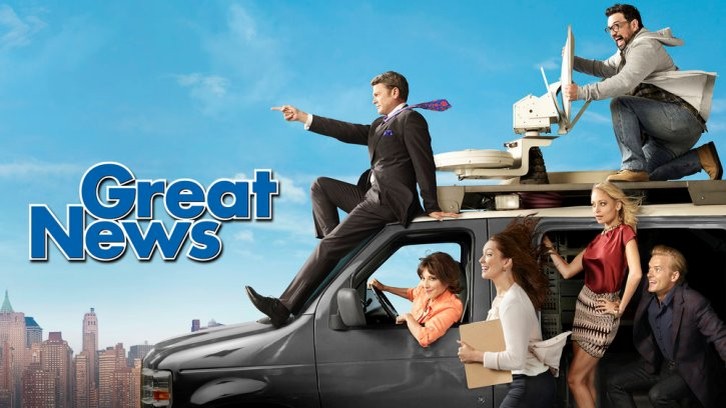 Well everyone, here we are. The second season of Great News has come to an end and honestly what a great episode to leave us on! After last week's shenanigans that ended with Carol quitting and resuming her full-time social life, we were gifted with a truly wonderful episode that tied this season (and show?) up in a nice little bow. Last week's episode wasn't my favorite, but this week really brought it home in a satisfying and hilarious way. If this really is the end, I couldn't have asked for a better ending. Let's review it!

Now that Carol is a full-time mom again, she's enjoying the little things like packing Katie her lunch and dropping her off at work. Most importantly she has more time with Angie who politely sends her messages to let her know
The View
has
not
started yet. Where do I sign up to get a reliable friend like Angie? Carol talking about Angie as casual throwaway jokes was always this show's peak comedy and I'm grateful we were given just a little bit more for the finale.
Always striving to be the best reporter she can be, Katie decides to ignore Diana's instructions and pursues her lead regarding Fenton and his old business partner, Anthony Lyon. To make matters worse, Greg comes to tell her he's started planting seeds to end things with his girlfriend instead of outright breaking up with her to be with Katie. Why does Katie like Greg again? Not important. The point is, he's going to break up with her. Katie believes him and so do I!
Spoiler alert: Greg does not break up with Cat but instead she dumps him. He assumes this is exciting news, but something about the lack of passion behind it all has bummed Katie out. Fortunately she doesn't have a lot of time to think about it because a surprise visit from Carol strikes inspiration in the Anthony Lyon investigation: Carol knows everyone in New Jersey, and she's going to help find him. To heck with guy problems!
Great News
was not a perfect show. It sometimes failed to connect all of its parts and some jokes fell flat when they could have been better. But at the end of the day it was a really wonderful addition to the world of comedy and if this is the end, I'm going to miss it. I'm grateful that they ended the season with an episode that doubles as a series finale to help lessen the blow. 23 episodes of a genuinely funny comedy is better than 12 seasons of
Two and a Half Men
. Sorry if that's too mean to Charlie Sheen.
will
be insane and we'll get a tiny third season order for schedule filler over the holidays, a summer run, or to air disguised as an
SNL
sketch every Saturday at 2 am. We'll take anything, especially anything that provides little things like this fun insert joke to the right.
(But if there is a third season, can we please let Portia and Carol become best friends that frequently have A-plots together?)
What did you guys think of the end? What were your favorite moments in
Great News
? What would you want to see in a hypothetical third season? Would you want a robot to hang signs for you? Let me know!
That's all for me. See you guys in 2031 when TNT Jr. revives
Great News
as a children's animated series!