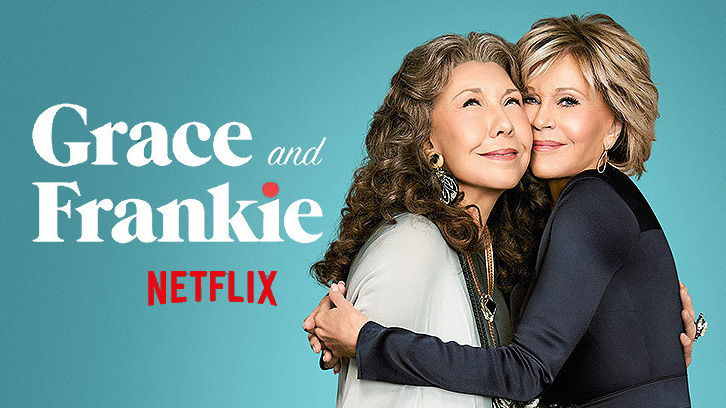 When we left Grace and Frankie last season, the two friends decided to go on their separate ways as Frankie decided to move to Santa Fe to be with her partner, Jacob. This new season picks up a little while after that, as both Grace and Frankie are getting used to their new lives apart from each other. Note: this preview only concerns the first six episodes of season 4.

Friends and Girl Power

The beautiful thing about Grace and Frankie is its illustration of the power of female friendship. These two are stronger together, and they make each other better. As Frankie (Lily Tomlin) struggles to feel at home in Santa Fe, Grace (Jane Fonda) gets a new roommate called Sheree, played by Lisa Kudrow (Friends). Sheree is a little eccentric but not Frankie-level eccentric. She makes Grace happy by providing the companionship Grace is needing since Frankie's departure. But when Frankie comes home to visit and meets Sheree, she quickly becomes jealous and the fact that she misses Grace is rather obvious. That's the thing about Grace and Frankie: they can easily get on each other's nerves and are highly independent women, but they also depend on each other and need to be around one another. Season 4 does not ignore that fact and shows how much Grace and Frankie's friendship has grown over time, bringing them closer and making them stronger. In the end, as Sheree tells them, they are extremely lucky to have each other.
Trouble in Paradise
While Grace and Frankie are closer than ever, things between Sol (
Sam Waterston
) and Robert (Martin Sheen) are not doing as great as they could be. Trying to spend more time together and to do something that unites them, the couple started getting involved in protesting. They go to a lot of protests for gay rights, get caught by the police often (because they are too old to run away as fast as the other protesters), and continuously try to connect by doing what the other likes. Sol likes being an activist, so Robert does it for him. However, he quickly realizes he cannot keep this up and needs to be able to do his own thing as well, a.k.a theatre. The more Sol and Robert's relationship progresses, the more they realize they appear to have disagreements and troubles balancing their marriage. They seems to both have a need to find fulfillment in their lives through new activities, while wanting to be together as much as they can.
Grace and Frankie
shows that marriage is not easy, even when it comes to a couple that have been in love for decades and is only now getting a change to truly be together.
Aging
The first half of this new season of
Grace and Frankie
also explores the fear of aging a little bit more than it has before. Through Grace's eyes, we see women's struggles with seems their bodies and mental health deteriorating. It starts with Grace's insecurities towards her relationship with a younger man who she assumes will leave her as soon as he realizes that she is not going to get any prettier or healthier. She hides her true self behind makeup and fancy outfits, ignoring the pain in her joints or the exhaustion that comes with such high maintenance. Grace's vulnerability towards her age is a sensitive subject, one that is treated with delicacy in this season, showing that even when women age they remain beautiful and strong. But when she gets confronted to a friend who is mentally deteriorating, Grace also starts ruminating about her ability to be independent and being able to do things herself. In a hilarious scene, she goes to a big box store to buy some tools and ends up having to use a scooter because she is just too tired and her knee is too painful. Then, an ashamed Grace drives around the place after affirming she was not "a scooter person." Her character is touching, and the show tackles this topic thoughtfully by hinting at the idea that aging is not the end of the world after all.
Background Noise
Now on a less praising note, there is one thing about
Grace and Frankie
that is not very well done. Secondary characters, in particular all of Grace and Frankie's kids, mostly have storylines that are only mildly interesting. In the first half of this fourth season, Mallory's (
Brooklyn Decker
) struggle with her divorce seems to be a good topic to explore, but her character development barely goes anywhere. Coyote (
Ethan Embry
) is also pretty much only in the background and doesn't get much development either. The only two kids who get to have more growth in the show are Buddy (
Baron Vaughn
) and Brianna (
June Diane Raphael
), but even them are only slightly given more actual storylines than the others. It will be interesting to see if that dynamic changes in the rest of the season but, as of now, the show has mostly treated all of these characters as background noise without a lot of significance (although there has been a few instances where their stories could really have taken a turn).
All in all,
Grace and Frankie
continues to be a very lovable show with great performances and an amazing duo of lead characters. It's the kind of show you can watch all day long and then start over once you are done, because the beautiful spirits of Grace and Frankie simply make life seem a lot more fun.