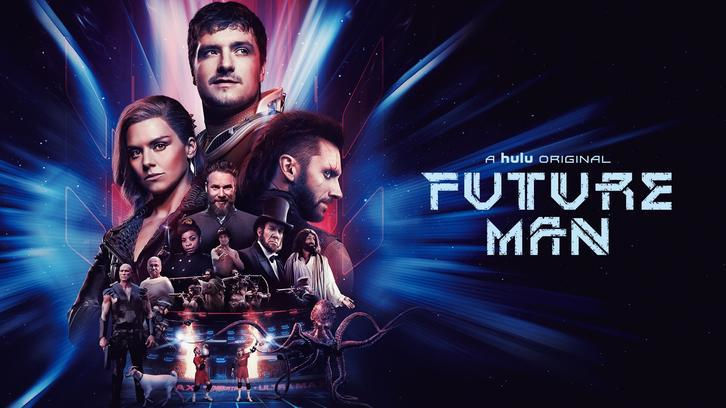 Interview with Kevin Caliber from Hulu's Original Show, FUTURE MAN
FUTURE MAN Fans, Kelly Anne Blount here and I have a special treat for you all today! I recently had to privilege of interviewing Kevin Caliber a.k.a. Blaze from Hulu's Original Show, FUTURE MAN. Kevin's character is one of my favorites on the show and I couldn't wait to talk to him about his work on the show, his background as a stuntman, and the other projects he's working on!
Check out the interview below and be sure to leave a comment or two to let Kevin know how much you appreciate him!
Thank you so much for granting the interview with SpoilerTV, Kevin! We have enjoyed watching you on everything from SUPER GIRL on the CW, to the HAVES AND HAVE NOTS on OWN, to MY CRAZY EX on Lifetime. But out of all of your roles, I have to admit, my favorite has been Blaze on FUTURE MAN, Hulu's Original hit show. For those who are new to the show or perhaps haven't had a chance to check it out yet, what can you tell us about your role as Blaze?
Thanks for having me! I have to admit that Blaze has been my favorite character to play. Future Man is a time traveling show with soldiers from the future trying to save the world. My character Blaze is from the 80s and becomes best friends with Wolf. Blaze is a true party guy that is willing to do anything for a great time- and I mean ANYTHING!!
Your background includes service in the United States Marine Corps. First and foremost, thank you for your service and devotion to your country! Secondly, could you share with our readers how serving in the Marine Corps helped prepare you for your work as an actor and as a stuntman?
In the Marine Corps, we are taught to train hard and do whatever we have to do to get the job done. We are also taught to rely on our coworkers for support and to push each other until the mission is accomplished. Going into a project is very similar to going into a mission. You never know what surprises you are going to run into. We are all gonna be sleep deprived, and we will at times drive each other crazy, but there will be an amazing sense of accomplishment when it's all over. Stunts are very dangerous and have to be taken very serious- even when you take every safety precaution, people get hurt. It's kind of a twisted thing to put yourself in those situations and it's not for everybody- much like the military.
Speaking of your background and training as a stuntman, do you typically handle the majority of your own stunts on FUTURE MAN?
In Future Man, I had a few doubles for various scenes. I did as much as they would let me, but for liability reasons they didn't let me handle everything. But the editing was flawless and you could not tell at all- which is always the first concern. I watch a lot of action movies and can always tell when the stunt double is in. Haha.
In addition to staring in FUTURE MAN, you are also working on several other projects, including television shows and films. What can you tell us about your other roles and what can we expect from Kevin Caliber next year (2018)?
2018 is set up to be my biggest yet. I have already shot many projects that are coming out. "The Campus", "Ugly Sweater Party", and "The Crossing" are all horror genre and were a lot of fun to work on. Action genre may be my favorite because you get to blend comedy, drama, and physicality. I am very excited to be part of an upcoming show "Ronan" that will blow everybody away!
When you aren't acting, how do you kick back and relax?
I am an avid outdoorsman and love to get into nature to escape the craziness that is Hollywood. Luckily I live in Souther California and there is so much to explore and beauty to enjoy, it keeps me sane.
In addition to my questions, several of Kevin's fans submitted questions for the interview. Check them out below!
You are clearly in incredible shape! What does your workout routine look like and can you offer any tips?
I have been into fitness my whole life and have tried every kind of workout fad and gadget over the last 20 years. I mix it up and do classic weight training, cross training, running, hiking, and at home workout videos. I get bored with the gym and do anything I can to keep it interesting. The key is to find something you enjoy doing because if you hate it, you will make an excuse not to. Having a like minded partner to hold you accountable is also extremely helpful.
Was it fun to play a character from the "glory days" of the 1980s?
As a child of the 80s, I was ecstatic to play someone from that era. The production designer and wardrobe stylists had so much fun and completely nailed it. Just trying on the clothes was a hilarious event in itself.
You all shot a pretty hilarious recreation of the volleyball scene from Top Gun. What was that like?
We did everything we could to not only match but go beyond what they did in that epic scene. They just set the cameras and let us have fun with it, so we pushed it and were challenging each other on set to top each other. I'd like to think we did a pretty good job taking it up a notch.
The "Beyond the Truffledome" was hilarious. Did anything even more over the top end up on the cutting room floor?
Wolf got extremely intense in the final scene and it lasted a little longer than what the final edit showed. Also the montage going through the years was so over the top that it was toned down a touch. It's kind of funny that we had a lot more girls around when filming and Blaze even talked about how many "swimsuit models" these guys got but they cut it out. I guess they decided to confuse if they had a "bro-mance" or if it was more. Haha.
So, your character wrote a tell-all book about his time working for Wolf, what do you think would have been in it?
I'd like to think it was 300 pages of him bragging about partying with celebrities and living by their own rules. Rules clearly did not apply to Wolf at any point in the series and Blaze had no conscience to speak of. Like Wolf said "Blaze did whatever I asked him, and never asked questions".
What do you like best about working on Future Man?
I love the passion that the producers had to make something unique and memorable with no restrictions. Nothing was off limits and we just got to have fun with it.
What do you think viewers will like best about watching Future Man?
Younger viewers will enjoy it for the humor and they will learn things about different eras as it is a period piece from all periods over the last 50 years. The older viewers will really appreciate all the references and how it all ties together.
What was it like to work on something spearheaded by Seth Rogen?
In one word- AMAZING!! The first time I heard his iconic laugh when I said a line, it tickled me in a way I've never felt. I have so much respect for him and his team and have been such a fan for so long that it was a dream come true. I can only hope I get the opportunity to do it again!
If you could time travel, when would you go back to or forward in time to and why?
I would love to go back to the 60s when it was a simpler time. I'd like to think people didn't worry as much and just enjoyed what they had. But, I would constantly be feeling for my phone in my pocket and that would drive me crazy.
Kevin, thank you so much for your time! We have really enjoyed getting to know you better and we look forward to watching you on next season of FUTURE MAN as well as your other projects!
Be sure to follow Kevin Caliber on Instagram, Twitter, and Facebook!
USA TODAY Bestselling Author