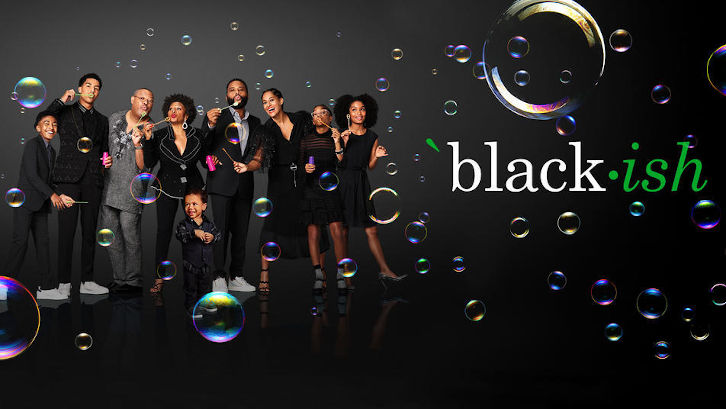 "Tonight on Black-ish, the Johnson family has some tough conversations"

Thanks ABC announcer guy. Although this sounds as vague as you can get, he was right on the money. After last week's focus on Bow, Dre is back in the limelight for an actual tough conversation about the most uncomfortable topic of all – death. Along the way, both he and Bow get into fights with their sisters (guest stars Raven-Symoné and Rashida Jones) about what they believe is rightfully theirs.


For Dre, this means Ruby's duplex. When Ruby sets Dre and Rhonda down and talks about her final wishes, Dre immediately freaks out. Despite his opening monologue bragging about his perfect parenting, he can't even handle this difficult but necessary conversation. Ruby wants to make sure that her funeral is well-attended and full of drama. She also wants to make sure her children are taken care of. She wants to leave Rhonda the duplex and Dre her hat collection. Dre is not ok with this.
I will be the first admit that I sometimes have some problems with the way Dre's coworkers are portrayed. They end up being so cartoonishly over-the-top that the show wants us to ignore some of the vile things they say (the joke about life insurance being the obvious example of the night). However, even I couldn't help but laugh at their insistence on helping Dre out instead of evacuating the building due to it being chock full of asbestos and black mold. They always give terrible advice, but their need to give it is always pretty funny.
The advice in this case is all wrapped up in inheritance. A duplex may not be on the same level as a Manhattan brownstone, piece of Hawaii, and treasure map, but they still urge Dre to "get what's his." Dre may have some important points about the Johnson family finally having a physical legacy to pass on, but that's just one facet of a larger issue. Dre is jealous of Rhonda's new relationship with Ruby and believes he deserves more for being the good son. In his enthusiasm to push Rhonda into "yelling at cars" territory, he ignores the obvious. His sister is struggling and this inheritance could ease a little bit of her burden.
After both he and Rhonda try to spring their surprise lawyers at each other, the Johnson siblings storm out. Bow, making a point that should have been made four seasons ago, tells him not to listen to the people at work and make up with his sister. He wastes a lot of money on Lyft (product placement…) rides to apologize to her, and the two decide to figure out what to do with the duplex together.
Bow, on the other hand, is jealous about Santamonica, now christened Santamaria, stealing Junior away. Bow may get tired over Junior taking over so many mothering duties and monitoring her alcohol intake, but she doesn't like it when Santamonica enlists his help instead.
This new fact that Santamonica constantly changes her personality is a fun excuse to have Rashida Jones play a different character every time she appears. She may be trying to put together a megachurch, but she's still Bow's oblivious sister. It becomes clear the second Santamonica voices her new dream that she has absolutely no idea how to put together a Bible study, much less a megachurch. When Bow suggests that she take Junior on as her assistant, it seems like a good plan for everyone. This is, until Diane runs out of glue sticks and Jack misses school. Turns out that while Junior is acting as Santamonica's errand boy and designated driver, he's stopped helping out Bow around the house. Bow and Junior eventually solve the differences, but don't resolve who will drive a drunk Santamonica to midnight mass…
What did you think of tonight's episode? Let me know in the comments!