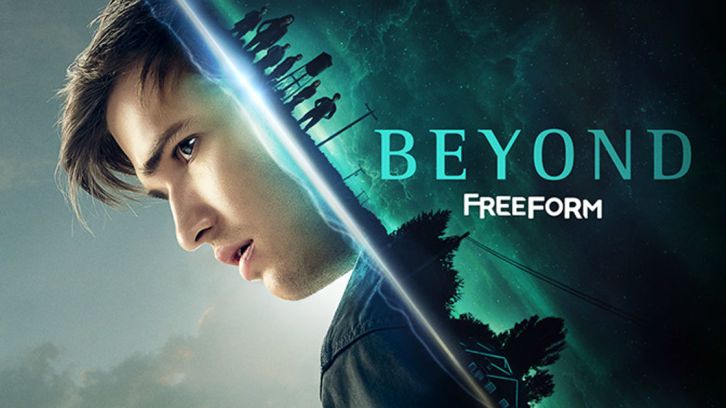 Beyond enters its sophomore year with two fairly interesting outings that don't really blow your mind but keep you interested enough to consider tuning in the following weeks. The opening two episodes are fairly slow paced which works in both the show's favor and disadvantage.


Burkley Duffield still leads the show as Holden Mathews who is doing everything he can to live a normal live. His life got so normal that he even has a workplace nemesis, named Steven. And while it is slightly entertaining to see him still try to adjust and avoid all the crap he had to face since his awakening. Holden's struggle to live a power free live is well portrayted but the constant nightmare and later day time visions don't really help. Burkley is doing a damn fine job this season by giving Holden more complexity and edge.
The show does exploit the Mathews a bit more and their interactions are really the stepping stone for this show. No matter how wacky and inconsistent the writing can be, you can feel the awkward closeness between the family members and that despite all the secrets they would do anything for each other.
That said Mommy and Daddy dearest try to protect their kids on their own behind their backs. And I just love to see them sharing scenes. Romy Rosemont and Michael McGrady give Diane and Tom so much energy and their chemistry is just beyond.
One thing I enjoyed in these two episodes is that Willa is having a story on her own, issues on her own and that we explore her character a bit more than just through Holden's experience. Her grandfather Arthur is her main concern. His inability to come to terms with losing his daughter puts a strain between the two of them and makes Will act out during a really weird family dinner.
Willa and Holden are very hot and cold throughout the two hours and her meeting the Mathews Parents doesn't go as planned at all. Also, things get quite weird when a flashback reveals some of Willa's previous meddling.
Only more awkward than that family dinner are the writers constantly hinting at Luke having a crush on his brother's girlfriend. I like Luke, mostly cause I like Johnathan since his The100 and OUAT days and I really hope they come up with a more juicy story for him, besides pining for Willa and being a Barista.
But by far the most interesting part of the two hours was Charlie and her storyline. She was still associated with The Man in the Yellow Jacket and they are up to no good. We first meet Charlie in unexpected circumstance just to see the writers taking the story in a slightly weirder but more interesting direction. Charlie wouldn't be Charlie if she wouldn't put herself in some major tense spy situation were we see her going after one of the season 1 villains while working for the Man in the Yellow Jacket of course. Tidbits behind her motivation to work for him are revealed and I'm looking forward to seeing that story fully exploited.
Last but not least, there is Edgar. The episodes open and end with tidbits of his story and seemingly he will be part of the main mystery as he is quite special as one other main cast member.
Despite some cheesy writing, questionable acting moments and quite slower pace, Beyond is still worth checking out cause the grand mystery may be worth it.Hope you enjoyed this preview and don't forget to tune in on the 18th January at 8pm Central on Freeform.