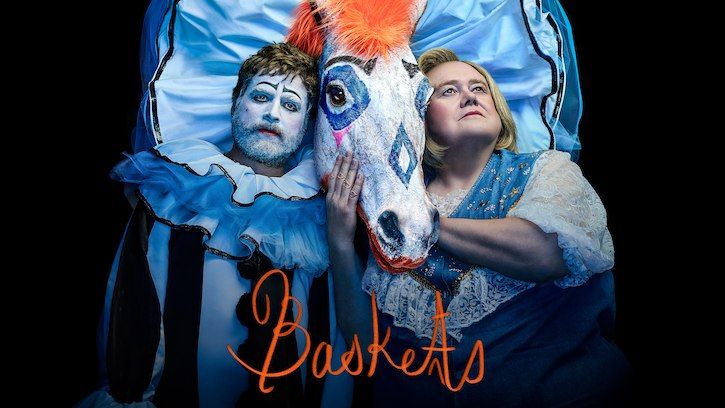 SEASON 3 PREMIERE OF BASKETS

Mama, Chip and Dale Baskets are back in the saddle again and back for more laughs...

After inheriting a large sum from Me Maw, Christine decides to buy a local rodeo; mostly for the benefit of her misguided, unemployed sons.

Dale is on board after having been kicked out as president of Baskets Career College. He takes on the management responsibilities and Chip, grudgingly, agrees to be the Head Clown.

Though he half jokingly talks with a friend about running away with the circus, if only there were one in town. And while dragging his feet about hiring clowns, finds himself as Vice President in charge of answering the phones.

Chip is one sad clown. But I've noticed that he is a heck of a lot nicer one to the people in his life. Chip almost seems as docile as the horses Dale has purchased. Dale is his same old, over the top, bossy, self described metrosexual self.

He buys three horses for the rodeo; only to find that he's bought sedated horses and when not sedated, they are wild.

He finds this out the hard way by almost being trampled. He survives the dust up and sends Chip to find some horse tranquilizer from a street dealer. They can't have the local tv news station showing their crazed horses on the four o'clock news.

Channel 9 News is coming to interview Christine about the Baskets Family Rodeo and it's impending grand opening; she is excited. Though her snarky friends try to bring down her good spirits, Martha and Ken (her carpet store owning sweetie) are there to cheer her on.

Long suffering Martha helps Mama sew a new dress for the interview.

She admires Mama's wedding dress, which Mama made herself. Christine offers it to her, but Martha declares that she's not ready for marriage just yet and wants to look into the polyamorous lifestyle, instead. Mama comes back with how polyester is her favorite fabric. I love Mama.

Before deciding to sew a new dress, Mama shows Ken via skype what she's got in her closet. The one he points out as liking the best gets this hilarious response from Christine:

"That's the blanket off of my bed, you silly!"
Chip finds the "stuff" that they need, but while trying to convince Dale that drugging the horses would hurt them and is the wrong thing to do; Dale is stuck with the needle. Though he seems fine, saying it has just grazed him; you know he's not fine.
After the dress Mama makes falls apart while showing it to Ken via skype; she gets back her wedding dress at the thrift store and designs it into a beautiful costume, cowboy hat and all.
Watching Mama's dress fall apart, sleeve by sleeve and then the back and the beading on the front, makes you feel like giving up, though laughing the whole time.
The episode ends with Mama, Chip and Dale being interviewed on camera; when the tranquilizer kicks in and Dale falls to the ground, mid sentence. And not giving up, Mama keeps talking; like nothing's happened. Christine Baskets does not give up. It was hilarious and I laugh just thinking about it.
It was such a great premiere and I can't wait for the next episode!
Louie Anderson amazes me; how I forget completely that he is Louie; he becomes Christine (Mama) Baskets. And now that Chip and Dale are sharing so much screen time, you can see how great Zach Galifinakis is in this dual role. The editing makes Chip and Dale seem almost seamless.
Afterthoughts: I'm happy for Christine, having a love in her life. She deserves it.
Also, loved how the rodeo workers, tiring of Dale's incessant annoyance, tie him up and put him in a barrel. When Chip finds him, he simply tapes Dale's mouth shut again and goes to find out why they did this to his brother. Chip knows why, we all know why...