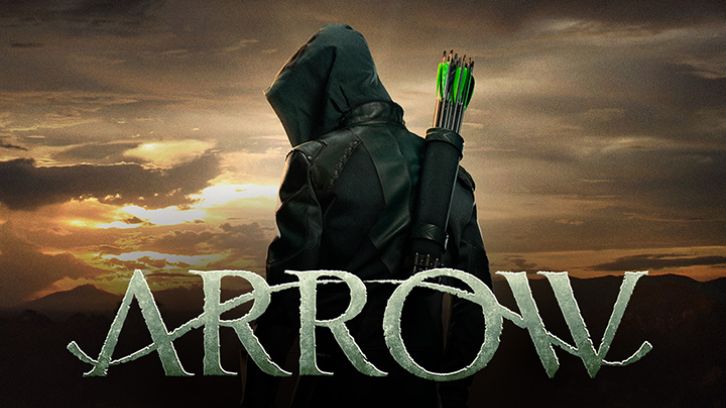 Arrow
"Irreconcilable Differences" was written by the team of Beth Schwartz and Sarah Tarkoff and was directed by Laura Belsey. We finally get to celebrate Oliver (Stephen Amell) and Felicity's (Emily Bett Rickards) wedding. However, the fall run of the show ends with the team dissolving (again). I do like the idea of them putting together a "team villain" though – even if I am still sad to see Anatoly (David Nykl) on it.
The wedding reception was fun because we got to see some folks we haven't seen in a while – Donna (Charlotte Ross) and Felicity's dad, Noah (Tom Amandes). It was also fun that they brought back Laura (Enid-Raye Adams) and Adam (Jason Deline) Hoffman – Felicity and Oliver's neighbors. I could have done without Curtis' (Echo Kellum) sloppy self-pity. Rene (Rick Gonzalez) steps up and does a very sweet toast, which really doesn't fit at all with his later betrayal.
Quentin is called away and gets a call from the DA that someone on the team is betraying Oliver and is willing to testify that he's the Green Arrow. Diggle (David Ramsey), Oliver and Felicity track Rene, Curtis, and Dinah (Juliana Harkavy) to find out who is betraying Oliver this time. Rene takes Curtis home with him, but Dinah meets with Vincent (Johann Urb). He still cares about her, but she tells him not to contact her again and to leave town. Oliver is convinced that Dinah can't be trusted, but Diggle speaks for her.
Meanwhile, Quentin takes Thea (Willa Holland) home, and the two are met by Laurel (Katie Cassidy). Thea tries to go up against Laurel who knocks her out and leaves her with a cell phone. Laurel also knocks out Quentin – and then drags him off to see Cayden James (Michael Emerson).
Thea arrives at the lair with the phone, which rings right on cue. James is holding Quentin hostage in exchange for Oliver and his team stealing a nano aluminum amplifier from ARGUS. The team goes in – but Oliver insists that Dinah not be included. I did like Felicity being smuggled in in the garbage can that Curtis was pushing. Also cool was Oliver's wire down to get the amplifier.
Dinah comes in just after the team gets back to the lair and is pissed to find out that Oliver and Diggle don't trust her. Curtis, Rene, and Dinah are all upset at being spied on. It turns out that the mole is Rene – of course. Watson made it seem like Oliver was definitely going down and Rene could go with him – or get his daughter back. Oliver tells Rene to get out.
Meanwhile, Quentin and Laurel share a nice moment. Cassidy is really excellent in this scene as she recounts the death of her own Quentin when she was 13. One has to wonder if Cassidy was channeling the recent death of her own father. It's somewhat ironic that alternate earth Quentin was killed by a drunk driver while getting her birthday cake. I'm also curious as to whether this is real emotion on Laurel's part or part of the overall elaborate plan.
Thea checks in with Oliver who is feeling bad for being angry at Rene when all Rene was trying to do was protect his own family. Thea tells him that it's good he's trying to see it from Rene's point of view because it means he might be able to forgive him. Thea tells Oliver that Quentin needs the whole team – and it's the whole team that Oliver tells Diggle to assemble.
Oliver meets with James and is going to give him the sabotaged amplifier, but somehow James knows the amplifier has been sabotaged and tells his men to kill Oliver and Laurel to kill Quentin. We get a good fight scene – which is really just expected at this point, right? Rene and Curtis have gone rogue and manage to find Quentin, though they don't manage to free him.
Very curiously, Laurel actually cuts Quentin's bonds and tells him to run. She looks absolutely sincere about it – is she? Oliver shows up and Laurel takes off. Back at the lair, Oliver once again reads Rene the riot act for not following orders in the field. And once again, Oliver kicks him off the team.
Dinah has now had enough and tells Oliver that she no longer believes in him. She's out. She goes and meets with Vincent. Curtis also comes by the lair and says that he can't do the team anymore either. He'll still be part of Helix, but not team Arrow. Rene welcomes his daughter home and vows never to let anyone tear them apart again.
In the final scene, we see team James assemble. Laurel had planted a camera in the lair when she broke in months ago – and super-hacker Felicity has never detected it! Yes. This is stupid. Regardless, this is how they knew the amplifier had been tampered with. Also on team James? Anatoly, Vincent, Boots (Tobias Jelinek), and Richard Dragon (Kirk Acevedo).
While I am very, very tired of the on again/off again team storyline, I am intrigued to find out just exactly what this particular group of villains is going to agree on! Will a team of villains working seamlessly together put team Arrow to shame for their own lack of trust? Do you think that Laurel is really starting to soften towards Quentin? Do you think Rene will go through with testifying? I have to say that I'm pretty tired of the entire Watson storyline, so I hope the wrap that up quickly. Let me know what you thought of the fall finale! What are you hoping to see coming up in the winter run? Should the team get back together? Let me know your thoughts in the comments below!