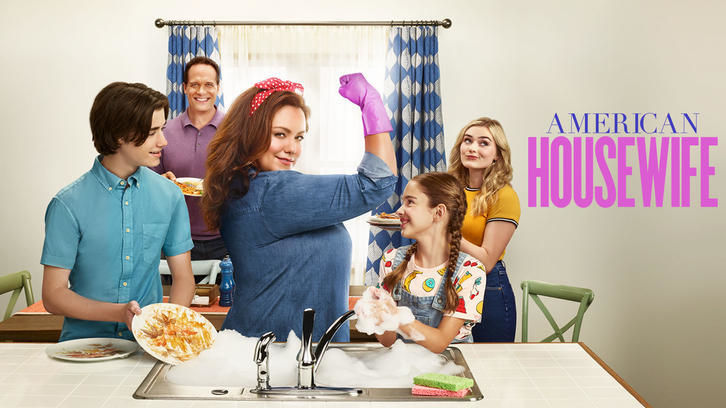 As hard as Katie might try, this week's American Housewife proves that her "mom switch" can't ever be turned off.

While Katie's trying to work on the invitations for the spring gala, Viv busts in. Apparently she "broke in while [they] were away, called a locksmith, pretended [she] was [Katie] and had a key made. It's not important!" Things are getting pretty serious with Mr. Pig Trainer and she wants to know if Katie thinks she would be a good mom. Not quite sure what to say to this, Katie gives her the chance to find out. The kids are being impossible - Oliver's sick and whiny. Anna-Kat's got a project due tomorrow and is expecting Katie to do it for her. Taylor's lost her volleyball jersey and is freaking out. And Greg still hasn't set up the printer Katie needs for the invitations, which he's had laying in his office for two years. So, Katie takes off to her favorite big-box store and leaves Viv on a motherhood "trial run" of sorts.


Predictably, Viv absolutely sucks at watching the kids. (Said kids aren't exactly making it easy for her either.) Greg isn't any help because he's busy trying (and failing again and again) to set up the printer. Katie, meanwhile, is having the time of her life at the store, gossiping with her "other husband" Adam, eating free samples, and lounging on the display bed.

After (rather hilariously) throwing the printer across the room and busting it open with a tennis racket, Greg takes off to the same store to buy another one. Shortly after that, Viv also loses it and packs up the kids to return them to Katie at the store. (Again, she "called the cell phone people, pretended [she] was [Katie], got [her] password, signed into [her] account, and searched for [her] phone and BOOM! But that's not important!"


Katie quickly takes charge right there in the store - dosing Oliver with drowsy meds, starting Anna-Kat's project, and walking Taylor back through her steps to find her jersey. After everyone's calmed down, she assures Viv that some people just aren't meant to be mothers and it's good that she found that out. The only problem? Viv thinks she might already be pregnant.

Katie sends her off to take a test and Viv comes out squealing and happy. She's not pregnant! Well, for a second she's not. Katie gets a hold of the test and explains that the plus sign doesn't just mean good news and the test "doesn't go by your mood." Surprise!

Viv freaks out. She has "no idea what to do with a kid and...never will." Katie explains to her that before Taylor was born, she freaked out too, and didn't think she'd ever be a good mother. But once Taylor was in her arms, her "mom switch" turned on, and she knows Viv's will too. As they're checking out, a little girl comes up to Viv and asks her to help her find her own mom, explaining "The family rule is that if you ever get lost, go ask another mommy for help." Suddenly, Viv's switch is on.

Random Thoughts:
-I thought this was a really sweet episode. As much as Katie can't stand Viv, she really is there to play "big sister" when she needs to be.
-Best quote goes to Katie about how to keep Viv away. "I'm deciding on the best way to keep you out - a guard dog or dig a mote and fill it with carbs."
Do you think Viv will eventually make a good mother? Let me know below!