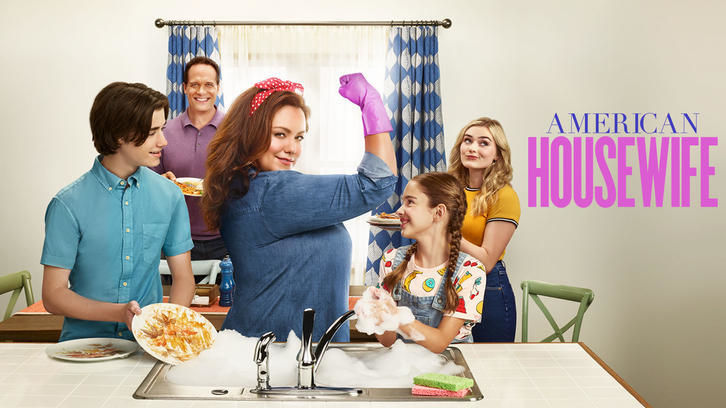 "It all counts!" according to Oliver - every grade, every test, every class. Katie has a different approach to life, and this weeks she sets out to introduce Oliver to it.

Oliver's freaking out because he got a B+ in Mandarin. Apparently his classmate Jeremy "obliterated the curb" in class because "his parents just brought him a 12-year-old from China for Christmas." Katie and Greg first decide Oliver needs to talk to someone who can help him get perspective. And who do they think is the perfect therapist but the family underachiever Taylor. Unfortunately, Dumb Yoda's recommendation to start binge-watching something doesn't do the trick. ("Watch a dozen seasons of Grey's Anatomy in a row. You're not gonna care if you get into Harvard or not once you've seen a bomb get pulled out of a body for the fourth time!")

So, Katie resolves to give Oliver a good old-fashioned Ferris Bueller ditch day. But when she goes in to wake him up to start his day of fun, she finds an Ipad playing snoring sounds and Hans Gruber under the covers in Oliver's place. Katie's been "reverse Ferris Buellered" and Oliver is off to school.


Katie then decides to take another play out of Ferris's book, calls the school, and has them tell Oliver his mom has been in an accident. As Oliver races out of school in a panic, he finds Katie waiting for him. Her "accident" was that she "opened up a bag of Bugles and they went...everywhere!" Having finally cornered him, Katie sets out with a reluctant Oliver for a ditch day. By day's end, they've "snuck into a movie, half made a Build-a-Bear, then ran out, and went engagement ring shopping and creeped out that woman at Zales." When they come home, they find an unwelcome surprise - Chloe Brown-Mueller plastering her campaign signs for county council all over their yard after Katie told her not to. (She needs to attract the poors.)

Meanwhile, Anna-Kat is out on a mission to find Greg a new friend. His former bestie Stan (aka the husband of Katie's nemesis Chloe Brown-Mueller) had a midlife crisis and ran off to Nepal to find himself, where he's now "drinking yak butter tea and deciding on which god to pray to." She takes him to the park, hoping he'll find another Dad watching their kid to befriend. And for a moment, it seems like he does! Anna-Kat even makes a playdate with said dad's dipstick of a kid so Greg has a chance to see his new friend again. Unfortunately, when Little Miss Pours-Sand-Down-Her-Overalls arrives for the playdate, her mom's brought her.

As Anna-Kat keeps trying to find Greg a friend, Katie takes another shot at trying to get Oliver to loosen up by forcing him to help her flamingo Chloe's yard (That's when "you put flamingos in someone's yard...like a lot of them!" Apparently, it's a Florida thing.) While they're busy flamingoing away, the cops show up and Katie yells for Oliver to scatter before taking off in a triumphant run for their own house.


Although Katie makes it back unscathed, Oliver apparently doesn't get so lucky, and Greg gets a call that he needs to come down to the police station. Once at the station, the officer informs them that trespassing in a political candidate's yard is a felony, that Oliver's going to have to spend several days in jail before they can arraign him, and that this will go on his "permanent record." Just as Katie and Greg start to freak out and Katie wonders if she really did accidentally ruin her son's life, Oliver pops up from behind the desk laughing, having successfully given them the scare of their lives.

In the end, although Oliver will never be as carefree as Katie wants him to be, he does decide to switch from Mandarin to Latin. ("Jeremy Fleisher's parents can do a lot of things, but they can't buy him a dead person!") Oh, and Greg finds an unlikely friend in the cop who helped Oliver pull off his trick. Apparently, both he and Officer Lewis are passionate philatelists. (That means stamp collectors, ya'll!)

Random Thoughts:
-Of course, Doris lies about her kids' ages so she can send them off to SAT Camp at age six!

-Katie's mad dash from the cops was hilarious, especially when she stopped to check that those kids making out were old enough, before telling them to "Have at it!"

-"The poors are gonna drop their Whoppers and their 40-ounce colas and vote Chloe Brown-Mueller, baby!" No, Chloe, I will not be dropping my Whopper and my 40-ounce cola to vote for you!

-Best lines to go Oliver's classmate Jeremy and his exchange student in Mandarin. "Your mother is not a good woman." "Imagine what she's like without the handful of Vicodin each morning."

Do you think Oliver will ever loosen up? Will Chloe win her county council seat? Let me know below!