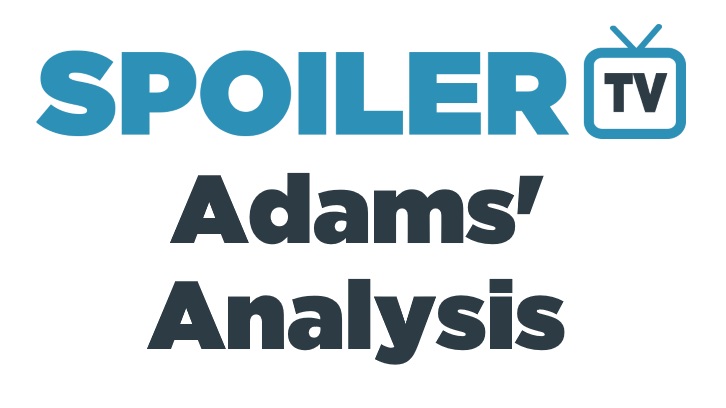 Part-way through tonight's episode of The Good Place, the first of 2018 after a two-month hiatus, Eleanor (Kristen Bell) talks about her and her friends needing to take a leap of faith in order to escape the Bad Place.

Though the context is different, it is not hard to imagine a similar sort of conversation occurring in early 2015 between NBC executives and creator Michael Schur. The Good Place is about as unconventional a network comedy as you are likely to see; it is a cat in water, a polar bear in a rainforest. And yet it has not only thrived - at least quality-wise, it is not setting the ratings on fire even if more than staying afloat - but transformed into one of the most impressive shows on television.

Everything about it is out of the ordinary, but the most outside-the-box aspect is its serialisation. It is perhaps less Parks and Recreation than it is LOST, to good effect. Rarely are comedies so connected week-to-week, rarer still would you expect to see it on network television in an age of streaming services and binge-watching, a viewing style that would befit The Good Place much better than a weekly NBC release.


Schur has been involved with four major network comedies: The Office (on which he was an original writer-turned-producer), Parks and Recreation (co-created with Office creator Greg Daniels), Brooklyn Nine-Nine (co-created with Dan Goor), and now The Good Place. With the other three, there are clear connections. The Office and Parks both share the mockumentary style, even where the latter differentiates itself with a slightly different shot set-up. Brooklyn abandons that completely and its characters are unaware of viewer presence; similarities remain, though, notably the oft-used zoom for comedic effect (this, the most pertinent example), reminding us this is not entirely detached from our existence.

Good Place adopts a more dramatic style, the kind that you would not typically expect from anything but an hour-long show. But that is part of what makes it so effective: much of the time, jokes are the be-all-and-end-all of a good comedy episode and plot is meaningless (*); that is not the case here. The build to season one's finale, and the twist that identified just how complex and smart the show is, would not have worked if not for a strong sense of narrative. Certainly, Good Place pivots around that and does remarkably silly things - Janet (D'Arcy Carden, a real talent) providing Michael (Ted Danson) with endless cacti in a first season episode, for example - but the core structure of the series remains.

(*) Brooklyn, by contrast, works far more effectively when it abandons all regard for plot and instead attempts to be as funny as possible.

As a result, season two has been able to tap into what really makes the series tick. Initial concerns that, having reset the world, this season would risk treading old ground were quickly quashed, and instead the cards being on the table have allowed further exploration of the series' concept. No better episode exemplified that than the second week, "Dance Dance Resolution", which saw Michael rebooting his creation and the afterlives of the characters hundreds of times, each producing the same end result but providing a range of adventurous and hilarious methods of getting there.


There is a real sharpness to its humour. It is cutting in the way that a classic Simpsons is, both visually and audibly. In its leading performers - Danson, Bell and Carden especially, but all six of the primary cast are outstanding - there is little doubt about the effectiveness of any gags, scripted or improvised (*). But green screens are in regular use, and the neighbourhood in which these people live is filled with store names intended to pack the screen with jokes. No lack of effort is present in using such avenues; more fool those who would squander an opportunity to tickle audiences as much as possible. Just think about the number of food puns and clam chowder quips that were present in the aforementioned "Dance Dance Resolution".

(*) The other three Schur shows allow room for improvisation, and certain sections of Good Place's season one gag reel suggest the same is true here.

Each element feels thought out, from the endless jokes, the carefully structured story, to the interactions between each character. From what had seemed like four human characters focused on over the rest - alongside non-humans Michael and Janet - The Good Place became centred on them, to great effect. Though barely two dozen episodes old, there is a strong, obvious dynamic between the group, and instalments are not shy about making clear just how important each are to one another. Even Michael and Janet have got in touch with a side of themselves that mirrors a human dynamic; it does not make them human, certainly, but it does show the impact that these four can have.

Created by a man with over two decades of writing comedy television under his belt (Schur was at Saturday Night Live in 1997) and starring a mix of new faces and old - Danson has now been doing comedy half of his life - it is pretty unsurprising that this show is so strong.

Next week's episode, the 23rd chapter of this story, is titled "Best Self". As things stand, it is difficult to believe that The Good Place is anything but its best self.