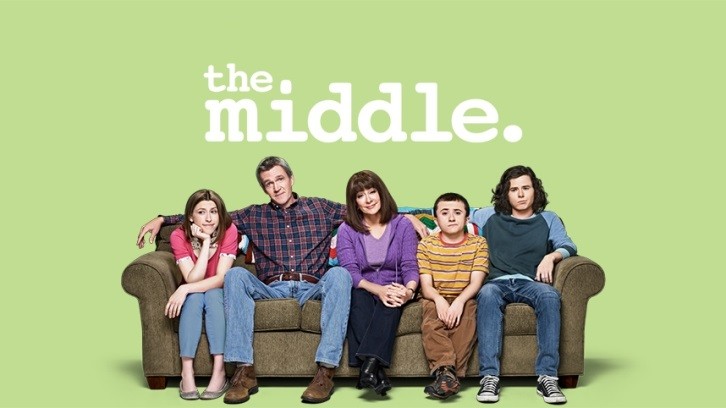 As I've mentioned before, I am a complete sucker for holiday movies and television specials, and The Middle always has the best Christmas episodes. I've been looking forward to this episode for a while, and I'm so glad it lived up to my expectations.

Frankie is excited about Christmas this year, but the rest of the Hecks don't share her enthusiasm. She feels like the Christmas magic is gone now that the kids are older so she decides to have a "big kid" Christmas with the Donahues. They'll drink cocktails and have a "Yankee Swap" (my family calls this "Dirty Santa") on Christmas Eve. She shares this idea with Brick, and he's on board once he learns he can pick out his own gift and wrap it. Watching Brick trying to wrap his present was hilarious.

Axl tells Frankie he loves the idea of having cocktails, but he's going to skip church this year. Frankie is very concerned as is Sue. Sue tries to convince him that there are miracles. Frankie talks to Axl about why she goes to church, but even she has a hard time coming up with reasons. She says she enjoys seeing her friends, the donuts, singing, and she's supposed to go to church. She gets upset later because she didn't feel like those were good reasons, but Mike calms her down. She needs to have faith and believe that whatever happens is out of her hands.
Right before the party begins Sue realizes she forgot her present and has to use her snow globe for the party. Sean is the first one to pick his gift, and he gets his mom's Christmas cookies. I love Nancy's description of the cookies: they have sugar, dairy, gluten and nuts. She's taking back dessert! Axl's next and takes the cookies away from Sean. The next present he unwraps is an all-in-one tool from Mike. Ron likes the tool so Sean gets to pick again. He chooses Sue's gift but gets a message and leaves for a minute. His sister unwraps the snow globe for him, and she loves it.
The Glossners, who have been deflating Frosty all episode, get on the roof again, and Mike has had it. I love that Mike and Ron bonded over their hatred for the Glossner kids, and I thought it was funny how awful Frosty looked by the end of the episode. It was more duct tape than anything. Mike tries to teach the Glossner kid a lesson, but it fails. Miserably. He wanted him to learn and figure out what kind of man he's going to be, but the Glossners aren't interested in learning anything.
Back inside the house the party wraps up, and no one picked Brick's gift. He's glad no one chose it and he's going to put it on his shelf so he can admire it. Then his phone starts to rind inside the present. "I hate this game." Me, too, Brick. I've never liked Dirty Santa or "Yankee Swap" as the Hecks call it.
Before Frankie leaves for church she has one last talk with Axl. She finally realizes why she goes to church: it makes her feel better when things go wrong. She wants to feel like a part of something bigger. After her heartfelt speech, Axl decides to go to church with her. I'm glad that Axl finally decided to go to church with Frankie, and it was better because he went on his own terms.
Sean never returned to the party because he's upset over his grades. Sue tries to cheer him up and tells him Axl got lots of Cs and just got a job as a plumber. This doesn't really help things. But then she makes it better. He once told her that she was a very special snowflake, and he is, too. They hug, and then they finally kiss! It was such a sweet scene with the snow and the Christmas lights in the background. Cue me over here squealing like a complete fan girl. I love these two, and I'm so excited. I can't wait to see where their relationship goes from here.
I did love this episode, but I wish that Lexie had been in it. We haven't seen much of her lately so I hope she makes some appearances in the new year. I know that the new year will bring us some amazing episodes as we head into the final episodes of the show.
What did you think about "The Christmas Miracle"? Do you love Christmas episodes? What are your wishes for the new year? Make sure to tune in on January 2 for an all-new episode of The Middle!