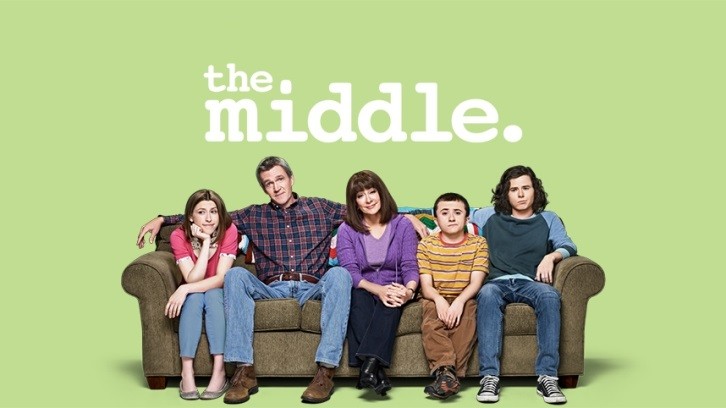 The 200th episode of "The Middle" is almost here.
200
! It's quite the accomplishment for a quaint family comedy in today's peak TV age but if any show deserves to be recognized for this feat, it's "The Middle." ABC's sitcom about this middle class Indiana family managed to maintain its authentic approach to humor.
For 9 years now, this show has been consistently funny and heartwarming. It might be easy to lose sight after being on air for so long but "The Middle" always relies on all its strong points: unique characters, brilliant writing, equally solid acting. All of these obviously come into play in the 200th episode. It's a sweet ode to not only The Hecks but also to the town they live in, Orson, Indiana.
Here are some non-spoilery reasons to get excited about "The 200th."
1. Orson is fittingly last on Indiana's most livable cities list, closing it off at #200. As expected, Frankie is beyond excited about this news while Mike couldn't care less.
2. Sue has to pretend to be Axl's assistant or "as-sister-sent" as he hunts for jobs. Luckily for him, Sue is the best assistersent he could've asked for.
3. Brick is on a mission to win back his ex Cindy but she puts forth a daunting task ahead of him. Let's just say he comes up with some fun tactics to meet these demands.
4. If you're wondering whether Axl and his fresh haircut will finally act like an adult, albeit with some pushing, then you're in for a happy surprise.
5. Mike learns that his friend Bill is getting a divorce. This makes him appreciate Frankie even more. I know, I know, this was in the episode press release. However, what makes it work is the appropriate reaction Frankie has to all of the attention she's been getting.
6. Also, if you think Mike isn't one for emotional speeches, think again.
7. The town goes all out to celebrate their spot on the list of liveable cities. It's really cute and Stars Hollow-esque.
8. You will definitely see familiar faces from the earlier seasons.
9. The Hecks will finally, finally put something worthwhile in the Orson time capsule. But what is it? And who put it in the capsule?
10. Not much progress on the Sue-Sean front but lots of great bonding on the Sue-Axl front. I'll take it.
11. While the episode was overall very sweet, I was left with wanting more from a landmark episode. Some nostalgia, reminiscing, flashbacks would've helped. But it didn't matter much because, in typical fashion of the show, they kept it classic and not flashy.
Kudos to the cast and crew of "The Middle" for cruising past 200 episodes and for making each one of them beyond special. It's bittersweet to be a fan of this show right now because it's the final season. On the plus side, the laughs will always be there with us.
"The 200th" airs on Dec. 5 at 8/7 c.