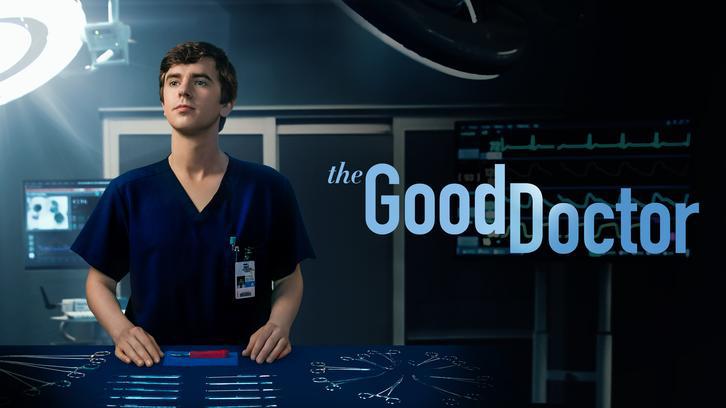 This escalated swiftly? Or did it? The Good Doctor ended its fall run with an exceptional midseason finale, adding more dimension to the characters and tipping us over the edge of our seats by the time the end credits started rolling. Sacrifice was written by Lloyd Gilyard Jr. and directed by Michael Patrick Jann.


Whenever I write a review I try to put myself into the characters position think about how logical the move they are making is. But with Shaun Murphy, it is always different and challenging. Yes, because of his autism. But Freddie's performance and take on the role makes it a lot easier. The story between Aaron and Shaun finally peaked and my heart broke for both of them. Aaron was infuriating me but still, I understood from where he was coming and were his parental fear was coming from. Aaron not wanting to listen to Shaun at all or have the patience to let him be was just a bit too much.
But all of this pushed Shaun, pushed him so hard that he started spiraling. Freddie succeeding in transferring his stress response without using words was simply exhilarating. The frustration transferred to his interactions with the other doctors and his interactions with Bobby, the gamer patient. I enjoyed how the writers exploited Bobby's laid-back attitude to give Shaun space to explain himself. Share his desires, thoughts about how everyone overlooking him makes him feel and how it doesn't to him matter to go and fight the extra mile. But all this made it obvious that the situation is draining him. Despite his cold appearance, it is affecting him and it escalated when Aaron eventually cornered him. Leaving Shaun no other solution than to run. Run away from the life that is suffocating him.
I wonder if the newly changed Andrews will use this as a push to take Aaron's position. And where did Freddie run? Big questions we have to wait 30+ days for.
I won't comment Bobby's case much cause it got too melodramatic and all those twists were unnecessary. I understand they wanted to go into the fear of death story but it didn't resonate with me.
And there goes all my excitment about Eric Winter joining the cast? Did he really have to be this despicable writers??? I like the realistic approach the writers are constantly taking with creating characters that are out there in real life. But I really wanted to like Dr. Coyle. But I do like Claire. She still has all those chliche features with being the carrying female doctor going the extra mile for her patients, but besides that she is so much more. The writers are continously putting her into challenging situations which translate into immense character growth.
It is weird to say but I've enjoyed how they build up the harassment story. Both Eric and Antonia did such a great work with those small eye contact, the awkward smiles, their body language. The flirtatious way dr. Coyle was indulged by everyone. Really top notch. I was majorly disappointed by both Jared and Shaun for not taking it seriously, Shaun was limited by his autism. Still, even their reaction was a nice reflection of today's society which instead of amplifying these situations and giving them proper meaning they disregard them.
Thought the talk between Claire and the patient and her sister was so powerful. Again mirroring the current situation in society where you'll just get labeled because of speaking up. I loved that Claire had to do another intubation, the procedure she failed to do properly when the patient died back in episode 6. It sucked that Coyle was such a great mentor.
The moment things escalated I just stiffed up. I'm not a confrontational person so this type of arguments makes me feel unpleasant but only cause their acting was top notch on point. The lines were echoing through the scene and my heart broke for Claire. It honestly broke my heart for every person which was put down at their workplace by their superior. Him mentioning her sleeping with Kalu was such a sucker punch.
The follow-up scene with Jared was so empowering. I loved how strong she was in that moment and how bad he felt. This pushed Jared over the edge. I was so proud that he stood up for Claire but knew the ramifications weren't worthy of it. Physical contact isn't the solution it never is, but it felt so good seeing Coyle squirm.
Claire feeling strong enough to report Coyle only for it to be in vain was truly heartbreaking. I was her face when she found out Jared was fired. Antonia's acting was perfect, her change of voice, her body language were so perfect in that scene. I'm really excited to see where the story will go from here.
Last but not least there were Jessica and Neal. Neal turned into such a great character, with so many layers and it was obvious how much he is affected by his job. The dinner with Douchey Dad made me so mad. The show really pushed it with Stereotypical characters this episode and it was really too much at the end. I don't support the unnecessary relationship drama but I think it is a bigger story about women in a workplace. And I am excited to see more of Beau Garett's Jessica and her take on this story.
That is a wrap, guys. The Good Doctor ended it's 2017 run with another strong outing, taking the stakes to another high. What are your thoughts on the episode and the show's fall run? Are you excited about its return on January 8th? Share your thoughts in the comment section down below and let's take another look at the show ahead of this small hiatus.