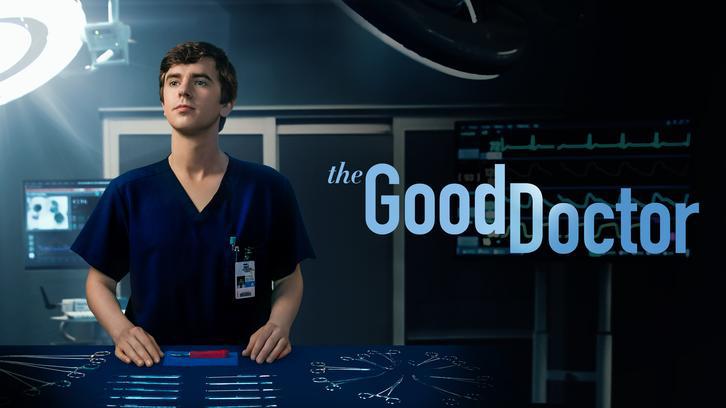 The Good Doctor continuously keeps their storytelling on a high level and engaging more and more with their characters, giving them more depth and more things to like or dislike. Let's dig into the previous two episodes of TGD.

APPLE

Out of the 9 episodes aired so far, Apple was probably my favorite. And no, Nestor Carbonell directing it isn't the only reason. It feels always different when an actor you know and appreciate directs an episode. I pay much more attention to the details and Nestor killed it. He added a personal touch that I remember from the time he directed for Bates Motel. Nestor always likes to take some time and give a scene time to impress you, make an impression of the memory. I especially loved the moment he let Shaun being brilliant in the OR. The first time they brought Avery into the OR and Shaun masterfully did those stitches.


Besides Nestor's outstanding directional work, I really loved how this episode was put together. The intensity was really captivating and kept me on the edge of my seat. I loved both stories and seeing Shaun in stressful situations is always a highlight.
The whole store shooting scene was so intense and Freddie as always was so amazing in it. The panic his body shows off combined with the blank expression on his face always gets me. You can always see the light in his eyes and it just forces me to keep watching. A surprisingly enjoyable moment was Melendez giving Shaun the go to work. This was just the 8 episode of the season but the came from such a dark place to this place of confidence and understanding.
I loved the Nurse getting in between Shaun and the first date boyfriend. "You can't touch my doctors like that!" And you better don't do it again. I will cut you if you touch Shaun again.
A refreshing twist on this story was Jared being the hero. After Shaun always getting it right seeing this change was well appretiated. Also I really grew to love our team at this point and I enjoy their interactions a lot.
The only thing that really made me mad was Aaron being rude to the Therapist. No no Aaron. Not a fan of abuse of power especially when someone is doing their job right. I understand Aaron being the Papa Bear, I would probably be the same way but Dr. Mohan didn't deserve that. Meanwhile, his scenes with Shaun were truly heartbreaking. Aaron feels like he is failing Shaun and wants to help him have the great life he deserves. Shaun rebelling against the pressure and rules Aaron was putting on was handled very well. Shaun is torn he knows Aaron is right to a certain degree but he enjoys his current life and doesn't want to give up on it.
And while I am annoyed Beau Garett isn't getting more screen time, I do enjoy every moment she gets to share on my screen. The scene with Aaron and the field, talking about I presume Aaron's daughter was simply pulling my heartstrings, creating tears. It also gave much more resonance to Aaron behavior towards Shaun.
Claire's story was really pushing my boundaries. I enjoyed Dr. Lim telling her where she did wrong and how she disrespected her. Showing the deeper side of their confrontation and that Lim wasn't spiteful for being questioned. Aaron stunt with Dr. Mohan was really mirroring what Lim was talking about. I was happy with Claire and how she reacted at the end. It is easy being disrespectful but you have to be a bigger human to accept your guilt and say sorry.
Another major kudos to Claire for being a bigger person while interacting with her Nazi patient. And while it was obvious they would make Claire be the bigger person. I loved they showed her struggle, showed how human she was and she did struggle to not punch that condescending douche.
Claire & Shaun bonding time is turning into my favorite part of each episode. The two of them started forming a bound and they got to a place, where they can share and talk about more intimate stuff. Them talking about Leah and Claire translating "girl talk" to him was very sweet. We need more of them or at least I do.
Intangibles
The thing that I enjoy most about
The Good Doctor
at this point is that they got to the place where they can rely on the story to be carried by Not-Shaun characters. They still keep him there but he isn't at center stage but allows others to experience character growth. "Intangibles" is the perfect example for that.
I'm a really big fan of Nicholas Gonzales and as said earlier I was annoyed with him being such a pain in the A early on in the series. Now when they finally humanized him and warmed him up to Shaun I can finally enjoy his character. Even though the initial Melendez was very human despite his douchiness. It is in our nature to question and being cautious so that was okay to a degree. But as said I really love how complex they made him out to be and how well written his character is at this point.
The thing that I admired about Melendez this week is how much down to Earth he is. He wants to help and he won't do anything less than his best. Him rebelling against Tamlyn Tomika's Allegra was very funny and showed how little he cares about the donors and doesn't want to be puppetmastered by anyone.
The writers unraveling more about his character and his past was really well handled and placed. The way Georgieta inspired him and encouraged him to be better was perfectly executed. Melendez working out a strategy with Shaun was marvelous to watch. Those 3d holograms looked so good and the two of them interacted so well together. Shaun's rational mind and Melendez emotional attachment gave the scene a lot more meaning.
The surgery itself, of course, didn't go down smoothly but eventually, everything turned out well.
A scene that almost brought me to tears was the patient's mother, Georgieta Bangura, was in the toilet flushing water. It is such a sad fact that in today's world there are still parts of the world without a proper water supply.
Still, as said Shaun had a story in this episode just not center stage. Again I really appreciated his scenes with Claire and translating the "Girl Talk". It was hilarious when Shaun pushed it back on Claire after her interaction with Melendez. It turned a bit awkward when Claire noticed it herself. It got even weirder when Jessica served her the lawsuit, just seconds after the realization.
I was shocked by the turn of events in the Missing Sample story. First I was thrown off by Dr. Andrews involvement, forgot he was a regular on the show and him being useful to the show was even a bigger shocker. The interaction between Andrews and his wife, Isabel, felt so intense. Marsha Thomason was phenomenal in her role and I hope she sticks around. She dragged out the human out of Andrews and I like him like that. Him showing up to search the sample and being so awkward was endearing and sweet. I hope we will see more of the Andrews down the line.
Back to Claire. I enjoyed the little search party which included Carly as well. The two women really worked well together and made me smile a couple of times. Antonia is really growing into the role and the more space she gets she definitely shines more. Her eventually finding the sample was a great win, my jaw dropped even harder at the end when she got sued.
The Aaron-Shaun situation is getting more intense as Aaron won't let it go. Shaun bringing him in front of a deaf patient to discuss the topic had me on the floor. The writers is really killing it with the Shaun puns. It was so sad when Shaun mentioned Aaron giving up on him. Their relationship is so deep and complicated and so adorable. Overall next week it seems like their story will finally peak and looking at the promo it does look intense.
What are your thoughts on the previous 2 episodes of The Good Doctor? And what are your expectations for the midseason finale airing on the 4th December 10pm central on ABC? As always feel free to share your thoughts in the comment section below