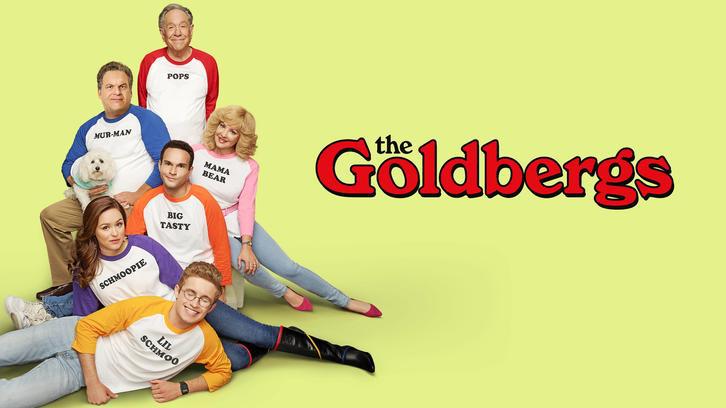 TV when its approaching the holidays is the best. Why? Because we get lots of holiday centric episodes. Which by now you'd think would be boring, but every show covers the holidays in a different, unique way, and none more so than The Goldbergs.

The episode begins with various clips of Billy Joel's videos and performing, which Barry and Adam are completely amazed by.

"What is he doing? It's like Billy Joel is singing, but also rapping" "No. It's like he's rapping, but also singing"
I was also one of those kids who listened to my favourite song on repeat, so I could learn all the lyrics. But then I fell in love with Steps and they were one of those bands that included the lyrics in the CD's to all of their songs and albums. Didn't stop me misunderstanding though!

Anyway Murray finds Adam up after hours trying to desperately make sense of some lyrics. He orders Adam to go to bed and learn some history. Which he does through listening to Billy Joel and his teacher is quite impressed. It has long been said that music is the best study aid. Adam's teacher enjoys talk radio which Adam can't help voicing disapproval at and I don't blame him. Billy Joel also makes Adam very popular with Jackie, who suggests he sings at the school's holiday talent show. Jackie finds Adam to be quite hot. Adam can't believe a girl's just called him hot. With perfect timing our favourite smother interrupts the moment, and Adam begs Jackie to look away. Unfortunately the only direction away is to a mirror where she still sees everything.


"Holy? Most years we give up halfway through" "Murray, don't interrupt"
Trying to compromise Beverly suggests that she and Murray join Erica for dinner. Erica rejects this since they're not invited, but Beverly isn't taking no for an answer. She thinks the Schwartz's are making a play to take Hanukkah and if they don't act soon, they'll take all of the good holidays and leave Beverly with the rubbish ones.
"I'm hearing a lot of worries about things far in the future that I don't care about"
Barry meanwhile laughs at Adam walking into a wall, as he's trying to get used to wearing shades in doors like Billy Joel. Adam reveals that Jackie has told him to join the talent show and Barry can't believe it.
"What upside down world are we living in here? How do you have a girlfriend, and confidence, and a modest amount of popularity?"
Adam reveals that Pops has been helping him over the years. Barry can't believe Adam takes love advice from their grandpa. Adam can't believe Barry hasn't noticed Pops helping him every day, and wonders what exactly Barry thinks they talk about.
"I thought you were trying to get his gold" "He doesn't have gold" "All old people have gold!"
Adam claims the gold is his wisdom which Barry still isn't buying. Knowing he's not going to get through to his brother, Adam gives up and walks away. But Barry can't help still being intrigued, so he seeks Pops out for advice. Pops decides to take him up on it, which we know they're both going to end up regretting.
"Am I crazy or is this actually going well?"
However the good mood dissipates when the Schwartz start handing out presents. Lou give Beverly tickets for Barbara Streisand and Erica a Walkman. Erica reveals last year they forgot about Hanukkah which Beverly dismisses as lies, and it's just so funny. Beverly is used to being the boss smotherer. No-one parents like she does, and yet for once, she's being outdone and she doesn't like it one bit.
Beverly is convinced the Schwartz are going to steal her children. Pops meanwhile reminds Barry of his epic freshman year performance at the talent show. Barry reveals it was the first night Lainey noticed him, and henceforth the best night of his life and it is really sweet. I do miss Lainey being on the show. Pops thinks they can top that performance and get Barry a new girlfriend.
Unfortunately he takes that advice too literally and signs up to sing Billy Joel at the holiday talent show.
"I'm signing up for the talent show. I know it's last minute, but I will not take no for an answer" "And you won't have to. There's like 14 spots left" "Then consider it your lucky day, cause you just got yourself your opening act" "OK you seem way too fired up about this. Let me be painfully clear; this is a holiday talent show. None of it matters" "Oh it matters! This is the game changer I need to become the most popular kid in high school once again" "It's really not. Honestly, this isn't some high stakes life defining event. It's just a wasted night" "Then it's up to me to prove you wrong" "No! Do not use me to raise the stakes any further. Just sign up, and move on"
Adam isn't happy that Barry's stolen his song, and Barry claims he's just doing as Pops told him. Adam tells Barry that Pops isn't his sensei, he's Adam's Jedi Master. As a Star Wars fan and person who has used that phrase many a time to describe someone who provides me with guidance? I completely approve of this usage. Adam's also pretty sure Pops would tell Barry to pick the same song as Adam, but it's too late. Barry has put flyers up all over the school, and they're expecting him to deliver.
Jackie is disappointed and Adam tried to say he'll still be singing their song, but Jackie says it feels more like Barry's and Adam can't argue.
Normally this would be the point where it's revealed that the rivalry is all in Beverly's head. This time however it's not. Lou admits that he's been caught out, and says he's taking Hanukkah and all the big holiday's. Beverly promises to throw the most mind blowing night 2 in Hanukkah history. However she's truly met her match this time as Lou reveals that her eyes are going to dilate as a result of the drops he put in her eyes, so her vision will be blurry.
"You blinded me from Hanukkah!" "Yes. For three whole hours" "You have made a dangerous mistake Lou Schwartz. Blinding me has only fuelled my anger, and I will use my rage to peel more potatoes than I've ever peeled!"
What is not hilarious is Barry's attempts at singing Billy Joel. He doesn't have the lyrics right at all, the JTP are all extremely bemused, as is Pops, whilst Adam cheers him on. I can't help but love Barry's enthusiasm. He's so proud of himself thinking that he's got the lyrics right, that it doesn't even occur to him they're completely wrong. Adam exits singing Barry's praises and Barry knows he should question why Adam's so pleased, but instead goes with it.
Pops tries to tell Barry he's messed up some lyrics. The JTP then question who came up with this idea, and Pops holds his hands up. The JTP warn his advice will destroy Barry's life and Pops sucks at this. Pops knows he has to get through to Barry, but that's very much easier said than done.
The Schwartz's arrive for dinner and the house is looking beautiful. In particular Beverly's light up jumper. Beverly gives Geoff $100 as a present and Lou attempts to even the score by giving Erica $32. Beverly warns Lou that he's out of his league and he suggests they settle their differences with a game of dreidel, winner takes all.
Pops tries to persuade Barry to give the song back to Adam but he refuses. Pops thinks Barry would do much better at something funny. Barry disagrees as it took him forever to learn the song. Pops points out that Barry promised to do everything he said. Barry backs down and Pops tries to talk him through a comedy skit. Unfortunately it falls flat since Barry is extremely confused and he's not the only one. For once I feel Barry's frustration, and it is amusing to see Pops get so frustrated himself. Even being out on a baseball field doesn't help. Barry decides to make it actually funny by changing all the names which Pops doesn't approve of.
Barry wants to go back to the Billy Joel song, which Pops again urges him not to do, explaining that he's trying to protect him. Pushed to breaking point Pops admits Barry doesn't know any of the words to the song, and lets slip that he helped Barry with the karate by swapping in the piece of wood.
Out of all the comedies I watch, The Goldbergs is the only one that I can really say is good on bringing things back from past episodes. Be it through video clips or having a character bring up something that's happened, I love it because it makes the show feel real, compared to other comedies that start over with a blank canvas each episode. It just makes watching feel pointless because there's no progression in the characters and storylines tend to go in circles.
Barry is upset to realize the best night of his life was a lie. Pops tries to say that's not true, but Barry's defeated. He isn't my favourite character and most weeks I prefer him to be in the background, however this time, I actually felt really bad for Barry and it's great acting from Troy Gentile.
Pops turns to Adam for help in rescuing Barry. It's not something Adam wants any part of and he begs Pops not to make him feel sad for Barry. Pops points out he's helped Adam his whole life, and now needs his help. So Adam goes to Barry and offers him his wizardry.
Adam combines Barry's rap skills and showman ship with his greatest talent, and what we get is a spectacular performance. It's also a rap that has been stuck in my head since I first watched the episode, and of course a fire breaks out on stage. No-one cares though, because they're all dancing away to Barry's epic performance.
Lou and Linda pay another visit to Beverly, and the families settle their differences and enjoy a wonderful Hanukkah meal.
'We Didn't Start The Fire' was another fabulous episode of The Goldbergs, and I hope you enjoy the holidays.