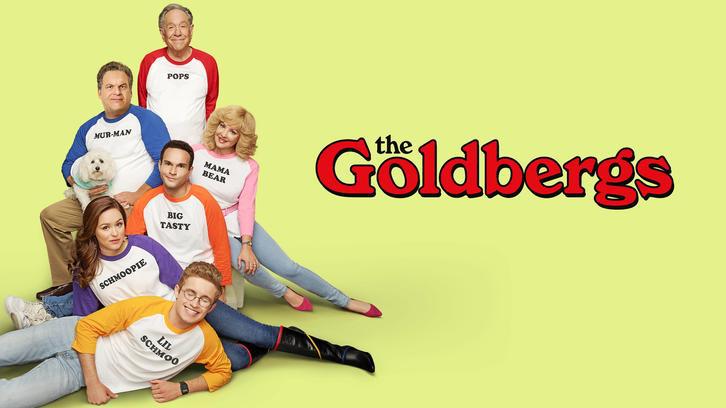 When a show starts out with The Fresh Prince and DJ Jazzy Jeff? We're in store for a great episode and once again The Goldbergs didn't disappoint.


Watching the 'Parents Just Don't Understand' video on the TV, Barry comes to the conclusion that The Fresh Prince and DJ Jazzy Jeff are identical to them. Adam is dubious at first but soon Barry is pointing out the things they have in common, and the argument turns to Adam rapping the same part that Barry is rapping. As a person who has had many a time enjoyed singing along to my favourite part of a song, only for someone to attempt to join me? I completely feel Barry's anger. Adam doesn't want to be Jazzy Jeff because he just stands in the background and bops his head. Barry claims everything falls apart without the bop so calling his bluff, Adam tells him to be bop which Barry rejects so Adam suggests they both be the Fresh Prince.

"Did we just become a rap duo whose future is so bright we gotta wear chains?" "That's for sure not the expression, but yes, I think we did."
Of course while they think they look great, Beverly completely disagrees stating that the clothes are too bright.
"What's wrong, this shirt costs $20" is an argument I was often greeted with as a kid. Adam claims that Beverly is running his rep and she retorts that he's 16 and doesn't have any. She then continues by saying they go to school to learn not for a fashion show, and attempts to hand them some more appropriate clothing. Barry and Adam run away as fast as they can.
At college Erica has to deal with Beverly leaving her 40 voice messages. They start out voicing friendly parental concern over how Erica is doing at college. But it quickly escalates as only a great smother can escalate. Erica thinks her mother is highly exaggerating given she recently spoke to her. Her room-mate Erica points out that mothers worry. Especially when they're a smother. I know when I'm at Uni if I don't send my mum at least 5 texts throughout the day, she'll be on the first train out. Room-mate Erica tells our Erica to just pick up once a day, but Erica knows the road that leads to.
"If I pick up once a day, then she'll want to talk once an hour. And then once a minute. When will the madness end?" "I don't think it ever will. Your life's gonna be really bad".
We're then back with Barry and Adam the next day who are brainstorming ways to become the next rap superstars. The JTP offer some advice, but Murray's complete lack of interest in anything they have to say is what sparks their creatives brains. Instead of a song called 'Parents just don't understand' they decide to go with 'Dads just don't care'.
Whilst they're getting to work on their rap masterpiece, Geoff is walking home with his cello when Beverly drives in front of him. She orders Geoff to get in the car claiming that Erica is in trouble.

"Geoff Schwartz get in, Erica's in grave danger!" "Seriously?!" "Not yet but she could be and we won't know until we call her. And by we, I mean you" "Oh God, oh God, what's happening?!" "Just get in the damn car!" "But my cello!" "There's no time, let's move"
This exchange was completely and utterly fantastic. I love how quickly it escalated and Geoff just completely abandons his cello in blind panic at the thought of Eric being in trouble.
Barry and Adam are then back with the JTP and ready to show off their masterpiece. Over the shows 5 years Barry has attempted to make a lot of songs. None of them have ever been really good. But 'Dads Just Don't Care'? This song really is a masterpiece. The rap all links together and the video is great. Unfortunately it's also extremely hard on Murray, and even more unfortunately? Barry and Adam have already given Murray a copy of the video.
At college the two Erica's are making plans for an awesome party. Having failed in her attempts with Geoff, Beverly has now reached out to Erica's student rep for help in spying on her. He hangs the phone in the doorway to the two Erica's rooms so she can hear what they're saying, but Beverly wants to get in closer. That once again arouses Erica's suspicions and brings us another excellent scene where they're all yelling at each other in silence. Reaching breaking point Erica destroys the phone.
Beverly is once again in Murray's ear but he's got problems of his own, so Beverly decides to drive to Erica's college to save her.
At school, Adam and Barry's rap song has caused the JTP to reflect on their fathers. More specifically all that they do for them. The JTP tell them that they have to apologize to Murray and Barry decides the best way to do that is through another song.
They end up having a confrontation with Erica having a go at Beverly for constantly trying to contact her, and Beverly saying she just needs to know that Erica's ok. As a student living in the University dorms? This is a conversation all too familiar to me. We're always going to want space from our parents and accuse them of basically stalking us, and unfortunately that is a parents job because trouble is lurking behind every corner.
In other Erica's case that trouble comes in falling through the drawers.
Barry and Adam bust out another piece of rap genius with 'Apology rap'. It is every bit as good as 'Dads don't care' except not as hurtful. Murray however refuses to be bowled over by it. Murray explains that given how little his dad cared about him and Marvin, he wanted to be a better dad to Barry and Adam but feels he's failed as they just see him as a bank. So Adam and Barry give the apology a final try with some heartfelt words.
The episode the ends with Erica giving Beverly her phone call.
After starting the season off somewhat slow, The Goldbergs has been on fine form over the last two episodes. It's had plenty of laughs, those heartfelt moments we adore, great quotes and of course smothering.