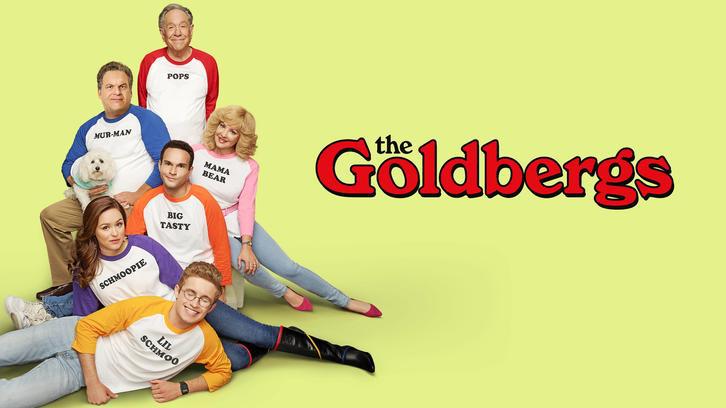 This is the best episode of The Goldbergs we've had in a while. Dare I say it was actually better than the previous episode, and probably because of the lack of Marvin? Or because the family were front and centre of the story with hilarious results?


Driving is not for everyone.
Unfortunately Murray and Pops don't agree with this, and Barry's further disgusted by Adam turning his driving dance into a non-driving dance. As Murray aptly puts it 'I'm raising complete morons'.
Yes you are, but it's why I love this show so much.
At college, Erica is struggling to fit in. Everything that people consider fun at college, she considers the complete opposite and it's slowly alienating her. Again I completely feel this. I'm at University at the moment and whilst most of my room-mates love to party (that toga party during freshers week interrupted my sleep which I really wasn't thankful for), I prefer to watch a bit of TV and get myself a good nights sleep. Thankfully I'm not completely alone in this, but unfortunately for Erica she is.
Her issue is made even worse by Barry's visit. Now from the episodes description I was fully prepared for another 'I hate Barry episode'. In fact I came away pleasantly surprised. Yes he starts off the storyline being his usual annoying self. He has no sense of shame and embarrassment which Erica's peers find endearing, and he ends up invited to the toga party Erica has rejected. She's still trying to play the 'I don't care card', but it's obvious she does and again, it's something I can sympathise with. In the past few seasons of the show when she's been at High School, she really hasn't had to make an effort to be popular and cool. It's come extremely natural to her but college is a very different environment.
Once Adam does go, Beverly drops the act. It turns out she's spent the last 5 years terrifying Adam with her stories, so that when he took to the road he'd be a cautious driver. Murray's baffled that she thought this was a good plan and she reasons that it worked with Erica and Barry. Pops points out her stories didn't teach Adam to be cautious, but instead terrified an extremely gullible, anxious child.
If "no-one wants your objective opinions based on facts" isn't the single greatest line of this show, then I don't know what it.
'"You had your driving license taken away, remember?" "So, doesn't mean I can't still drive" "That's exactly what it means. Wait…. Are you still driving" "Sure how do you think I get here every day?"
Whoops at me, I thought Pops lived with the Goldbergs. But I guess there's only enough room for Marvin in the basement.
"The bus. You told us you took the bus!" "Why would I do that?! I got a car" "Did you know about this?" "Of course, we have crazy adventures every week. How do you think we get there?"
It's just an A+ conversation. It also touches on a previous storyline involving Pops driving. Comedies aren't exactly known for their continuity, so I'm glad the show actually remembered this. Though Pops is insistent it was just a nudge, Murray and Beverly aren't here for it. They agree Pops can take Adam driving, but only with their supervision.
Back at college, Barry has been invited to said toga party on Erica's dorm. She isn't happy with this and her misery is compounded when she's allowed to go, due to being 'Big tasty's' sister. Barry really doesn't see the problem with any of this and is looking forward to having fun.
At the toga party Barry is a massive hit, whilst Erica is complaining about the party being too loud. At this point Erica is my spirit animal and I'm beginning to think these writers have a secret camera in my room. Other Erica points out that our Erica is a total bummer. At a breaking point, our Erica refuses to let Barry be better at college than her and breaks out the guitar. It does not go well at all.
This leads up to a brilliant scene between Barry and Erica in her room, which I again completely feel. Erica admits she's miserable at college because she doesn't fit in at all. She pulls out Barry's bag of tricks and he tells her when she uses it all at once she does look silly. Troy Gentile's facial expressions throughout this exchange are completely on point. Erica says no-one likes her there and she can't blame them since she doesn't even like her there. Being the caring brother Barry that I actually like, he thinks it's time she shows everyone the Erica he knows from back home. She's unsure of how to do this and Barry has a plan.
One thing I do have to point out because I'm sorry but I can't not; I know America has different time zones and some states may be an hour or two behind or in front depending on where you are. But how is it already well into the night with Barry and Erica at college, while Adam, Murray, Beverly and Pops are still on the road? Unless of course the two storylines take place at different times which isn't made clear (I also had a similar issue with this when Adam visited Erica at college with his friends).
You would think his scream as he passes the train track would be enough to shut Murray and Beverly up. It doesn't. Adam does indeed pass and everyone is happy for a minute second. Until of course he crashes into a police car.
That's not good at all.
Erica returns back to the toga party to take to the stage once more with Barry by her side, and this time she is a hit. When Barry is being a nice brother? He's a completely tolerable character and I enjoy his sibling scenes with Erica and Adam. It's very much the Barry I wish we could have on a permanent basis. The Barry with the JTP, and constantly scheming, guilt-tripping people into feeling bad for his, and just generally being really annoying? That is the Barry I don't like, and unfortunately the Barry we're given more times than not.
Back with the Goldbergs, and Adam asks Pops to give up his keys. He's afraid if he does that they won't be able to go on anymore adventures. Adam is now ready to step up and drive so they can continue their adventures, and Murray waves them off.
We're 8 episodes into season 5 and so far this is the only episode that I've truly enjoyed, and could watch repeatedly. It had plenty of laughs, plenty of great quotes, the family moments I live for in comedies and never missed a beat. Hopefully next weeks episode is just as fun!