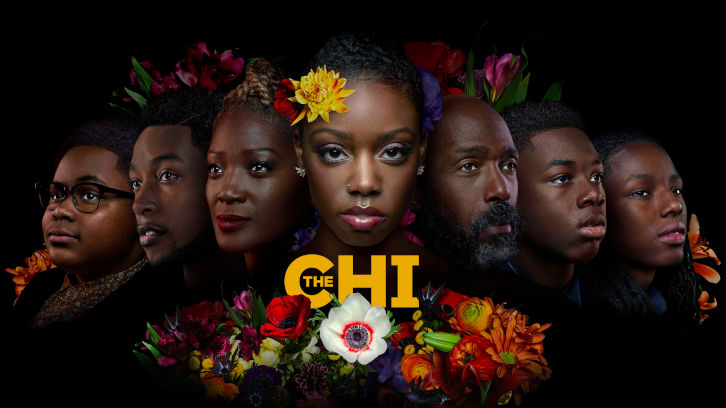 Series Premiere - Sunday, January 7, 2018 at 10 PM ET/PT

I have been a huge fan of Lena Waithe since I saw her on the first season of Master of None, imagine my excitement when I found out about "The Chi" being picked up to series by Showtime. The story is about a group of young men growing up on the south side of Chicago. I was not anticipating an early release for the pilot so finding out this morning about the first episode being available was a great Christmas treat.

The episode opens with beautiful shots of the streets showcasing all the brilliant street art all over the south side of Chicago. I applaud the director for giving us this feeling of calmness before taking us on a roller coaster ride, and he does this throughout the episode. Rick Fumuyiwa is known for these sorts of angles that put you at ease in one scene, then on edge in the next. It's a wavy (for the lack of a better word) ride through the episode.

There are several characters we meet in this episode who live on the south side but do not know each other; however, there is some sense of familiarity that the filming has set up for the viewer.
We get a brief introduction to Brandon's (Coogie's half-brother) world in a restaurant kitchen where he is a chef in training, with ambitions to open his restaurant one day. Here the viewer still doesn't know the connection between Brandon and Coogie. This scene gives the viewer a contrast of Coogie's carefree spirit and Brandon's somewhat structured life that he is trying to curve for himself. We also meet Sarah, the restaurant Manager who seems to like Brandon.
Brandon's girlfriend Jerrika picks him up from work, and they head home where his Mother was waiting for him. We find out here the relation with Coogie who she wants to see at the police station. She's not very fond of Jerrika, and there was some foreshadowing in this interaction of where that relationship could end up. At the station detective, Cruz begins to question Coogie who tries to distract him with talk about his shoes. Coogie is street smart and has had a few run-ins with cops because of shoplifting. He insists he did not kill Jason and did not know anything about the shoes and necklace.
Coogie's funeral service was sad and heartbreaking especially the eulogy that Brandon gave. Jason Mitchell dug deep in this scene and gave an excellent performance. He took us on an emotional journey through Coogie's young life. We didn't get to know much about him, but this monologue let us in and showed us he was just a boy who was trying to live his life. I loved the distinction that Brandon made about their brotherhood; there was nothing half about it. Their mother was also having a hard time, and she blamed Brandon for not protecting her son. Brandon jumps back into work to avoid dealing with his emotions but when he visits the 77th Mart to get Coogie's bike he meets Emmett who tells him that Keisha's brother witnessed the shooting.
Lena's writing in this episode set up the viewer to do some work to learn who these characters were. She didn't outrightly give the relations; she linked the dots in a way that required the viewer to pay attention. It was evident that she took a lot of care with how she portrayed each character and their depth. Going into the next episode viewers will be able to identify with the characters they met in the first episode and relate to them. My hope is to see how they all deal with this trauma that has now connected all of them. I enjoyed this episode, but I felt a little robbed by Coogie's death the same way I feel when young black men are killed aimlessly. It was painful to watch him laying in the casket and maybe in my selfish way I was hoping that we would get to know more about him. I didn't know what to expect before I started watching, but I know for sure I did not expect any death to occur this early in the season, so that kind of dampened my spirits for the day.
10/10
If you haven't watched the episode it's available on YouTube for free, If you have seen it tell me your thoughts in the comments.