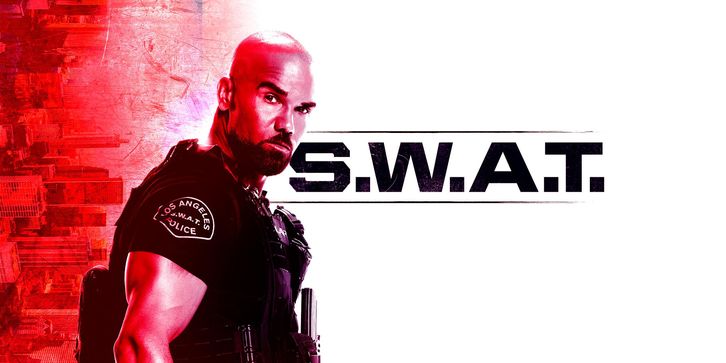 A homecoming is a time for celebration, but the three homecoming-type situations in this week's S.W.A.T allowed, at least, for some small victories.


A drive-by shooting in Hondo's old neighbourhood, overheard by him over the scanner, draws him back, and he arrives in his civvies to check up on the families he knows well.

"You stay safe," he tells Jo-Jo, and the brief conversation hints at an injury sustained in a shooting, leading to Jo-Jo's use of a weheelchair.
"How we supposed to do that, Hondo?" Bri asks, holding her baby, staring him down. "Like we gotta start putting our babies to sleep in the bathtub again?"

The people here are like family to him, and while things have been peaceful in the area for a while, it's just another "temporary ceasefire". Hondo's stoic, but his presence shows how much the deaths affect him. He talks to the people, he listens to their concerns, and he'll do what he can to make these streets safe.


For Hondo, it's all too personal for him to ignore. With Jess's blessing, he takes Deacon with him to his old neighbourhood. They catch up with Daryl as he leaves a convenience store and try to talk to the kid, but he can't be seen talking to the cops, can't risk being perceived as a snitch, and refuses to cooperate. There's too many people with their phones out, filming, so they let Daryl go.
There are tense scenes scattered through this episode as Hondo interacts with those in the neighbourhood. He knows these people, and he's aware of what's going down behind closed doors. But he leaves them alone, doesn't bust them, and that's partly why he still has their respect.
Hondo knows he'll need them one day, and he calls in some of those favours now, uncovering information about the crew committing the murders. These aren't personal hits. Whoever is taking the people out is doing it for business. And that business is called Murder LLC. As a homage to Murder Inc, Trick Carter is going around offering risk-free outsourced murder. He's doing what he loves.
Meanwhile thirteen-year-old Daryl is trying to buy a gun. Fortunately for him SWAT gets wind of it, and he ends up attempting to buy a gun off Chris. The moment he shows her the money for the weapon he's chosen she bangs on the back of the van, and Hondo and Deacon appear, and now with probable cause they can take him in and talk somewhere a little more private.
It's in an Interrogation Room that Daryl admits he thinks he's the second biggest mistake his dad's ever made. He thinks his mother was the first. But Hondo's there to put him straight. The biggest mistake Leroy ever made was taking care of the man who murdered their childhood friend, Daryl – whom Leroy then named his son after.
Leroy went to Juvie, while Hondo went to high school, and their lives went in two different directions. Hondo's one of the few who might be able to turn Daryl's life around, and the kid's finally listening, finally willing to talk.
Hondo's got a real knack for earning the respect of kids. We saw this last week as he helped Raymont, and again this week with Daryl. He's someone they can relate to, connect with. And it packs an emotional punch every time we see such scenes.
From Curtis, they finally learn Trick's name. Trick made connections in prison, but Leroy is hesitant to act as an inside source and snitch. He does, though, giving Hondo the name of the next target, whom they're able to save.
Trick and his crew take off, having failed to complete the hit, but SWAT's hot on their trail. What follows is a beautifully crafted, intense scene. Robert Duncan's score, the flashing red and blue police lights illuminating Hondo's face, Trick's final moments – the tension rises, culminates, and even once the viewer can breathe again it's a scene that will linger within them for some time.
Hondo organises for Daryl to go stay with an aunt he gets along with, and Daryl agrees. But first, before he leaves, he wants to see his father. It's a touching moment as father and son reconnect, another homecoming in this episode about family, both the ones we're born into, and those that become a part of us in the neighbourhoods we grew up in.
"I was waiting for an apology, and then the clock stopped."
There's a bitterness, an anger in his voice as he talks about his grandfather, and it goes beyond the pain of losing him.
Street, Chris, and Tan have Luca's back as he meets with videographer, Jilly Clark (Lindsey Gort), and after he walks away, unwilling to be interviewed, they agree to answer some questions. Street agrees with a little more flirtation than the other two. But it might not be him Jilly is flirting with the most during the interview.
Prior to the funeral, Luca's father (played by Michael O'Neill) arrives at headquarters, with some advice for his son. He suggests Luca suck it up and say some nice words for the camera.
"Either find the strength or fake it,"
his father tells him.
But neither option is that easy for Luca, and they have an emotional, physical scene, during which his father attempts to console him, but Luca can't let his pain go. He won't lie about his grandfather.
Luca's over people hero-worshipping his grandfather. He admits to Hondo that at the end they weren't even on speaking terms.
We find out then that Luca's grandfather didn't want him on Hondo's team – because of the colour of Hondo's skin. It's heart-breaking to hear, and to watch Luca speak the words out loud that hurt him. Kenny Johnson nails the scene, tearing open all our hearts as tears trail down his cheeks.
"We can still love people despite their mistakes, man. They're still family."
If I ever have family drama, I want Hondo around to help me through it. Shemar Moore has a wonderful character here, and he must feel proud to bring him to life each week.
It's Hondo's final words that really help Luca find a way to push through his anger, to work towards forgiveness:
"Luca, look at this team, look at us. We are the change that counts."
At the memorial, Luca speaks in the video, having managed to find the strength to speak the truth while remaining gracious.
"My grandfather was a stubborn man, he was strict, and opinionated, and slow to change. He defined his era, and I learned to be a better cop because of him. I loved him. Man, I wish we could keep talking to each other. I still had things to say to him."
It's easy to be stubborn, to refuse to forgive until we hear the words we need from those who wronged us. But we forget that tomorrow is never guaranteed. People die. And we're left with the old wounds that were never allowed to heal, and with new ones, because we waited too long.
It's a tough lesson for Luca.
"Why does a girl have to choose?"
Street and Chris have been building a friendship the past several episodes. It's been a nice, slow growth, and a relationship I hope will evolve into a tight bond over the course of this first season. There's an attraction there, one that seems to go both ways, but Chris has rules about dating colleagues. As a woman, she has to fight harder for respect, something we saw last week too as she battled to be recognised as being as physically capable as her male colleagues.
Street jokes around with Chris about it at first, talking himself up, pushing her a little, but she asks him to ease off.
"I've worked too hard too long to risk my rep for pheromones, and I'm not gonna be the cop that every cop thinks he can sleep with,"
she tells him.
Street apologises, and eases off as asked, and later, while sparring, Tan helps put things into perspective a bit more to help with his wound-licking - and suggests he ask Jilly out.
Heeding that advice, after returning from taking down Trick, Street attempts just that. Except, Jilly already has a date – with Chris.

"I thought you liked men?"
Street says.
"I love men,"
she confirms.
"And I also love women."
Bisexual erasure, sadly, still exists, and bisexual characters on television are still a rare event. I'm thrilled a female character identifies as bi on my favourite show.
The SWAT writers are nailing the dialogue every week, and creating emotional stories that settle quietly into the viewer's hearts. The actors are nailing their scenes, and it's all coming together in characters we can root for, and episodes that stay with us long after the credits have rolled.
While they've all been engrossing, this episode,
Homecoming
, is the strongest yet.
If you need a new favourite show, you can catch up at
http://www.cbs.com/shows/swat/
and watch the last five episodes for free.
The Fall Finale,
Miracle
, airs Thursday Dec 21st, 10/9c on CBS.