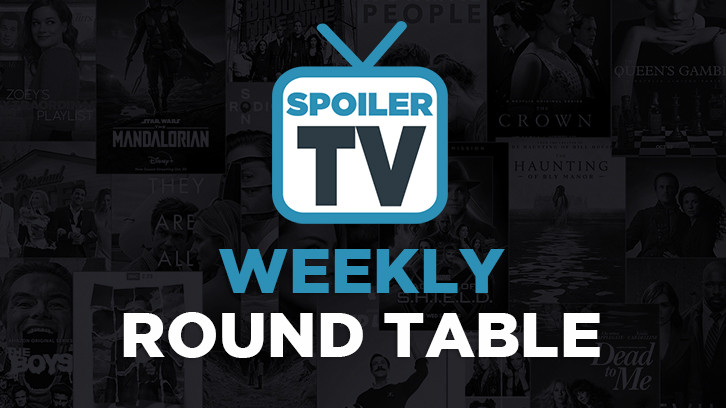 Hello guys and welcome to a new edition of SpoilerTv's Weekly Round Table. With the holidays around the news, flow is pretty low but we still found some topics and time to rant a bit. This week I'm (MK) joined by Samantha (SB), Claire (CS), Milo (MI) and Lisa (LM). Enjoy the read and don't forget to share your opinions in the comment section below.

1. The Office revival? Is NBC fishing in the dark or is this a valid move to make considering Will & Grace numbers?

CS: LOVE the idea of an Office revival. And not because I live in Scranton and the Office is one of my favs ever. Okay maybe it is for those two reasons, but I still think it's a great idea. There was just so much more rich material there. And even if most of the regulars don't return, it could still work. I know a lot of people thought the series finale was the perfect wrap up, but I digress. I did not like it; should have been darker. And It's always been this way; everything old is new again. I love it!!!


MI:
The idea of an Office revival sounds exciting but it has to be well executed. I'm currently catching up with the show - midway through Season 3 at the moment, and this gives me an added incentive to catch up. Depending on how it's handled it'll be great, but yeah, it looks like NBC have been jumping on the nostalgia craze lately and it'll be interesting to see how the quality of this show turns out.
LM:
The Office would be fabulous IF they could get the big stars back. It's not really a shot in the dark - frankly, I think it's a more valid "re-boot" than Will & Grace, BUT without the stars who left even before the end of the first run, I think it is a shot in the dark.
2. "The Chilling Adventures of Sabrina" casting calls are out and the team behind the project is open to change the ethnicity of the lead characters. Why do people have issues with that? Isn't a character more than just skin color? Isn't it more about performance than appearance?
SB:
For me, it is definitely more about performance than appearance and ethnicity really shouldn't come into it. I've seen some people argue that in the original show & comics Sabrina is white and therefore it's important to stick to the source material or people might get confused and I think that's ridiculous. I honestly feel like people are just coming up with excuses to disguise racism. We already know her name is Sabrina and we already know that she is a witch, and a bit of her backstory, ethnicity doesn't come into that. I honestly don't care who is cast as long as they can act. However, it would be a nice change of pace to have a WOC cast as the lead, since TV shows & Movies are littered with white leads. If they do end up going with a white lead though, I would really hope that it is because the actress chosen is the best out of those auditioned, and the opening casting call isn't just so TPTB can claim they really tried to be different when they didn't.
LM:
I have no problem with changing the ethnicity of a character - unless that ethnicity is integral to the actual character. I don't think Sabrina necessarily counts. I DO object to changing an ethnic character to Caucasian (Thinking Dr. Strange here, regardless of how good Tilda Swinton was - though also changing up the gender pretty much did get me on board). Primarily, my point is that space needs to be made so we SEE a lot more diversity on our tv and movie screens - let's try to reflect the actual world we live in!
MK:
Personally I don't care about ethnicity. No character is less if he is played by someone Asian, Latin or African American. The important part is that THE ACTOR gives the character something personal, something that will make the character stick out. But then if you change the ethnicity you have to go full circle and incorporate the cultural issues of the character and his/hers family.
3. SyFy renewed Van Helsing and the Dark Matter fam is in rage. How do you justify this move considering Dark Matter was a stronger performer with lot more buzz?
SB:
I watched the first episode of Dark Matter and was curious enough to want to watch more, but after the cancellation I deleted the show from my queue because I really don't want to get attached to a story that wasn't finished. I was honestly shocked when I saw the report that Van Helsing was renewed and still am. From what I've seen it has no critical acclaim, and is among the most lower rated shows on the Network. It's completely mind boggling how Dark Matter can be axed, but a show like Van Helsing lives on for another day. The only thing I can possibly think of and have thought from the start is it may have been a budget issue, and the fact that Syfy is a mess that is constantly making questionable decisions.
LM:
I'm in the minority who really didn't care for Dark Matter, but I didn't like Van Helsing either - so perhaps the wrong person to be weighing in, BUT how Syfy decides what stays and what gets cancelled is an utter mystery to me. I mean, clearly it's based on weighing costs etc, but one thing they never seem to consider is fan loyalty...
MK:
The process of canceling and renew some shows will always be a mystery to me. Again this is a very surprising decision by Syfy but there must be a reason why it happened this way. My personal issues with these abrupt cancellations is that the fans get no closure. I personally intended to check out dark matter but now knowing there is no real closure doesn't make me watch it.
Thanks for stopping by guys. Hope your enjoyed our little discussion. Wish ya all happy holidays and a great start in 2018. Our Weekly Round Table will comeback in 2018 and so you know we have a date. Till next year. . .