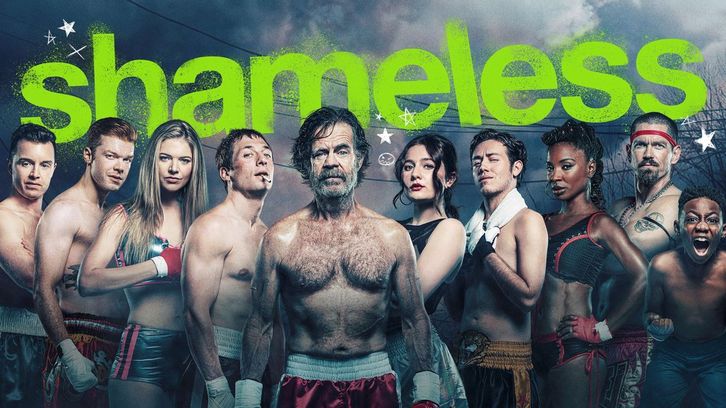 These past two episodes of Shameless were a little underwhelming. The episodes were in no way bad, they simply had nothing that particularly stood out. They had a much slower pace than what we've come accustomed to with this show. Plus, I can't be the only one tired of Fiona always having a beef with one of her siblings?

During "The (Mis)Education of Liam Fergus Beircheart Gallagher," (That's one hell of a name, kid.) Frank helped out Liam who had failed out of an important exam. He made him learn some valuable life lessons, a la Frank, along the way. With only 2 out of 10 questions right initially, Liam was in trouble at the school, and so was Frank. I might have no clue what a foyer actually is, but Liam went full on stupid by pencilling in Penis. But Frank, being the master weasler/ bullshitter we know him to be, managed to get the grade improved stating cultural bias, and there's a lesson to be learned there.


"Their guilt is our free pass." -Frank
Just like the older kids, I have little to no interest in the new Frank storyline, I find it dragging. Little Liam is still the only one that shares Frank's genes to even acknowledge his father's new persona. The others couldn't care less about his vertical ascension within middle management. They've seen it before. They've believed it before. And more importantly, they've been let down by it before. Liam doesn't know any better,
yet
.
It will come though. It's simply a matter of time.
In the episode that followed, Frank got a hold of a credit card, because apparently, once you get a job, anybody will give you one, no matter your past credit score.
God bless America.
And with credit comes great responsibility. After Liam realises they are poor.
Really kid?
The lack of a car is what gave it away? I had higher hopes for you. I don't know why they go out their way to make seem Liam stupid. Even younger, all the other kids were a lot more enlightened and contributive.
Despite how they characterise Liam, the relationship developing between Liam and Frank is really starting to pull on the heart strings. The two are happy together, a rare feat in this show when it comes to Frank. It made me smile to see them happy together even if it's going to come crashing down, soon and hard. At work, Frank gets let go, and while his words sounded optimistic, his face told a whole different story. He's going to do something stupid,
for sure.
In other news, Fiona and Ian were working against each other without even knowing it at first, which irrupts into another Fiona against one of her siblings fight. In the past few seasons, Fiona is always in a fight with one of her siblings. It was Lip when he wanted to drop out of high school, Debbie when she didn't go through with her abortion. Now, that her and Debbie's relationship seemed to have repared, it's with Ian. Oh how I long for the days of 6 Gallaghers that stood toghether against all odds. Fiona has changed, and I'm not completely in disagreement with Ian when he calls her selfish.
"They aren't at risk. They are risk." - Fiona
As Fiona was finally coming around to cleaning up around her block, she learned the abandoned church a few blocks from her building, currently filled with squatters and drug addicts, is for sale. Upon learning of the news that the potential buyers want to transform it into a homeless shelter, the oldest sister goes out of her way to find other buyers for the church in the hopes that the new church's purpose would add value to her building. A homeless shelter would do the opposite.
She gets unexpected help from Mel, but not before getting humiliated just enough. Do we actually know why Mel is such a
bitch
to Fiona? I hate a character who's mean just for the sake of being mean.
Everyone needs a back story, right?
While Fiona was hard at work, Ian and Trevor were trying to secure funds to rent out the same church, Trevor's youth center being at maximum capacity. After Ian recognises their rich benefactor from his Fairy Tail days, he goes knocking on his door hoping a little bit of blackmail will secure him the funds for the down payment. In a coup de theatre, Shameless style, the wife is actually in his turtleneck habits it, but that doesn't mean she doesn't give him the money.
Ian gets to Patsy's Pie with the cash down for the church, just before the deal Fiona had put together could go through. The scene where the siblings realise they had been working against each other didn't have any kind of poignant effect. The whole episode, everything pointed to this fight coming. What would actually have been surprising would have been Fiona backing off and letting Ian buy the shelter.
Guess not, aye?
"I don't know who you are anymore." -Ian
The next episode, have Ian and Fiona are still at odds. I don't want to take sides, but I take Ian's side. Or I took Ian's side until Fiona tried to say she was sorry. Now I don't know whose side I'm on. Who do you think is right in this conflict?
In "Icarus fell and Rusty at him," Fiona finds one of her tenants dead. The woman had been dead for so long her dog had started to eat her. As she cleaned up the woman's apartment, waiting for a next of kin, Fiona got to reflecting on the life she's been leading. She reflects on how she could become that woman, alone in her apartment, dead and nobody to care. Her tenant had led a life without forgiveness. She held on to grudges, fighting for something that stopped being relevant a long time ago. As expected, this makes Fiona reflect on the fight she is having with Ian. I was glad she stepped on her ego, and went out to Ian's workplace to talk. It wasn't actually an apology, and as Ian pointed out, she would probably have done the same thing even if she knew who was trying to buy the church, but Ian was an ass. The only reason he wants that shelter is to get into Trevor's pants, but he's not totally wrong when talking about his sister. My mind is spinning trying to figure out who is in the wrong and who's in the right. Are my morals unbalanced? Maybe, I don't know. But this show is called Shameless, so maybe this applies to it's viewers as well.
One a side note, I got emotional when they took away the flesh eating dog and was quite happy Fiona saved him from certain death.
While all this was happening, Carl learned that his scholarship had been given to another student and needed to find a way to make money for military school. He's motivated; he needs to earn his way back into school. He has three weeks to make twelve grand, but if he sticks to his schedule, he's persuaded he'll be able to manage. Even after a day of hard labour, he's still short and needs to find other ways to make up for the money, "Ubbering" with Fiona's car being one of his ways. The Cadet Corporal finds his true calling, after the junkie he caught stealing and kept tied up in basement in the last episode gets clean and pays him to do the same treatment to his girlfriend. This Gallagher is now in the detoxing business. I'm sure I've mentioned this already, but I'm absolutely loving Carl's character this season.
"I don't need luck. I have will. I'm a fucking cadet corporal." -Carl
During these two episodes, Carl's major contribution to the plot was in support to his siblings. In the fifth episode to Shameless' eight season, Carl helps Fiona spruce up the neighbourhood. In the sixth episode, with Fiona's car, he helps Lip find Brad, fresh off the bender.
In these episodes, someone realises that having a baby is mentally demanding, and pretty hard on the nerves of a recovering alcoholic. It's actually all too much for Brad, Lip's sponsor, and he falls off the wagon, pretty hard. Lip is a lot better when he's taking care of people and not thinking about his own problems, so he, Carl and Professor Youens go on a wild goose chase, hangover style for the missing sponsor. Carl calling Brad a psycho made me chuckle. Kettle, pot?
An all-around pretty bruised and scratched up Lip is also in full existential crisis and after holding Brad's baby, he suddenly gets to thinking that he might want one. He's been helping raising his siblings for the longest time, and just hits him now? I guess it makes sense if you remember how he reacted when he learned Karen was pregnant way back when. He was really into it, making the baby a video and everything. It was easy to see he who was thinking of starting a family with, I just don't feel they've developed his and Sierra's relationship enough for me to actually care, but I'm invested in seeing where Lip is going. They've made him a lot less helpless in the past few episodes, it's an appreciated change for the character.
"How the fuck am I supposed to make it if Brad can't?" - Lip
Just as Debbie is getting her life together; she's happy and signing in the kitchen, a bomb is dropped on her. As she goes to pick Frannie up at her abuela's house, she sees that Derek is back. (And has had a lot of plastic surgery!) There wasn't a lot of development around this situation in the following episode, but it will probably become a central part of Debbie's storyline in the near future.
In "Icarus fell and Rusty at him," Debbie is on a mission to get the morning after pill after walking up with the hairdresser in training. Her storyline was greatly appreciated, and what I love about a show like Shameless. It also showed her growth as she was trying to do the right thing, and trying not to make the same mistake twice. I hope we get to see more of her group of misfit friends, they're great.
"And Kev is driving me nuts trying to compete with the Russians by going full on Kentucky fried redneck. I'm losing my damn mind." –V
There is still trouble between Svetlana and V, arguing about how they will split up the profits of the bar. I don't think Svetlana is wrong though, business wise Kev and V would be in deep shit without her, she does a shit ton more for the bar than they do, but she can't just slut her way back into their lives. I hope Svetlana sticks around, she's a really fun character.
My favorite parts of both episodes was Kevin, he's absolutely hilarious. In this season's fifth episode, we were able to witness a cowboy Kevin, learning about his southern roots and getting his Kentucky time ate the bar. The shift changes between Russian our and Kentucky time were hilarious. In this season's sixth episode, Kev being jealous of Svetlana, V and their dominated sexual bliss, is on the hunt for a gay sexual experience, and that definitely gave a few out loud laughs. He isn't gay though, and couldn't go through with it, but as Veronica put it, it was brave of him to try. Their relationship really is something else. They're really good for each other, in a very weird way that I couldn't quite describe.
I couldn't quite put my finger on the reason I found these two last episodes so underwhelming, maybe it's because after 8 season's Shameless has lost its element of surprise. There wasn't much I couldn't see coming in the last two episodes, I hope the show finds its mojo soon enough.
Here's a couple of questions I would love to have you opinion on. Let me know in the comments!

What's your favorite Gallagher storyline?

Who's side are you on, Ian or Fiona's?

Should Fiona have kept the dog?

Countdown till Frank loses it? How will he mess up, and how will Liam take it?