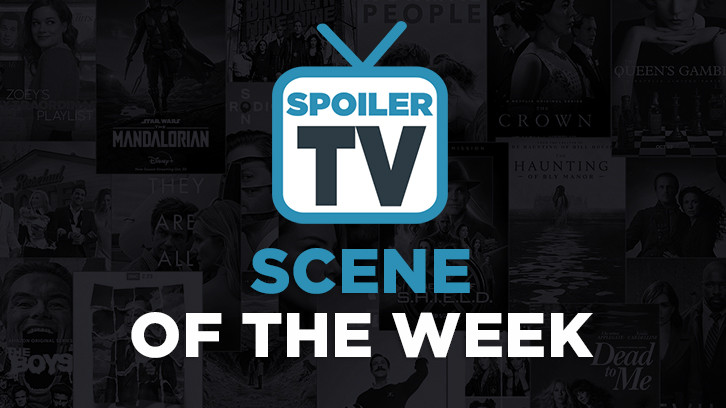 A weekly feature in which we're trying to find the most compelling, best acted, written, directed and just generally great, memorable scenes that we've seen in past seven days on TV.

AGENTS OF SHIELD, "Rewind", December 22, 2017, Actors: Iain De Caestecker, Nick Blood, The Scenes: Fitz and Hunter reunite & Fitz and Hunter talk about the Framework & Fitz and Hunter say goodbye
Justyna: This was probably my favorite episode of this great season. A perfect Christmas gift for the viewers. The hour of only Fitz and Hunter (!) was exactly what the show needed this week. I could honestly choose any of the scenes with these two, because they are definitely one of my all-time favorite duos from the series and their interactions were pretty much perfect. Since the other two of my choices for SOTW are already included in the article, let me go with the initial reunion. The Spy's Goodbye seems like forever ago and Hunter (+ Bobbi) was greatly missed in the last couple of seasons. The fact that he showed up just when his friend needed help the most speaks volumes about their friendship. I love their hilarious argument and then the long hug. They genuinely missed one another and it was clear that even under these circumstances, it meant a lot to be finally reunited. I very much hope that this is not the last time we see Lance Hunter on Agents of SHIELD but I'm very grateful for this hour of the meaningful and most memorable interactions between two of my favorites in this episode. Kudos to cast & crew for this fantastic "Rewind"!
Beth: Fitz and Hunter at the Lighthouse discussing the Framework. This scene was so important to me because Hunter was not there and knows him without AIDA and seeing how he was in the Framework. As much as his team could tell him last season that it wasn't really him, they saw what Fitz did and it pained him to know they saw all that darkness beneath. Hunter saw a glimpse, but was able to see that the light and not the shadow is who Fitz is, and tell him as much. He also knocked some sense into Fitz to ask Robin why he wasn't on the list and it was not the answer Fitz was trying to convince himself of.
Klutzy girl: The Han/Leia callback with Hunter and Fitz right before the latter is about to be sent to the future. I didn't expect it but the "I love you." "I know" scene was perfect.

GOOD BEHAVIOR, "Letty Raines, In The Mansion, With The Gun", December 17, 2017, Actors: Michelle Dockery, Juan Diego Botto and more, The Scenes: Letty hallucinates seeing Patrick in the car & Javier talks Letty into trusting him
Samantha: Letty hallucinates seeing Patrick in the car as Javier is quizzed by a police officer. I could've probably chosen any of these hallucinations or the beginning of the episode because it was all so well acted, but I honestly think this one was the best as Patrick comes at Letty with cold hard truths. Letty doesn't like that Patrick now sounds like a douche, and he makes some comments about his wife that are somewhat amusing but disturbing when you consider he was just a hallucination and Letty was probably thinking those things to make herself feel better about accidentally killing him. Then Patrick taunts Letty over the fact she blames her mum and Shawn for every bad thing that's happened to her, and tells Letty to admit that she's the one who drags everyone down. Michelle Dockery plays Letty's confusion & guilt over the situation absolutely perfectly.
Marko: Javier talks Letty into trusting him.

KEVIN CAN WAIT, "The Might've Before Christmas", December 18, 2017, Actors: Kevin James, Leah Remini, The Scene: Kevin remembers his first Christmas with Vanessa
Claire: The Christmas episode, Kevin remembers his first Christmas with Vanessa when she is sure that he doesn't. He gives her a sweet card about that night. I felt they might be setting up a romance for the two. James and Remini are great together.

MAJOR CRIMES, "Conspiracy Theory: Part 4", December 19, 2017, Actors: Mary McDonnell, G. W. Bailey, Tony Denison and more, The Scene: The Doctor reveals that Sharon died
Samantha: I don't watch Major Crimes (my mum does) so I had no idea about Sharon's health issues, and even though it is the last season I was not expecting her to be killed off and especially not before the finale. When the Dr revealed the news I was devastated for the characters and admittedly a little teary, because it was so heartbreaking. Sharon has been their leader for 6 years, and was of course on 'The Closer' before this, and viewers will have watched her turn from an antagonist to a protagonist, and most importantly someone that they can love dearly.

PEAKY BLINDERS, "The Company", December 20, 2017, Actors: Cillian Murphy, Tom Hardy, Charlie Murphy and more, The Scenes: Ending Montage & Alfie vs Tommy stand off
Milo: Ending Montage. Seeing the Shelby family united with Jessie Eden brought into the fold was a fantastic way to end an excellent season. The Laura Marling cover of Bob Dylan's "A Hard Rain's Gonna Fall" was excellent, and really worked well as the montage that showed Tommy moving into new and uncharted waters as an MP was excellent, a perfect way to put the show in a fantastic direction for Season 5.
Marko: Alfie vs Tommy stand off.

RUNAWAYS, "Refraction", December 19, 2017, Actors: Gregg Sulkin, Ever Carradine, James Marsters, The Scene: Janet shoots Victor
Samantha: This was a jaw dropping moment in an otherwise lacklustre episode, and full credit lies with the actors Ever Carradine, Gregg Sulkin and James Marsters. Throughout the episode tension was building as cracks began to show in the 'new' Victor, and those cracks burst to life in the garage scene. I really felt for Chase as he was annoyed with himself for believing that Victor had indeed changed, and was ready to be a normal parent. When he reached his breaking point and lashed out at Victor, I felt terrified for him because you knew no amount of apologies was going to save him from his father's wrath. Using the fistigons on Chase was a low blow, especially after the earlier warning from future Chase and Victor was completely unrepentant as Chase laid on the ground basically pleading for his life. I knew Chase wouldn't be killed off, but I seriously did not expect Janet to shoot Victor in order to save her son. The terror and horror in her eyes at the scene that'd greeted her, and how much of a low blow it must've been after sticking by Victor and dismissing Robert's concerns. Also picked by Marko
Milo: Janet shoots Victor to save Chase. What an ending - one of the weakest episodes of the season was salvaged almost single-handedly by a fantastic finale that really could potentially prove to be a massive game-changer for the series. Full of tense moments that made the most out of James Masters' character - please don't make this be the last we see of him.

SHAMELESS, "Occupy Fiona", December 17, 2017, Actors: Jeremy Allen White, Alan Rosenberg
The Scene: Lip visits Youens in jail
Claire: Lip visiting Youens in jail, asking him why he'd show up drunk to court. Youens says I'm a drunk and Lip shoots back with how much he wants to drink, too. But he doesn't.

THE LIBRARIANS, "And the Christmas Thief", December 20, 2017, Actors: John Harlan Kim, Gia Carides, The Scene: Ezekiel tells his mother why he steals
Klutzy girl: Ezekiel reveals to his mother that he steals not out of selfishness, but to help people. It was a fantastic insight into his character and made me love him even more.