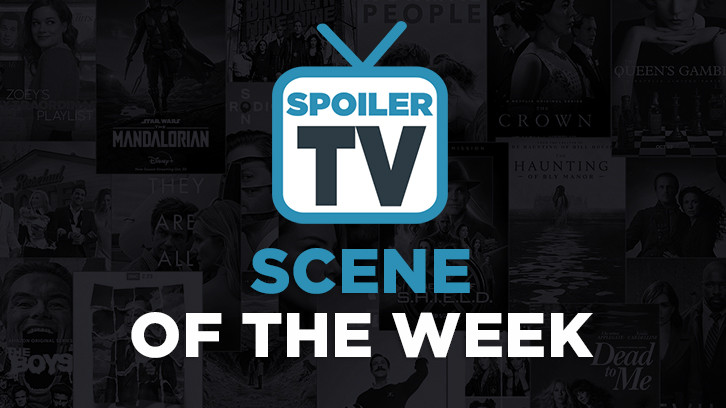 A weekly feature in which we're trying to find the most compelling, best acted, written, directed and just generally great, memorable scenes that we've seen in past seven days on TV.

AGENTS OF SHIELD, "A Life Earned", December 15, 2017, Actors: Iain De Caestecker, Chloe Bennet, Dominic Rains and more, The Scene: Fitz turns up at the end
Justyna: Finally! I really enjoyed the episode and there's a number of scenes to highlight (shout-out to Mack's emotional confession) but as soon as Fitz turned up at the end, that's all I could remember from the hour. I must have missed the character way more than I realized. Even though I knew it was coming, I was still so glad to get Fitz back in those last few seconds. I'm very excited to learn the story behind his arrival. Not only was he able to figure out where the team went, travelled to the future after them but he also managed to arrive as a guest of Kasius, not trapped in the Lighthouse like everyone else. Of course, there's also a matter of his plan. His suggestion to have Daisy fight to the death makes this quite an entrance. Welcome back, Fitz and Iain De Caestecker! Can't wait to see more of his side of the story.
Beth: Fitz turns up at the end and suggests Daisy fight to the death. Fans like myself have been waiting with bated breath for any crumb of information about where Fitz is, and he showed up in such an epic way. The moment he took that helmet off and Daisy had that look on her face, I gasped! Finally, a fan favorite is back in the fold and that last bit of magic missing has returned.

BROOKLYN NINE-NINE, "Game Night", December 12, 2017, Actors: Stephanie Beatriz, Andy Samberg, Andre Braugher and more, The Scenes: The squad brings Game Night to Rosa's place & Jake's speech about what Rosa should say to her parents
Justyna: While I always had an impression that this show gets better with each season, it's never been more true than this year. Brooklyn Nine-Nine delivered so many of their best episodes in season five that it should be no surprise that 100th episode was pretty much perfect. Rosa's emotional story throughout "Game Night" was done in such a beautiful and heartfelt way. Stephanie Beatriz was absolutely amazing in every single scene and the balance between Rosa's strength and vulnerability was exactly right during this important milestone. What felt especially meaningful for me was the fact that Jake (and then the rest of the squad) was there by her side on every step of the way. That's what friends and family should always be. The people who show up and support you when you need it the most. That's exactly what made choosing this ending scene incredibly easy. When Rosa's parents call off their game night, not able to embrace who she truly is, her other family shows up at her apartment and promises to be there for the game night every week. It's hard not to love these guys and the scene. Though Rosa and her father share a meaningful moment earlier, it's Captain Holt's short speech and embrace that help lift Rosa's spirits and confirm how right she was when she decided to open up to her family. In case you're still not watching the show, I highly recommend it once again and I can't think of a better moment to catch up. It's one of the best series on TV right now and not just in terms of comedy. Kudos to the wonderful cast & crew for all their great work!
Laura: The squad brings Game Night to Rosa's after her parents refused to accept her bisexuality and called off her game night with them indefinitely. Also picked by Saloni
Marko: This scene made me laugh, made me cry, this scene made everything worth it. The day we come to this world we get a family and if we are lucky it is a great one. Rosa wasn't that lucky but she is awesome enough to have earned a family of amazing friends to be by her side. The team coming to Rosa's side and help do game night with her was simply everything.
Beth: Holt talks to Rosa. This scene is the essence of why I love this show and this squad. These moments just make you happy to be a fan of this phenomenal and underrated gem.
Patrycja: Jake's speech about what Rosa should say to her parents after she tells him she hasn't told her parents yet.

COUNTERPART, "The Crossing", December 10, 2017, Actor: J. K. Simmons, The Scene: Howard gets to know Howard
Kollin: The series premiere of Counterpart was a solid kickoff to this espionage, sci-fi thriller, in large part due to J.K. Simmons' superb acting. The moment where the two Howards get to know each other was full of such subtle humour and nuance as they ponder about the what-ifs, lost love, and their own identities. J.K. Simmons did a wonderful job in portraying the self-assured Howard on one spectrum, and the more timid Howard, on the other. Both of them playing so well off each other.

GOOD BEHAVIOR, "And I Am A Violent Criminal", December 10, 2017, Actors: Michelle Dockery, Juan Riedinger and more, The Scene: Letty kills Teo and accidentally kills the security guard
Samantha: This was a development I really didn't see coming. From the moment Teo announced his presence and Javier realised from the text something was wrong, I expected him to make it on time and save the day. But he didn't. Instead it was left to Letty to do something she never wanted to do, and not once, but twice. Killing the security guard was so accidental and her horror at realising what she'd done and begging him not to die was heartbreaking. Michelle Dockery is an outstanding actress, and over the show's 2 seasons, she has added so many different layers to Letty. Also picked by Laura B

LETHAL WEAPON, "Wreck the Halls", December 12, 2017, Actors: Clayne Crawford, Damon Wayans, The Scene: Riggs tells Murtaugh about his father
Justyna: I absolutely love the relationship and dynamics between these two. With each moment like this one, when Riggs shares one of the darkest memories of his life with Roger, his partner understands him a little better and it feels like an important progress in their story. There's so much sadness and tragedy surrounding Martin's life but it seems that knowing Murtaugh brought back some of the light to it as well. The fact that Riggs admitted that he didn't want to die today at one point and then Roger asks his friend to promise to see him soon when they're both at risk of getting shot later in the episode, it all shows the good influence and support they have for each other. Clayne Crawford is always fantastic in all of these emotional scenes and in this one Riggs is barely able to keep eye contact and not let his voice break down when it comes to sharing the painful truth. The interactions between the two main actors continue to be brilliant. And the fact that this show keeps an impressive balance between the comedy, action and the drama is just one of the reasons why it works so well. Kudos to cast & crew for another great episode!

LUCIFER, "The Sin Bin", December 11, 2017, Actors: Tom Ellis, Tom Welling, The Scene: Marcus' identity is revealed
Diana: Marcus' identity is revealed at the end of the episode. Lucifer realizes Pierce may not be human after all, so he stabs him to death - his body lies on the ground for some seconds, before Marcus wakes up with no wounds. Later, Marcus reveals to Lucifer that his real name is Cain indeed! This show keeps me surprised week by week. I don't think they're done with the Sinnerman. I think with Cain in the stage, there must be something else to come.

ONCE UPON A TIME, "The Eighth Witch", December 15, 2017, Actors: Andrew J. West, Alison Fernandez, The Scene: Henry tries to break the curse by kissing Lucy
Marko: Andrew J. West gave new life to the tiresome version of Henry we used to love for the last 6 seasons. The amount of heart and emotions he transfers to the screen are simply captivating and in this case heartbreaking.

OUTLANDER, "Eye of the Storm", December 10, 2017, Actors: Caitriona Balfe, Sam Heughan and more, The Scenes: The dance around the fire & Claire's revelation about Geillis
Jennise: The dance around the fire. Claire and Jamie chase Geillis across the island in an effort to save Young Ian. They come upon some escaped slaves in the middle of a ceremony of some type. People dance around the fire. Claire and Jamie hide and watch and as she watches Claire thinks back to watching the Scottish Wiccans dancing through the stones back in the pilot. The intercut of the two scenes was both a beautiful way to link the pilot and this season finale, but more than that, it illustrated the fact that human beings, at their core, are the same across the planet. I first thought about the fact that while the rituals or ceremonies may be different, nearly every culture on this planet has a way of marking the 'right of passage' from boy to man. I thought the imagery here made that point beautifully.
Laura B: Claire's revelation about Geillis, as her body lies in the cave.

PEAKY BLINDERS, "The Duel", December 13, 2017, Actors: Cillian Murphy, Adrien Brody and more, The Scene: The Duel
Milo: This episode opened with a bang, where Tommy had lured in Luca Changretta and the mafia into his home turf, and we found out that Polly hadn't betrayed him at all but had in fact been working with Tommy all along. This intense close-quarters fight scene kept things exciting from start to finish, showing just how out of his depth Changretta was in an area that Tommy knew so well. Wonderfully directed and super awesome from start to finish, the show's penultimate episode of its fourth season knew how to open with a bang.

RIVERDALE, "Chapter Twenty-Two: Silent Night, Deadly Night", December 13, 2017, Actor: Lili Reinhart, The Scene: Betty embraces her dark side
Diana: This midseason finale really blew my mind! Wow. So apparently Black Hood is dead - even though I don't think so. Betty embraces her dark side: her very last scene with her holding that black hood got me thinking. Is she going to continue to punish everyone in Riverdale? Are we going to find out more sinners in the city? Can't wait to find out what's next.

RUNAWAYS, "Metamorphosis", December 12, 2017, Actors: Lyrica Okano, Virginia Gardner, The Scene: Karolina and Nico talk in the bedroom
Samantha: This scene. It warms my soul, I've watched it about 5 times and I just, it was absolutely beautiful. If Gert and Molly hadn't walked in, Karolina would've probably attempted to kiss Nico, and considering how that absolutely broke me in the comics, I am not ready to see that on screen yet. From helping each other to get ready for the gala, to the playful banter, talking about their parents and their lives and of course the way Karolina looked at Nico. Virginia Gardner is absolutely slaying it.

SPEECHLESS, "S-i-Silent Night", December 13, 2017, Actors: Micah Fowler, Minnie Driver and more, The Scene: The family watches JJ's first movie
Marko: He finally got to a voice. Speechless is in the business of leaving me speechless week after week and they did it again with this beautiful video montage were JJ expresses his gratitude to his family. The perfectly penned speech with the great clips just brought all the feels. Also picked by Saloni
Claire: JJ makes a movie where a narrator is speaking for him. When Maya hears his "voice" for the first time, it left me speechless.

THE CROWN, "Paterfamilias", December 8, 2017, Actors: Finn Elliot, Leonie Benesch, The Scene: Young Prince Philip imagines the death of his sister and extended family
Laura B: In Flashback Sequence, young Prince Philip imagines the death of his sister and extended family. Everything about this episode really stood with me. I don't know just how accurate the history shown with heavy connections to Nazi Germany is, but it made for very complicated and interesting episode that thematically extends itself to other episodes. But I chose this scene, because of the creative freedom of having young Philip imagine both the terror of his sister's panic, as the plane crashed and because he imagined walking through the aftermath, while on a walk in the woods. Then later, leading him on a crusade to finish building the gate. Both Elliot and Benesch were fabulous in their scenes living up to greatness of the rest of the show's main cast.

THE EXORCIST, "Unworthy", December 15, 2017, Actors: Alfonso Herrera, John Cho, Brianna Hildebrand and more, The Scene: Father Tomas relays Andy's final words to the kids
Milo: Andy's speech relayed through Tomas to the kids following his death. This was an emotional climax to the episode that had put Andy through so much torment, and he chose to sacrifice himself so he could prevent the demon from harming any others. John Cho put in a terrific performance throughout the entire series and in this awesome season finale, we got to see a heartbreaking but perfect farewell to the character.
Kollin: What has made The Exorcist such a special show was how much depth they had given to each character. The writing and acting is something rarely seen in network television and oft comparable to some of the best cable shows. The scene where Tomas relays Andy's final words to each of the kids was a very emotional moment. The season had done such a wonderful job at portraying the love that Andy had for all of his children, and in return, how much he meant to these lost and orphaned kids. And so, when each kid gets their own unique advice, as we flash back to when Andy tells Tomas to pass it on, it really pulls at the heartstrings. His death was unexpected, but it needed to happen to make the ending as perfect as it was.

THE GIFTED, "eXploited", December 11, 2017, Actors: Skyler Samuels and more
The Scene: Esme takes over the prison break
Patrick: Esme takes over all the human guards making them shoot each other and revealing the other Stepford Cuckoos. Also picked by Luana

THE GOLDBERGS, "We Didn't Start the Fire", December 13, 2017, Actors: George Segal, Troy Gentile, The Scene: Pops tells Barry he swapped the wood at the talent show
Samantha: Barry isn't usually my favourite character, but I'd be lying if I say I didn't feel for him here. Pops was trying to save him from unintentional humiliation, and instead ended up breaking Barry as he realised that the best night of his life was a lie. It was wonderful acting from Troy Gentile, and Barry coming to the conclusion that even Pops couldn't help him? It really was heartbreaking.

THE MIDDLE, "The Christmas Miracle", December 12, 2017, Actors: Eden Sher, Beau Wirick, The Scene: Sue and Sean kiss
Klutzy girl: Sue and Sean finally kiss. I was not expecting it, which made the moment so much more special. I was enjoying the slowburn (although it was frustrating) and figured they'd drag this out to the series finale so I'm so happy they didn't. I love that Sean was feeling unsure of himself and that Sue managed to calm him down and reassure him. Everything about this scene was perfect, and I can't wait until the show comes back after the holidays.
Claire: It was beautiful, like they were looking at each other for the first time.

THE WALKING DEAD, "How It's Gotta Be", December 10, 2017, Actors: Chandler Riggs, Jeffrey Dean Morgan and more, The Scenes: End scene with Carl & Carl and Negan's emotional confrontation
Claire: Carl and Negan's emotional confrontation. Negan has such a soft spot for Carl.
Patrick: End scene with Carl and the long slow camera pull out. Also picked by DarkUFO

YOUNG SHELDON, "Cape Canaveral, Schrödinger's Cat, and Cyndi Lauper's Hair", December 14, 2017, Actors: Iain Armitage, Jim Parsons, Lance Barber and more, The Scene: Sheldon reflects on his trip
Saloni: Sheldon returns home from his trip with his father and brother, thinking about how it was the best trip he ever had and wishing he could've told his father about it when he was alive. It was a really sweet moment. I am loving the bond between the two, which is the last thing I expected because TBBT rarely brings up Sheldon's father.