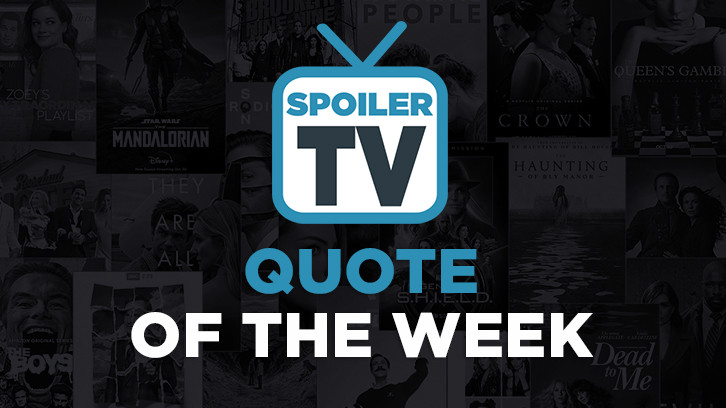 A weekly feature highlighting the best quotes on TV as picked by the Spoiler TV team. We'd love to hear your picks too so please sound off in the comments below.



Agents of Shield -
1. Mack: "...and we all know who gets it first." (Patrick Flaherty)
2. Gemma: "I'm a biologist, sure, I can invent time travel, just give me a minute." (Donna Cromeans)
3. Coulson: "This has to be the coolest we've ever looked." (Emmaline Harvey)
Big Bang Theory -
1. Penny: "I was gonna write you an email, but I'm a little drunk and spelling is a sober person's game." (Prpleight)
The Goldbergs -
1. Beverly: "You had your driving license taken away, remember?"
Pops: "So, doesn't mean I can't still drive."
Beverly: "That's exactly what it means. Wait…. Are you still driving."
Pops: "Sure how do you think I get here every day?"
Murray: "The bus. You told us you took the bus!"
Pops: "Why would I do that?! I got a car."
Beverly [to Adam]: "Did you know about this?"
Adam: "Of course, we have crazy adventures every week. How do you think we get there?"
2. Beverly: "No one wants your objective opinions based on facts." (Samantha Benjamin)
Legends of Tomorrow -
1. SnartX: "There was one of you on my Earth too. Rest his soul."
Mick: "Wait. I'm dead on planet Nazi? Let me guess…in a fire?"
SnartX: "You just kept going back into that burning police station until the last officer had been rescued."
Mick: "I died saving pigs? I'm gonna be sick." (Prpleight)
Madam Secretary -
1. Elizabeth: "There isn't a phrase that scares me more than 'something needs to be done.'"
Henry: "Why?"
Elizabeth: "It means no one really knows what to do." (Kristie Bihn)
Mr. Robot -
1. Mohammed: "What's your name?"
Elliot: "Elliot."
Mohammed: "Thanks, Elliot. Sorry I made you late. Hope you can still do your important thing. Hey, Elliot? Can I see you again?"
Elliot: "Yeah. Before you go, I'll take you to see 'The Martian.' It's always better to see movies on the big screen."
2. Mohammed: "The Martian has 92% on Rotten Tomatoes."
Elliot: "That's because most critics have shitty taste."
3. Elliot: "Deletion. When you make that decision, there's always that moment of hesitation. That annoying "Are you sure?" dialogue box, and then you have to make a decision. Yes or no. Yes means ridding the world of Mr. Robot forever. That includes you. Maybe it's something I should have done a long time ago." (Nirat Anop)
Runaways -
1. Cop: "Can I help you?"
Alex: "I'd like to report a murder? I mean, I wouldn't LIKE to, but..." (Milo M-J)
2. Chase: "Gert saw something, do you wanna say what?"
Gert: "Umm, no."
Chase: "My junk. She totally put on x-ray goggles and checked me out."
3. Karolina: "I have no idea what she's talking about. I was dancing, alone, downstairs and the next thing I knew I woke up with Chase."
Gert: "Karolina, it sounds like maybe those guys-"
Karolina: "No, no, she's lying! I would know! I mean, I would know right?"
Gert: "Yeah."
Karolina: "Why wouldn't Chase tell me?"
Gert: "I think he's trying to protect you." (Samantha Benjamin)
The Walking Dead -
1. Henry: "I'm not scared."
Carol: "Then you're stupid!"
2. Ezekial: "I can't be what they need." (DarkUFO)