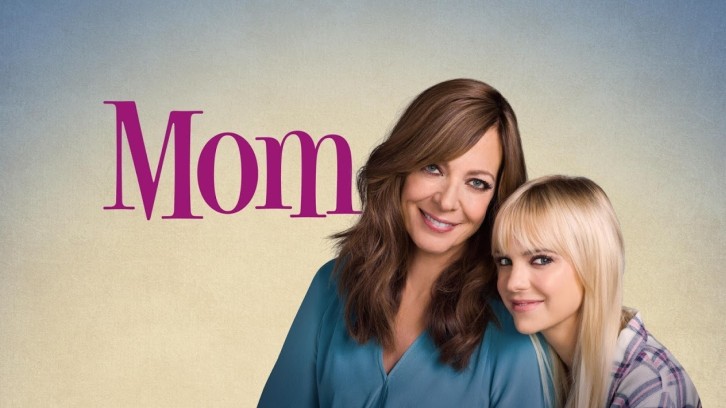 "Decades of estrangement and then a quasi-satisfying makeup" is the topic at hand in this week's Mom. Christy and Bonnie are, of course, experts.

Adam's attempting to sneak out of the apartment, only to be caught and interrogated by Bonnie. Turns out, his brother Patrick (who Bonnie didn't even know existed) is in town and they have to meet up to work out things with their parents' estate. Even if it is only $1000 a year, Bonnie's interest is peaked ("I'm an heiress.") and, much to Adam's dismay, she decides to come along.

Bonnie makes sure they end up at Christy's restaurant (much to her dismay). Over dinner, the animosity between Adam and Patrick just about makes the Plunkett family look like the Cleavers. On the car ride back home, Bonnie pries Adam for answers. Apparently, he and Patrick used to be really close. They even opened up a surf-board business together. Adam says that when things got profitable, Patrick didn't cut him in.

At the restaurant, Patrick comes back for a nightcap and sees Christy. The two share a "garbage cake" and Patrick flirts with Christy, who's equally as interested. They agree to go on a date the next night before Patrick leaves town.

Bonnie, of course, isn't too excited to hear about Christy's new romance and is still less excited about how she's going to tell Adam. She even goes as far as trying to break the news in the middle of seducing him. This, predictably, doesn't work.
As Christy and Patrick continue to hit it off, she asks what happened between him and Adam. According to Patrick, Adam bailed on their business for Hollywood and left him struggling to make it.
The next day at the diner, Christy and Bonnie argue over the subject. Marjorie suggests that they should take their expertise at being estranged and coming back into each other's lives, and try to bring Adam and Patrick back together.
To make this plan work, Christy has Patrick pick her up at the apartment, where Adam conveniently is. As they begin to talk, their issues come out and it becomes obvious that there is blame on both sides. The reason Patrick started the business was to be with his brother, so he resents Adam for leaving it and heading off to Hollywood. Adam resents Patrick for not coming to visit him during the year he was in the hospital after his accident. Patrick admits that he didn't go because he didn't think Adam wanted anything to do with him after leaving the business. Eventually, the two realized that they've never stopped missing each other and start to make-up.
Random Thoughts:
-Poor Wendy! You can pull off overalls if you want too!
-Best quote goes to Jill via Skype. "Dammit, I used to have a cute little booty like that!"
Do you think we'll see more of Adam's brother? Is Jill going to keep paying $300 for "black market licorice?" Let me know below!