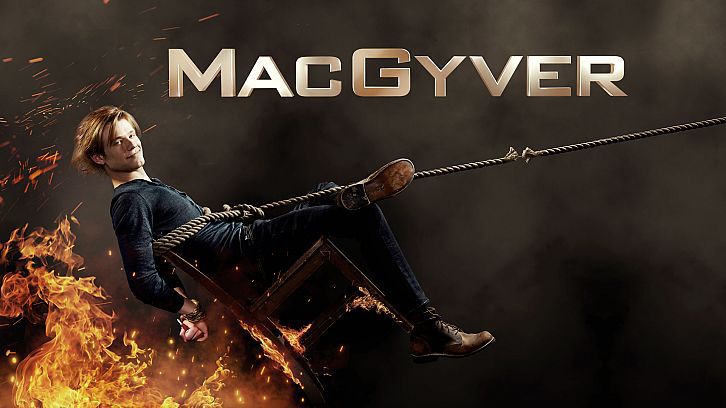 It is Christmas Time for the crew of the Phoenix and they were visited by a ghost of MacGyver past who played grinch for our heroes trying to celebrate the Holiday, lets dive in!


Bozer's famous Christmas Pastrami, Mac and Santa

We start this holiday season much like we did last year with Bozer preparing his family's famous pastrami but what is different this year is that he distracted by his clandestine romance with Leanna. She calls him mid preparation to discuss Christmas gifts which Riley notices. It is nice to see Bozer so excited about his own secret but I still contend that he will end up getting his heart broken.
Mac, Cage and Jack are outside discussing the probability that Santa exists. This whole exchange is hilarious because we find out that Mac tried to make Jack think Santa was real by breaking into his house one Christmas and stuffing gifts under the tree, Jack caught him of course. I was kind of surprised that it was Mac making a case for Santa and not Jack but it was very funny nonetheless. The group is settling in for the festivities when Matty busts in and tells the team Mac is about to be arrested for the murder. Turns out a bomb Mac fashioned resulted in the death of a janitor for the building. Mac is hauled off by Detective Greer who is played by the original Jack Dalton, Bruce Magill. So full disclosure, I was two when the original MacGyver came out, but thanks to CBS All Access I checked out some of the original just to get a feel for Bruce's Jack. It was very interesting to see both Richard Dean Anderson and Bruce Magill's take on these characters, but I digress.
Is Mac a Terrorist?
Mac is taken to interrogation by Det. Greer who believes because of Mac's background of almost burning down his high school football field as a teenager coupled with his skills from the Army, he fits the bill as a man who would blow up a warehouse because he is angry. He also uses the fact that Mac goes for days or weeks at a time without a digital footprint as even more evidence that he was indeed a bomber with his own agenda. During all of this, Mac stays stoic and refuses to speak because as part of the Phoenix, he cannot tell them the real reason he was in that Warehouse and why he fashioned that bomb. Mac is also not allowed to make a phone call because he is going to be charged as a domestic terrorist.
Back at the War Room, the team is spinning, especially Jack. This is the part of the character that I love, whenever Mac or Riley are in trouble he has no chill. Those two are very important to him and he wants Matty to be aggressive and get Mac back now. Matty on the other hand as the head of the Phoenix cannot just demand his release because it exposes them. The team must work together and piece together their part in the op to help free Mac.
We find out the case involved G-36 assault rifles that were stolen from a German plant in Berlin and were now being sold on US soil via the black market. The CIA could not be involved hence why the Phoenix was tasked with retrieving what they thought was a case of the assault rifles. Once Mac and Jack are in the warehouse they discover it is not a case but a very large shipment they cannot simply grab and run. That is where the bomb came into play, they needed to blow up the shipment. So how did this body end up in the warehouse when Jack swears up and down he cleared it before the bomb went off? This is where the team starts to put the pieces together by remembering specifics from the Op they may have overlooked. For starters, Jack had place a cinderblock at the door to make it easier to make off with the guns, when he returned to check the door, it was closed. Bozer had seen the not so innocent victim George Ramsey speeding away on his motorcycle, so how was he in the building when the bomb went off? Finally with the help of his 'lawyer' Jack and a hacked photo of the victim from Riley, Mac notes the lack of abrasions or cuts on the face that would surely be there from a blast (Side Note: I loved Jack doing his walk into the police station to the theme of The People's Court and also how did the coroner miss such a blatant sign on Ramsey?). Mac also remembers that some of the supplies he used for the bomb are also used to make meth. Riley does her magic and finds out that warehouse is owned by a cartel leader who is clearly dealing in drugs and guns and Ramsey was there to watch the merchandise. When he saw our crew come in he bolted and the cartel killed him and placed his body in the rubble.
Mac should be free and clear right? Not so fast, the FBI who arrived earlier are sick of waiting and take Mac down to another room to rough him up and get answers. They are met by the cartel leader Hector Ruiz dressed as a cop and there to kill Mac. Mac makes an exploding dart out of a pen and stops him. Greer is shot in the process but now has cleared Mac from the bombing and lets him go because he helped uncover a major drug and weapons ring on US soil. Jack also gets away from charges of impersonating an officer of the court and they head out to celebrate their holiday.
Not So Merry Christmas
The team is ready to get back to their celebration they were so rudely interrupted from. Cage isn't there yet because she was getting information from Ruiz and also needed to get her presents for the team. Matty congratulates Mac for a job well done and gives him a box of paper clips. I love that this may be a thing again. I know some fans were annoyed by Mac fiddling with the paper clips in season one, but I for one loved when he would keep his hands busy, so I am glad Matty is finally embracing that side of him. Mac thinks maybe now is the time to talk to Matty about her connection to his dad but is interrupted by Bozer giving him a gift wrapped in the same paper as the last gift he got from his dad. Mac is distracted once again when he gets a call, it is Cage and she's in trouble.
Remember when I said Cage had to go get those gifts? We see her enter her house smiling and ready to join her team. Now I will admit, in the beginning I was not a fan of Cage at all but in the last batch of episodes they have toned her down and I am starting to care about her, so what happens next is heartbreaking. Cage hears a whistling in her apartment and she thinks it may be Mac pulling the same Santa prank described earlier but it is NOT. Murdoc appears from the shadows and puts two bullets in Cage and this time she is not protected by a vest.
So what did you think? If you are a fan of the old series, did Bruce Magill's appearance work for you? Will Cage survive and what exactly is her connection to Murdoc? Hopefully we will find out in the New Year!