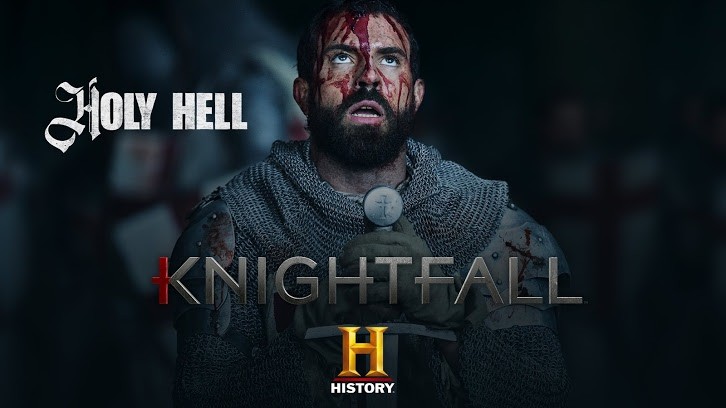 History Channel is finally confirming what we reported 7 and a half months ago.


HISTORY RENEWS DRAMA SERIES 'KNIGHTFALL' AND MARK HAMILL JOINS CAST

HISTORY® ORDERS SECOND SEASON OF HIT DRAMA SERIES 'KNIGHTFALL' FROM A+E STUDIOS IN ASSOCIATION WITH JEREMY RENNER'S THE COMBINE AND MIDNIGHT RADIO

MARK HAMILL JOINS THE CAST

AARON HELBING SET AS SHOWRUNNER AND EXECUTIVE PRODUCER
New York, NY – August 13, 2018 – HISTORY has greenlit a second season of its Knights Templar drama series "Knightfall" with Mark Hamill (Star Wars, BAFTA-winning voice of The Joker) joining the cast and Aaron Helbing ("The Flash," "Spartacus: War of the Damned") on board as showrunner and executive producer, it was announced today by Eli Lehrer, Executive Vice President of Programming, HISTORY. From A+E Studios, in association with Jeremy Renner's The Combine and Midnight Radio, "Knightfall" is a tentpole of the network's strong roster of premium drama series, including hit anchor series "Vikings" and the upcoming "Project Blue Book," executive produced by Robert Zemeckis and starring Aidan Gillen ("Game of Thrones") and Michael Malarkey ("The Vampire Diaries").
"In the face of ever-increasing competition, we're proud of HISTORY's track record of producing signature drama series that are epic in scope with complex characters," said Lehrer. "Whether it's the legendary Knights Templar, the extraordinary tale of medieval Norsemen, or the story of a formerly classified United States Air Force program investigating UFOs during the Cold War, these series reflect our commitment to bringing the defining, big canvas stories of history to life. We look forward to offering our viewers a grittier, darker 'Knightfall' in season two and welcoming Mark to the cast."
Hamill will play the role of "Talus," a battle-hardened Knight Templar veteran of the Crusades, who survived captivity for ten years in the Holy Land and is tasked with training the new initiates to the Order. Also joining the cast in season two is Tom Forbes ("The Bastard Executioner," "Wolf Hall," Been So Long) as "Prince Louis," the violent and unpredictable son of King Philip and heir to the throne and Genevieve Gaunt ("The Royals") as "Isabella," the daughter of King Philip and well on her way to becoming the woman who history would call "the she-wolf of France." Forbes is repped by 42 and Thruline Entertainment. Gaunt is repped by United Agents and Authentic.
Season one of "Knightfall" reached 25 million total viewers in Live + 7 across Total Day. The series is also currently the broadcast season's #3 new drama in cable among total viewers in Live +7 delivery.
Starring Tom Cullen ("Downton Abbey," "Gunpowder"), "Knightfall" goes inside the medieval politics and warfare of the Knights Templar, the most powerful, wealthy and mysterious military order of the Middle Ages who were entrusted with protecting Christianity's most precious relics. The story of the Knights Templar has never been fully told until now, and "Knightfall" goes deep into the clandestine world of this legendary brotherhood of warrior monks to learn who these knights were, how they lived, and what they died believing.
"Knightfall" is an A+E Studios production in association with The Combine and Midnight Radio. Helbing serves as showrunner and executive producer. Executive producers for Midnight Radio are Josh Appelbaum, André Nemec, Jeff Pinkner, and Scott Rosenberg. Don Handfield (Touchback, The Founder, Kill the Messenger) and Richard Rayner (L.A. Without A Map) serve as creators and executive producers for The Combine, with Oscar® and Golden Globe® nominee Jeremy Renner (American Hustle, The Hurt Locker) also serving as executive producer. Cyrus Voris ("Legends"), Ethan Reiff ("Legends"), Rick Jacobson ("Ash vs Evil Dead") and Barry Jossen also executive produce. Arturo Interian is the executive producer for HISTORY. A+E Networks holds worldwide distribution rights for "Knightfall."
---
Original: December 28th 2017
History Channel has renewed their Knights Templar drama "Knightfall" after only 3 airings, it appears.
Per Production Weekly
, production on the 2nd season is set to begin in April.
Season 1 of Knightfall currently airs on Wednesdays at 10 at History Channel.