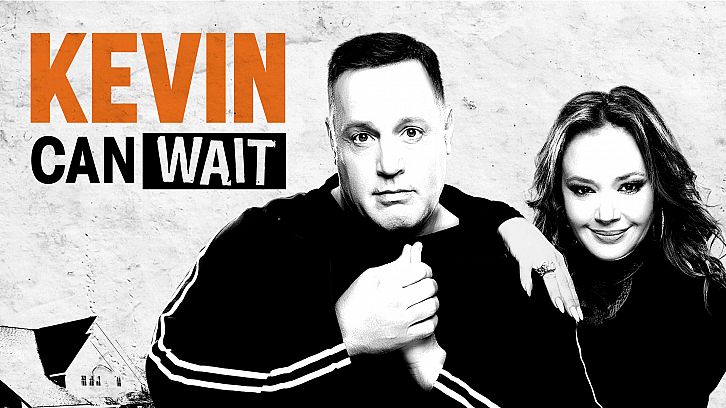 I love Christmas episodes and "The Might've Before Christmas" is no exception. Kevin Can Wait is actually starting to grow on me. We start out with the Gable family gathering on Christmas Eve in their living room, drinking a doubly rummed up egg nog. Kevin and his brother, Kyle have agreed; no gifts for each other this year. But only Kevin keeps to the agreement with Kyle buying his brother golf balls. Kevin gives the kids, Sara, Kendra and Jack, "bad" gifts of batteries: followed by awesome gifts of a camera and a drone.

Vanessa shows up to drop off gifts for the kids and a box of doughnuts for Kevin. There is a flashback to 1994, when Kevin and Vanessa met for the first time and became partners, on the job. Kevin was obnoxious and completely obsessed with his pager (oh, the 90's). Vanessa insisted on driving and showed him up by doing some amazing "doughnuts" in a parking lot; thus the gift of the doughnuts. Kevin was annoyed and had his try at some skillful driving, but their police car ended up in a ditch. They went to a Chinese restaurant to wait for Kevin's brother, Kyle, to pull the car out with his Suzuki Samurai. Kevin paid for a destitute man's dinner and Vanessa began to see that underneath all of that false bravado was a nice guy.

Kevin told Vanessa that he thought he'd met the "one" and was checking his pager, waiting for her to call. Vanessa looked up the mystery girl's address and they showed up at her house. The kids begin to realize that the girl in this flashback story is their mother. And because Vanessa convinced Donna that Kevin was a good guy and to give him a chance (this happened off screen), she is partly responsible for Kevin's beautiful family. Right before that, Kyle showed up to pull their cop car out and had a 90's mullet and a feather earring. I loved the throwback to the 90's. He hit on Vanessa and she told him NGH, never gonna happen.

In the wrap up, the power strip that Kevin gives his son-in-law, Chale, is for European outlets only. Kevin holds out for a while, with everyone thinking he didn't give Chale a "good gift." But, he surprises the newlywed couple with a honeymoon in Italy. He even hugs Chale. Kevin gives Vanessa a card, thanking her for being his partner and reminding her that "all of your fingers can't be the same length." It is a reminder of their first night working together. He remembered that was what Vanessa's fortune said from her cookie. And Kyle gets no gifts (poor Kyle) so he absconds with the box of doughnuts.

I felt that working Kevin's deceased wife, Donna, into the story was really well done. And the chemistry between Leah Remini and Kevin James can not be denied. Also, Gary Valentine as Kyle (James's brother on the show and in real life) has great comedic timing; he always makes me laugh. The writing was solid and Remini, James and Valentine were great, as usual. I've also wondered if there is a romance in the future for Vanessa and Kevin. I definitely felt that, after tonight's episode, they are setting this up to happen. And by building on Vanessa and Kevin's backstory, the show is only getting better. What did you think of tonight's episode? Do you think Kevin and Vanessa are destined to become a couple? Let me know what you think.