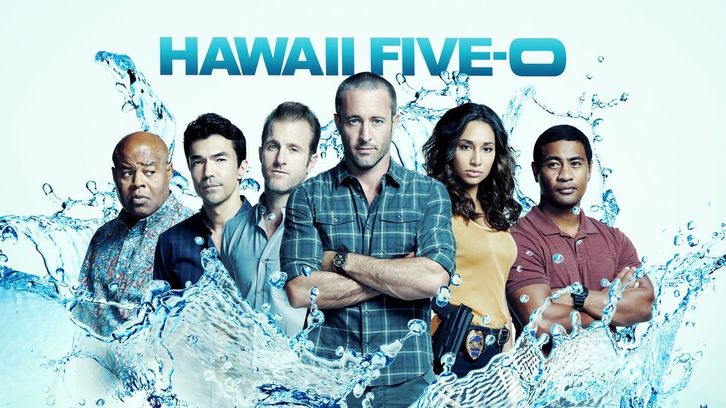 If there is one thing this episode does for its fans, it's introducing a new word into their vocabulary. You may have never heard the term "trim tab" in your life, but by the end of this episode you will know exactly what it means!

Hawaii 5-0 returns from its brief hiatus with a good old-fashioned murder mystery. While it's fun seeing the team foil bank robberies and track down fairy-tale-inspired serial killers, it's also nice to see them go back to the basics in an episode with plenty of suspects and some very impressive stunts.


Before we dive into the mystery, we jump to thirty-one hours later, where a mysterious pilot known as the Shadow Baron is attempting an obstacle course. It's automatically revealed that the Shadow Barron is in fact Steve and that his ground crew is composed of familiar faces. What isn't clear is why he's flying at all, or what causes his run to quickly turn south. Right before he crashes into the ocean, the script pulls us back to a meeting at Kamekona's shrimp truck.
Steve and Danny aren't just there for a tasty snack but to talk to one of Steve's old military buddies, Ronnie. He is now a mechanic for one of the teams that competes at air shows sponsored by an organization called Hammerade. Jason Sachs, the original Shadow Baron, was one of the best pilots on the circuit before he nosedived into the ocean. Ronnie refuses to believe that it was simple pilot error.
Although Steve isn't completely convinced, he and Danny volunteer to talk to Callaghan, the NTSB agent in charge of the investigation. Steve's opinion changes when he notices that the parts of the wreckage NTSB fished out of the sea don't contain the trim tab, a key piece of the plane that could have caused the damage.
When the agent brushes the two off and even refuses to show them cockpit footage of the wreck, Steve initially backs off. Danny compliments him on not freaking out like "pre-radioactive Steve" would do, but Steve is just focusing all his annoyance on finding out exactly what the agent is hiding (instead of punching him in the face). He now officially believes that this could be a murder, although it's Jerry that first brings up the word sabotage.
Lou can't quite be convinced and ends up visiting Noelani to get a lesson on all the things that can wrong during these stunt shows. While Jason's autopsy didn't reveal any evidence of foul play leading up to the crash, Noelani says that it still could have been oxygen failure. People can pass out while handling 4 g's of force and Jason was handling up to 10. Lou asks Noelani to quietly "check the math" on the previous autopsy.
One nice thread that's been followed throughout the season has been Steve mentoring Tani as she adjusts to the team dynamic and their cases. That comes back into focus this week when Steve and Tani interview Jason's grieving widow. It's clear that Tani's getting a little uncomfortable with the sheer grief that permeates the room, and Steve reassures her that it's ok to care. Empathy is a good trait to possess in any circumstances.
The widow, Elena, gives Steve and Tani two valuable pieces of information, although they don't know how valuable one of them is. Jason was arguing with an unknown man the morning of the crash, and he rescued Elena from a bad situation several years earlier.
Meanwhile, Ronnie doesn't share Steve's restraint and ends up tying up the Hammerade technician who found the missing trim tab. Although NTSB confiscates the trim tab, they don't confiscate the tied-up technician. During an interrogation by Steve and Tani, the technician is the second person to claim sabotage. Although trim tabs on other planes in the show may have been faulty, the only way Jason's trim tab would have malfunctioned is through human interference.
Jerry moves from simple sabotage to government coverup when Agent Callaghan announces that NTSB has declared the crash a result of pilot error. When the trim tab mysteriously shows up on Steve's desk, the crime lab confirms that it had been tampered with, and post-radioactive Steve gets his revenge on Agent Callaghan.
The supremely smug Agent Callaghan doesn't crack in interrogation, even when Steve and Tani confront him with his financial records. They discover that he was working with Hammerade so they wouldn't be held liable for the crash. Callaghan isn't fazed. He believes that someone on the team stole that trim tab from NTSB lockup and they're in more trouble than he will be. Steve and Tani aren't fazed either. Callaghan still committed a crime and abused his position. Five-0 may not be able to take him in, but there are people in Washington who will be very interested.
That's when things start getting weird. Lou tracks down Norman, the man who confronted Jason. Norman tells a sad story of being convinced by a conman to invest his life savings in what was supposed to be the next Google. Jason then disappeared for ten years, but Norman saw Jason Sachs in a video of the air show. Norman tracked Jason down and was surprised to see that it wasn't actually Jason.
Lou decides to look into the mystery of the two Jasons and discovers that the pilot Jason Sachs wasn't Jason Sachs at all. The conman Jason Sachs died in a car accident six years earlier and a drug runner named Luke Nixon stole his identity. Luke was spying on a drug kingpin, Juan Camilo, for the DEA. When it got too dangerous, he took off with Juan's daughter Elena.
Danny says it's the perfect disguise. The races kept the couple and their son moving all around the world, and Jason cultivated his Shadow Baron persona to be mysterious and aloof. However, if Norman could identify him off a video, so could the cartel. They sabotaged the plane and, as Steve and Tani find out when they go check on Elena, kidnapped their boss's wayward daughter and grandson.
Steve and Tani find Elena quickly and save them both from her father's grasp. Although the team saved the day and found the killer, it doesn't help Elena and Tomas. The insurance company will refuse to pay them because of Jason's fraud. The only way they will get anything to help them in the hard months ahead is if the team manages to compete in the race with another plane.
Cut to Steve taking on the role of Shadow Barron and miraculously saving himself from a horrible crash. He tells Danny, "that was almost unpleasant," and chooses to believe that Danny called him "maverick" instead of yelling at him for being a maniac. He ends the race dead last, but does right by Elena and Tomas.
Steve pointedly decides to not look into the mystery of who left the trim tab on his desk. The answer is a surprise. While it was clear from the beginning that Tani had something to do with it, it was Koa who stole it. He's even interested in finding whether "it made a difference" and makes an attempt to be nicer to Tani. Maybe he's not such a bad guy after all!
What did you think of tonight's episode? Let me know in the comments!