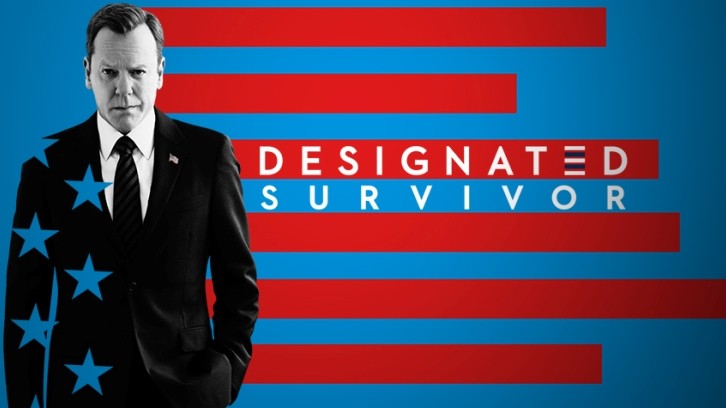 Designated Survivor
"Home" was written by Patrick Cunnane and was directed by Ian Toynton, another
24
alumni whose other credits include
Touch
,
Bones
,
The O.C.
, and
Crossing Jordan
. Cunnane joined the writing room this season as a staff writer, and he does a great job with his first script. Toynton does a good job with the action in the episode! I really liked the Seth (Kal Penn) storyline in this episode. While Lyor's (Paulo Costanzo) was interesting and gave us some unexpected insights into the character, it was utterly implausible. I quite liked the Afghanistan plot, but once again, it felt like they had to really shoehorn Hannah (Maggie Q) into the plot.
I'm not sure how well I liked the title for this episode. While there was a lot of discussion of families, I wouldn't say that "home" was necessarily the theme. Let's start with the storyline that I really liked. We get to meet Seth's little brother Mike (Abhi Sinha). The two are out celebrating Mike passing the MCATs by going to the opera. A phone call lets us know that Seth and Emily (Italia Ricci) have been dating. When the police pull Seth over – could he be a worse driver? – Seth puts Mike's backpack into the backseat and tells him to let him do the talking. Clearly, he's in big brother mode. Did Seth know the drugs were in there? It sure seems like he did.
Kendra (Zoe McLellan) bails Seth out. He's sure that the charges should be dropped because it was an illegal search, but Kendra warns him that he had enough to be charged with a felony to distribute. As it turns out, it's not unusual for White House staff to have a prescription for the drug.
We get to see Kendra in action again, and she does a really good job discrediting the police officer and having the charges dismissed. However, Emily is still troubled by the entire incident. She calls Mike into her office and points out that Seth will lose his job, but Mike knows he won't get into medical school with a felony.
Kendra also has a part to play in the Lyor storyline. In his background check, it's revealed that he's married – and his taxes are seriously in arrears, to the tune of $825,000! How stupid is this storyline? It seems completely out of character for Lyor to have let this slide or to think it would have no bearing on his position at the White House.
Lyor brings Julie (Sarah Power) in to meet Emily and Kendra and sign annulment papers because he said that he was barely in touch with Julie and the marriage has simply been a Las Vegas impulse. However, it's clear from the banter between the two that they are quite well aware of what the other is up to and that they get along really well. In the end, neither signs the papers. And I'm fine with that part of the story – it's fun to see a different and less prickly side to Lyor and to see that someone actually really likes him – but what about those taxes and Lyor's job?
Emily puts Lyor in charge of the press briefing because she has suspended Seth. I did think that scene was a bit hilarious. Lyor can't keep on message and keeps attacking the journalists when they ask questions. It was almost like having a guest spot from Sean Spicer! I loved Emily in the crowd just shaking her head at him and dragging him back on message.
I'm really enjoying the more Presidential Tom (Kiefer Sutherland) were seeing this season as he settles into the role. Tom greets the troops – and feeds them breakfast with Harry (Brian Howe) – a long time army guy who tells Tom he's just waiting for his "20" (years) so that he can go home. Tom does the math, however, and by the end of the episode realizes that Harry could have gone home already.
The main story concerns Tom's negotiations with two leaders vying for control in Afghanistan. Tom wants to make sure that the US has a relationship with however ultimately takes control. One of them is planning a major attack on US soil, and Tom must decide with whom to ally the country. Aaron (Adan Canto) is also there – though he has little to do in the episode.
I did really like the two scenes in which Tom tries to get a read on the potential leaders. Mullah Bahri (Mousa Kraish) seems like the obvious choice at first. He was educated at Oxford and is technologically savvy. He makes use of technology – and social media – to move the hearts (and mobilize) of his people. Tom admits there's been a failure to respect the area's history and he apologizes. Bahri seems onboard and even tells Tom that he can monitor his message online to prove he's holding up his end of the bargain. After all if they want a future, they can't look to the past. And that actually does reverberate with the Harry storyline.
Mullah Fayad (Nasser Faris) is older and full of old proverbs. He sees Tom's offer of money and logistical support as the same donkey with a new saddle. This meeting revolves around the sentiment that those who fail to respect the past are doomed to repeat it. Fayad is angry that Tom is treating Bahri as his equal and doesn't think that he can trust Tom. I did like the subtle differences in the meetings as Bahri is drinking a can of pop/soda and Tom has the full ceremonial tea for Fayad.
When there is an attack by a suicide bomber, Mike (LaMonica Garrett) wants to get Tom out of the camp and the country asap, but Tom refuses. I did love Tom conceding that Mike could just pick him up and physically remove him! They can't appear weak in front of their new potential allies.
Tom is also not leaving without collecting one of the missing soldiers – Kevin Dean (Steven Boyle). And if he's been working on a four year plan, why did Hannah suddenly have to be involved? Hasn't she been busy with Lloyd? Having her there and an integral part of the entire operation just made no sense. When Tom digs his heels in, Aaron assigns Mike to work with Hannah to get Dean and get out of there.
I did love Mike blocking Hannah from having actual contact with Tom, later telling her that she's a danger to the President – one that he's going to protect Tom from. I also really enjoyed getting to see Mike in action in the field.
In the end, Tom is able to discover that Bahri is the one not to be trusted and makes the deal with Fayad before heading home himself. Generally, this was another solid episode with just a few bothersome elements. What did you think of the episode? Let me know your thoughts in the comments below!