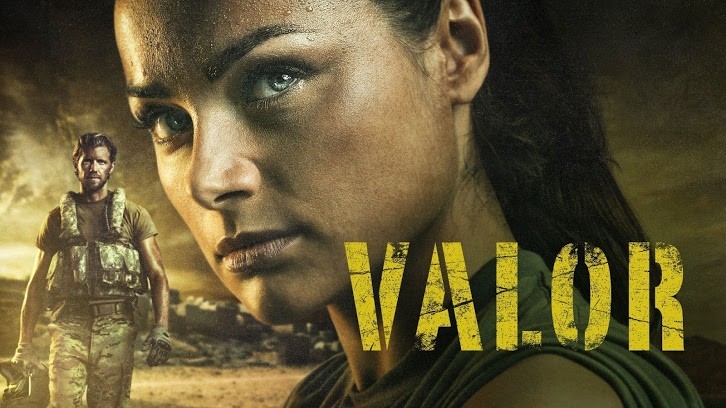 Valor continues to deliver strong serialized stories, continuously keeping the tension between characters and story. Let's dig into the events of the past two weeks.

Soldier Ready

-Written by Anna Fricke and directed by Mikael Solomon-

Flashbacks

This episode's flashbacks revealed how Madani and Galo got rescued. But before that, they sought out shelter in Davies' house realizing that the whole extracting the prisoner was a setup and that there was no struggle, to begin with.


Christina Ochoa delivered another really good performance here. Her struggle was so palpable. The bonding between Nora and Leland, while talking about their "in case we don't return" letters was really beautiful and showed their vulnerable side behind their brave facades we see during the present time scenes.
The change of pace and dynamic the moment they've heard the rescue helicopter was so good and so intense. They will always be soldiers first and I it was a really nice touch see how their brain switches in just a second.
Favorite 2 Prisoners
The scenes between Hendrix and Kam are still my favorite part of each episode. The intensity and interactions are really on point and made me eager for more. I was a bit surprised by this week's turn and Kam's confession that he is Muslim.
I enjoyed how opposite their opinions were and how the writers used this opportunity to clarify that the Muslim religion isn't about hate and that only a small fraction of them are extremists out for blood.
Present Time
Featured a bunch of scenes between Nora and Jess. These two share great sparks and their scenes are always so close and intimate. They are really great friends and the vulnerability Corbin Reid brings to Jess is really impressive. She really is the standout actor in this bunch.
And while I'm impressed by Corbin Reid, Melissa Roxburgh isn't impressing me at all. She is supposed to be intimidating but I just don't feel it. I don't feel it at all. She is smart but I miss that edge, an edge that Zoe Cho does have. Still, I wonder what Thea's hook up with Zoe Cho was all about. The character played by Chelle Ramos is the only other female Shadow Raider besides Nora. Chelle is announced to recur so I assume she'll play a bigger role down the line.
I did love Nora's line after Coogan wanted to diss her and Zoe
Coogan: You two on the same cycle yet?
Nora: No but by the end of the mission you and I will.
Nora is still under a lot of stress and struggles with everything that went down Somalia. She even thought about seeking out Mental Health and but she didn't. Leland is the only person she can talk too and they need to stand as a united front.
The rescue mission didn't go down smooth but the antibiotics were delivered to who they were needed. Ian meanwhile came up with a plan how to make a safe exchanged with Khalid and get Hendrix and Kam back home. He offered to exchange Khalid's brother for them as he is part of the asked prisoners. And it seems like the plan will go down.
Another interesting development this week was Nora meeting with Davies' sister, Deidre. In a phone call during the final moments of the episode, Deidre revealed to Nora that he brother was questioning all his believes and wanted to know from her if he was a traitor. Really expecting good stuff from this story as I expect a couple more twists and turns coming.
Zero Visibility
-Josh Reims wrote the episode, directed by Steve Robin-
Are We Prisoners or are we Humans?
The "bromance" going down in Somalia kept me going. Things got rougher now that Jimmy "came out" as Muslim to his captors as he was on their good side. Jimmy trying to be empathic refused to eat while Hendrix starved and the result wasn't really what he expected. The two of them laughing off Jimmy's birthday showed just how desperate but close the two of them are.
Different kind of Flashbacks
I didn't expect these 10-year-old flashbacks at all. Finding out about Nora's childhood and her relationship to her father added more depth to her character and her story. I was shocked to see how her father just left, it was so cold. The camera filter, the sad apartment they lived in, all just worked out so well that my heart broke a little for little Nora.
Her seeking out her old friends to get some drugs and him denying her the drugs was such a well-executed scene. Kevin eventually caved but Nora is just a slip away from downroad spiral and I can't wait to see what Christina will do with the role.
Political Animal
Simone Porter is one wicked woman and I enjoy to see the writers use her to give Ian more screen time. And while I find Ian's character really annoying when he interacts with Nora or Leland, I do enjoy him during his scenes with Thea, his mother and everyone else.
Simone asking him to hack into Thea's emails was certainly something I didn't expect. Ian did come through and the exchange mission was a go, Jimmy and Crank for Khalid's brother, Mustafa.
Tracked
The CIA going after Anna was an unexpected move. I like Anna, I like her shenanigans with Leland and I freaking love to see Matt Barr care. I love Matt in this protective type of role. He just fits it so well. I should've expected to see him break things off with her but I've had a feeling he would fight a bit stronger for her.
Meanwhile, Jess tracked down help from the other side, as she felt that the military wasn't doing all that they could've done. The confrontation between Jess and Mrs. Haskins was a good one. The two women played very well of each other and brought a lot of feels to the scenes they've shared. Jess dropped her plans later on but realized she can't really trust anyone.
Something I didn't expect from this episode is that I've softened up to Thea. She is a pushy little Boss person and I start to enjoy the way she is playing the game. She is able to take a stand against any other character and that is the moment when Melissa Roxbrugh blossoms. She takes the moment and shows just how good she is indeed.
The episode ended with the rescue mission underway with the team almost at location while Mustafa is apparently dying
The episode ended with the rescue mission underway with the team almost at location while Mustafa is apparently dying. What are your thoughts on the last two episodes of Valor? Share your thoughts in the comment section below and don't forget to tune in tonight 9PM central on the CW.