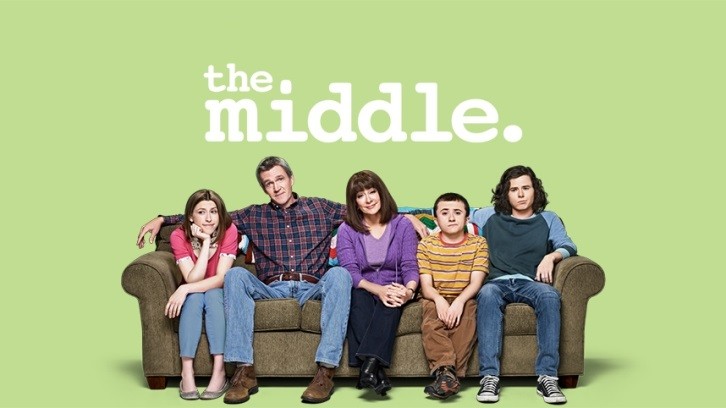 I love holiday episodes of The Middle and this one was no exception. The Hecks had another lovely, but non-traditional Thanksgiving. I wouldn't have it any other way.

The Hecks are headed to Frankie's sister's for Thanksgiving. Mike is not excited and to make things worse he sees a charge on the credit card he doesn't recognize. He's convinced it's fraud so he call the card company. It turns out the charge was at The Golden Bean, a place that charges $5 for a single cup of coffee. Frankie did buy coffee there- it was a special treat.

Sue, Axl, and Brick are finishing up their last shift before Thanksgiving when their boss informs them that one of them has to be fired. And they get to choose. So of course the three fight over this in the car on the way to Janet's house. They try to get their parents to decide, but Frankie won't get involved. She loves all of her children equally. Mike says Brick should quit. Sue was there first and Axl's an adult and needs a job. I agree that Sue should get to keep her job; she was there first. After the arguing Brick guilt trips Mike and Frankie into letting him drive... for all of 7 or 8 seconds. Then he's back in the backseat with his siblings. I loved this part of the episode. I thought it was so funny.


When the Hecks reach the toll booth Mike decides to pay for the car behind them to be nice since it's Thanksgiving. They watch to see the reaction of the other car, but they don't even acknowledge the Hecks. Then Mike notices the car is on empty so he pulls into a gas station to fill up. This is where they discover their credit card was cancelled because of the "fraudulent" charge on the card. Mike had $30 in his wallet, but Brick took it to mail to Cindy as a bribe to come back to him. Frankie points out that if Cindy did come back to him after being paid she could be a prostitute. Good point, Frankie.
Frankie doesn't have her wallet because she switched to a cross body purse. All this does is make Mike irritated because she keeps saying "cross body". I understand her excitement- I like cross body purses, too. Mike asks the gas station attendant to help them out, but he can't. The gentleman behind them overhears, and it looks like he might help since it's Thanksgiving, but he just wants to cut in front of them to pay for his stuff. Sue sees a sign for Spudsy's and thinks they will help. Sue, Axl, and Brick head over and see if they can get an advance on their checks. The worker at Spudsy's says that he'll give them the tip jar money if one of them can tell him the ingredients in the secret sauce. Sue folds under pressure and Brick doesn't know, but Axl correctly recites all the ingredients and, in turn, he gets to keep his job.
Axl, Sue, and Brick run back into the gas station with the tip jar money and the money they stole from the mall fountain. They're able to get back on the road and they see the car that was behind them at the toll booth. They honk their horn and everyone in the other car gives them the finger. This infuriates the Hecks, and they complain how people aren't as grateful as they used to be. Frankie reminds everyone that they they still have a lot of things to be thankful for. As soon as she says this, they end up in a complete traffic standstill.
Since it looks like no one is going anywhere anytime soon, Frankie gets her marshmallow sweet potatoes out of the car and starts eating. The man in the car next to theirs offers his stuffing. Then a bunch of other people come over with food including the lady from the car that flipped them off. It turns out it was all a misunderstanding. The other car had to pay their own toll so they didn't understand when the Hecks honked their horn at them. The lady thanks them when she learns that the Hecks tried to pay their toll.
Near the end of the episode Sue finds a wishbone and tells Brick that the person that gets the small end has to quit. When Sue gets the small side, Brick feels bad and decides to quit. This was a nice gesture on Brick's part, and I'm happy that Sue didn't have to leave Spudsy's. It was also nice to see everyone sharing their Thanksgiving meals. If everyone had to be stuck on the road with strangers and miss Thanksgiving with their families, at least everyone made the most of it.
"The truth is when you get down to it we all want the same thing: to get where we're going to be with the people we love." - Frankie
This was a great last Thanksgiving episode for
The Middle
. I thoroughly enjoyed every part of it including the Hecks fighting in the car. It's nice to know that no matter how much they grow, they'll always fight in the car. And it was nice to see everyone coming together at the end. The world has changed, but as Frankie said, there's still plenty to be thankful for.
I hope that all of my readers have a very Happy Thanksgiving!