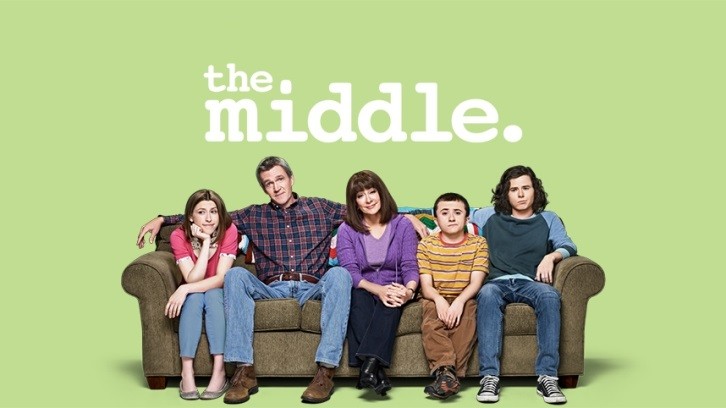 Is anyone else having trouble believing that it's November? This final season of The Middle is going by way too fast in my opinion. I was a little worried before I watched this episode because the Halloween episode was so great, and I didn't want to be disappointed. Luckily "Role of a Lifetime" had some great moments.

At the beginning of this episode, we learn a few things about each of the Hecks. Axl is creating a new drink by mixing wine and beer: "Bwine". He thinks that bwine will be very successful and is his ticket to being rich and successful. Brick is concerned about Cindy because she's ditched her hat. He believes that she's moving on, and he's jealous. He decides that he's going to play the field and lets everyone at school know he's available. I loved that he passed out resumes at school. Somehow I don't think he's going to be getting another girlfriend anytime soon.

Mike and Frankie receive a nice anniversary card in the mail from Nancy Donahue and are reminded that it's their silver anniversary. Mike can't believe it's been 25 years! He knows he has to plan something nice for their anniversary so he puts Sue in charge of dinner, gifts, and flowers. So basically everything. Sue asks Axl and Brick for help, but they have no suggestions. I did love their reaction to their parents silver anniversary.

"Wow they're old." - Axl
"I know, right? This could be one of their last ones so we've gotta make it good." - Sue


I also think it's funny that Sue's definition of a nice restaurant is somewhere that has ketchup on the table instead of ketchup packets. Sue's annoyed that her brothers don't want to help so she calls a family meeting to complain about having to do everything. Frankie tells her that everyone has roles in the family. She's the cheerleader. Nothing would get done without her. Mike disagrees and points out that he's the reason why they have hot showers. He also is the buffer between the kids and Frankie. He talked her out of making everyone wear ugly Christmas sweaters for this year's family photo.
Axl chimes in and states that his role is to be awesome. Brick says that his role is nothing. He asks for nothing and that should be appreciated. Sue is fed up with everything and tells the family that she's done. She won't be planning Frankie's anniversary for him. Mike thinks she's joking, but she's not. So Mike asks Frankie how important this is to her. Turns out, it's pretty important. The two start fighting again because he doesn't want to plan something that's just going to disappoint her. He also thinks Frankie doesn't appreciate him so he unplugs all of her devices and says he's just not going to do things anymore.
Sue calls an emergency meeting because of Mike and Frankie's fighting. Axl refuses to help so then he and Sue get into a fight. Axl changes the name on his "Bwine" to "Hex" so the family can't ride on the coat tails of his success. Frankie tells Axl that no one is going to buy that crap.
Then Brick enters with a French Horn and wants attention. He's joined orchestra and has a concert next week. He expects both of his parents to come. I about lost it when Brick starts playing his French Horn with Sue screaming at Axl and eating the brownie. Frankie finally steps in and gets the kids to stop. But then she insults Mike and the two start fighting again and imitating each other. The fighting finally stops when Frankie learns her mom is in the hospital.
Frankie's mom had a dizzy spell and the Hecks hang out at the hospital while tests are being done. The family comes together at the hospital: Mike plugs in Frankie's phone and Sue offers to help. Axl brings the family jello. Frankie apologizes to Brick for not knowing about orchestra, but he says he's quitting. Seeking attention is exhausting, but Axl makes it look easy. I loved that line. He also admits that breaking up with Cindy may have been a mistake. At the end, Axl gives Mike and Frankie "Bwine" in the paper cups and they toast to their anniversary.
"The truth is a family, when it's working right, is a lot like an orchestra. Everyone plays a certain part, but when it all comes together it makes a beautiful symphony." - Frankie
This episode reminded me of some of the early days of The Middle where the Hecks were always fighting. While I'm glad that everyone gets along better now, they're still family and they're still going to have arguments. At the end, everyone was able to come together when it really mattered. I also liked that most of the episode was at their house and everyone was under the same roof. That doesn't happen very often any more since Axl and Sue went to college so it was a nice change of pace.
What did you think of "Role of a Lifetime?" Did you think there was too much fighting? Did you like that everyone was at home? Let me know in the comments section!