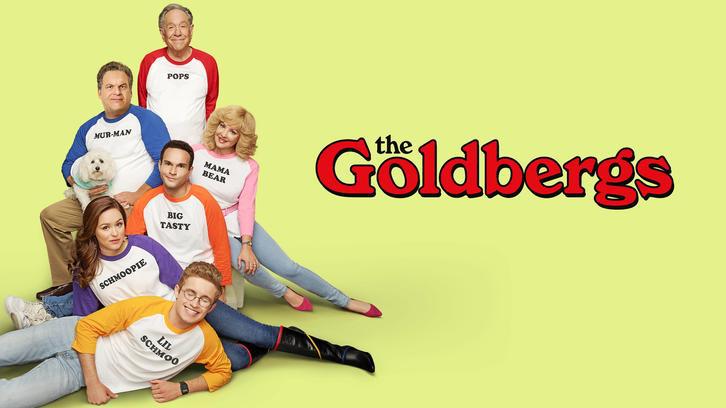 The Goldbergs are without a doubt my favourite TV family. They're chaotic, full of heart, fight like cat and dog, make me cry tears of laughter, and come accompanied by a superb soundtrack. A Wall Street Thanksgiving feels like the perfect episode to start off my reviews of the show, because it encompasses everything that I love, and in some very minor parts, hate about the show overall.


Starting off with things that worked: It is really great having Erica home. I don't care if it's only for one episode, I still love it. Having Erica away from the Goldberg family? It's not working for me. I get she had to graduate High School given it's a storyline the show has focussed on for over a season, with both her and Lainey. But Erica to an extent is the calm head amongst all the madness. When she's not mixed in with the family storylines, or even worse has 5 minutes or less screen time in an episode? It just doesn't flow as well.
Having Erica back meant we had Erica/Geoff back on our screens and I loved every minute of it. Geoff was adorable, first when he was preparing for Erica to break up with him, agreeing with everything she said to save himself from getting broken up with, and then his mini freakout when Erica suggested they fake break-up, so she could get money out of Beverly. Given he's been madly in love with Erica since forever, Geoff already having their future mapped out was really sweet. Even sweeter? Offering money to help clear Erica's debts because he really would do anything for her, which led to Erica deciding to stand on her own two feet and clear the debts herself. We also got some really nice scenes between Erica & Beverly. Popping up out of nowhere to hug her eldest after such a long time away was a really nice moment. It also totally reminded me of the welcome I received from my own mother on my first weekend back from University. Beverly refusing to pay off Erica's debts actually showed rare progression of characters for a comedy show. As the kids are growing up, they're learning new things about the world including boundaries and their places, which is something Beverly's having to learn as well. The Erica of season 1 would've been crying to her parents the second she got through the door over the debts she procured, and Beverly/Murray of season 1 would've been handing over the chequebook. But Erica is more mature now and her parents know they can't solve all their kids problems anymore, because if they do, they'll never learn.
However, I do have one major issue with the debt storyline. I know this is a comedy and a suspension of reality is required to a certain extent watching television. That being said being expected to believe Erica would be able to commit credit card & identity theft, by placing her thumb over Beverly's passport? Sorry, but that would never in a billion years happen and I actually felt insulted.
There isn't much to say about Adam and the E.T game given it didn't get much screen time, and if it hadn't eventually been tied into Barry/Marvin/Eventually Erica's get rich quick scheme, I would've been wondering what the actual point of that storyline was. Which brings me to another point; Adam not being the main storyline of the episode is always weird. Thankfully it doesn't happen a lot, but when it does, it's just a bit ill-fitting. The best Goldberg episodes for me are when Adam has the main storyline with Pops/Beverly/Murray featuring, and Erica has the second story with Barry and their group of friends mixing. Beverly being relegated to the background/supporting role is also always strange, because I'm so used to her being the great smother she was destined to be.
The Goldbergs is back next week with Murray teaching Adam how to drive, and Barry dropping in on Erica at College. Sounds like a bundle of fun!