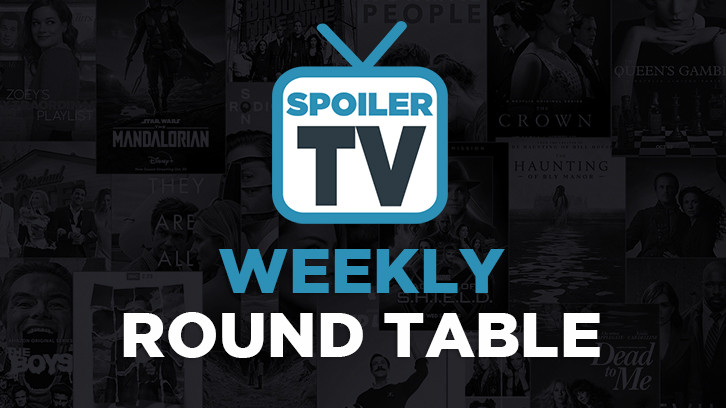 Hello guys! Time for another Weekly Round Table. This week I'm(MK) joined by Samantha (SB) and Diana (DP) to talk a bit about the events of last week. Sit back enjoy the read and don't forget to share your thoughts in the comment section down below.

1. BBC decided to pull their upcoming show "Ordeal by Innocence" until investigations about Ed Westwick's rape allegations were conducted. Is that the right move to handle this type of situation or did they acted to fast?


SB:
I think it's absolutely the right thing to do. Some may say they're acting too fast, but you can't have someone continuing to film or press ahead with airing while these types of allegations are being investigated.
DP:
Just like what happened with Netflix and Kevin Spacey, BBC did the right thing. Maybe they acted too fast, but you can't have someone working with you in this situation. Also, the police are investigating so it's not the right time to promote a show.
MK:
It is a great move on BBC's side, especially considering they are at direct lost with the show being their Xmas highlight this season. I feel sorry for the cast and creators but this is the right move for now.
2. Dynasty got a full season order! And while the lucrative Netflix is holding the show on air, should CW considering moving the show to Fridays to give another mid-season entry the solid lead in and midweek slot?
SB:
I think I almost died from shock when I saw the Dynasty headline. Clearly, The CW wants to be the first network to get 0.00 ratings. Riverdale was able to take advantage of the Netflix deal & double its viewership over the summer, I doubt lightning will strike twice for Dynasty. At some point, it will probably be moved to Friday to die a slow death & let other shows prosper.
DP:
Rating for Dynasty are stable right now and it can't do better. I think moving into another night would just cause damage to the show - which is also broadcasted in Italy through Netflix, I can assure that since I'm Italian lol. At least, CW should consider putting a better lead-in if they want to persuade people to watch the show.
MK:
I had this idea of Dynasty going on the move cause it now has a solid fanbase and the Friday excuse could be another good entry for CW's renewal bingo. Overall Dynasty is wasting the lead solid lead in atm and Life Sentence, for example, could profit from the slot. So why not the show is renewed either way I guess.
3. Fall season is in full swing and as stories shape up new guest star roles were announced. Who do you look forward to pop up in your favorite show?
SB:
I'm intrigued by Laurie Metcalf guesting in Supergirl as Winn's mum. He isn't my favorite character by any means, but his centric episode in season 1 was quite interesting & I hope the episode will serve to give him more depth that has sorely been lacking. Not really a notable guest star since she's appeared before, but I am looking forward to Pamela Reed returning to NCIS: Los Angeles in the 200th episode as Deeks mum as she's such a fun character.
DP:
I'm not looking forward to any guest in particular right now. Just waiting for new shows to debut next year!
MK:
I can't wait to see Bethany Joy Lenz on Grey's Anatomy. Seems like Krita wrote this role specifically for Bethany as they are friends BTS. So I expect a juicy arc for her, maybe as Paul's new girlfriend or so. Quite intrigued so can't wait for that one. Also, can't wait to see Eric Winter in The Good Doctor. Really dig him as an actor so I hope he does some nice damage.
That is the wrap guys. Feel free to share your thoughts in the comment section and don't forget to stop by next week.