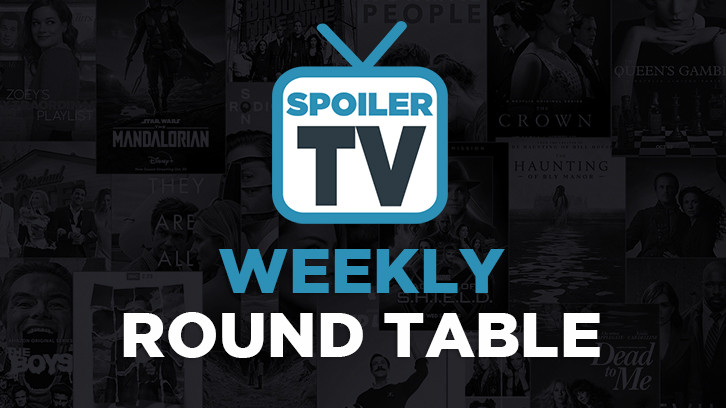 Hello everyone and welcome to this slightly belated Weekly Round Table. We have some interesting topic prepped for you and I hope you enjoy our small take on the TV news from the previous week. Joining me(MK) this week at the RT are Samantha (SB), Milo (MI), Lisa (LM) and Laura B (DL). So sit back enjoy the read and tell us what your thoughts are.

1. A Deathstroke series? During this weekends MCM event in London Manu Bennett revealed that there were some initial talks about a possible Deathstroke series. Thoughts? And which already established CW DCTV character would you want to see recur.


SB:
I feel like Manu Bennett was tremendously wasted on Arrow, with the character regression that Slade suffered so this could have a lot of potentials. I completely get what they mean in The CW not being the appropriate place to air such a show, and if they could take Katie Cassidy along with them so I can break away from Arrow for good? I'd be so happy. Marc being involved leaves me a little wary though since he has made quite the mess of Arrow.
MI:
Manu Bennett is one of the best actors that the CW have so it's great to see him getting a more prominent role, especially as Deathstroke. Would make for a real change of pace from the rest of the CW lineup. As for guest stars, I'd love Stephen Amell to show up occasionally, even if he's obviously busy with Arrow - those characters just work so well together.
MK:
This could be a really great thing. I love Manu Bennet, he really brought something special to the role. Still, not the biggest fan of Marc Guggenheim. I understand Marc`s desire to stick to the franchise and keep his job (hey Julie Plec) but they really have to deliver a worthy story to the iconic character Deathstroke is. Out of the Arrowverse would be nice to see Nyssa, Talia and Black Siren on the male side really no one alive is coming close to his greatness
LM:
I would LOVE to see a Deathstroke series starring Manu Bennett. Loved him in the Arrow finale and even the tiny scene in this season's premiere. I'd love to see Stephen Amell dropping in. It could be fun to have Paul Blackthorne too - just two really good actors there! Or possibly save Brandon Routh from Legends...
2. Ryan Murphy did it again. The producer made another groundbreaking move by hiring an unprecedented amount of transgender actors for his new series Pose. What are your thought on this project and the casting announcement?
SB:
I rarely ever watch Ryan Murphy shows because they don't tend to be my thing, but this is some stellar casting. Acting wise Tatiana Maslany has more than proven herself with Orphan Black. I long for the day hiring transgender actors, let alone a historically unprecedented amount is considered the norm, instead of headline news. Again his shows aren't really my thing, but Ryan does have an ok-ish track record with his shows castings. If this could just be reflected in better quality storylines instead of being stereotypical, relegating to the background or being the punchline of jokes, I'd be happy.
MI:
I'm really excited for Pose - I put my name down for the reviewer slot as soon as it was initially announced. The cast just looks incredible and Tatiana Maslany is just a superb actress and the fact that they've hired a record amount of transgender actors hopefully means that this show will give a unique, diverse experience that matches Murphy's best work.
DL:
I think Pose has a great cast who have proven they're the right actors and actresses for the subject matter, but more personally, I have yet to really like a Ryan Murphy project and so I can't say I am very excited about it. That's not to say that I won't try it out or give it a chance. It's something I want to like.
3. Disney Channel´s first coming out story. Andi Mack`s season 2 premiere contained a beautifully handled the coming out story. How important do you think was doing this story in general and on the Disney Channel?
SB:
Considering I have seen people complaining and accusing Disney of backing down to the politically correct society? This is massive news. This is the same Disney that featured a gay couple on 'Good Luck Charlie' a few years ago but if I'm remembering correctly, there wasn't a great deal of intimacy & the dialogue regarding their relationship was sparse, and even then? People complained about their petitions & accusations of brainwashing. Again I wish this didn't have to be headline news & it does seriously sadden me that in the year 2017, there is still so much bigotry in the world. People think 'exposing' kids to TV shows is what turns them gay, which is completely ridiculous. So many people are still afraid of coming out to their family + friends because of the consequences they'll suffer for something that they can't control. More shows need to feature LGBT characters in a positive way. More shows need positive coming out stories. It won't stop the bigots obviously, but it gives the next generation something positive to hold onto & assurance that they're not alone.
MK:
I don`t watch Andi Mack but watched the scene in question and it was really well handled. Beautiful way of coming out. The petitions and stuff can`t shove it you know where you can`t run from the world outside and play hide and seek with it. I acknowledge the big move the Disney channel made as a family oriented network.
4. Fox started its midseason campaign this week with promotion for their 3 midseason entries. Was it premature or did the network do a smart move exploiting the World Series as promotion ground?
SB:
Considering this is the last week of October/first week of November, I'm actually surprised more Networks haven't begun the midseason promoting. There can be no room for complacency from Networks considering the ratings that have greeted us this fall, and with more shows than ever available on streaming/cable/network TV. Using the World Series to promote the shows was an even smarter move. More people than usual are watching the channel, so all it takes is a solid advert to grab attention and we're firing!
MK:
I think it is a smart move, just the promos weren`t convincing enough. They had to be edgier and more powerful, leaving a lasting impression. 9-1-1 was the strongest out of the bunch as it was funny and edgy but still the others were underwhelming.
DL:
I think it was a smart move. Not all viewers are TV-enthusiasts and follow projects like some of us do, so early advertising can only help to try and launch those mid-season shows.
LM:
Absolutely the right move to use the World Series to promote mid-season shows!