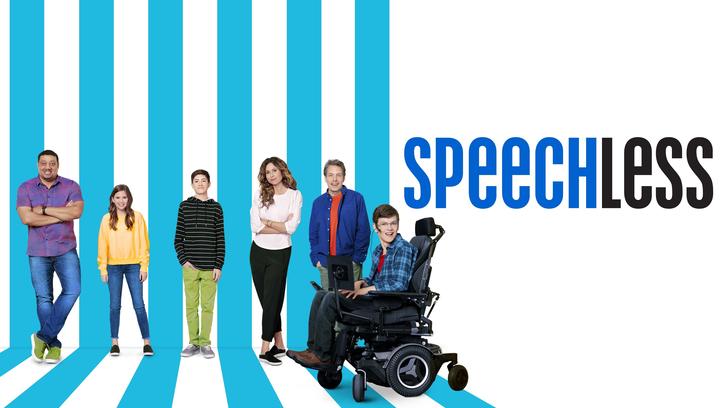 Sorry for the delays in reviews but was bit busy and in a creative rut but the reviews come just right in time for you to remember why to tune into a new episode of Speechless this Wednesday at 8:30pm on ABC. Episode 5 was written by Matt Roller and directed by Christine Gernon, while S-h-Shipping was penned by Niki Schwartz-Wright and directed by Jay Chandrasekhar.

- N-i-Nightmares on D-i-Dimeo S-Street -

Speechless my favorite Halloween season of the year. One hilarious outing that was successful to combine great throwbacks, hilarious executions, and tremendous performances. Even the opening gag of this episode was one of my favorites the show has done so far. The kids searching for candy, Dylan finding Jimmy's SVU audition tape (and him caring about it) and Kenneth's first Michael Jackson costume were all great moments that brought laughs to my soul.

I was surprised by the choice of how they structured this episode. The bad candy and hallucinations worked really well and just when we got used to them with the first two stories they made a great change to the third Kenneth centric story.


JJ's hallucination was my favorite. JJ and the wigi board was a hilarious story. I enjoy it every time when they give Micah space and moments to work more with his face. He did such a great job in this episode with his expressions was very good in showing the difference between JJ and Demon possessed JJ. All the additions to the story, like the grim voice, the inclusion of Dr. Miller and Mr. Powers was great as well, JJ controlling Kenneth's moves and the team destroying the well accessible school were all great puns. It all was so ridiculous and made no sense but the cast delivered and made it such an enjoyable ride.
Dylan's Freaky Friday hallucination was another winner but slightly lost to JJ's story at least in my opinion.
Ray in Dylan's body: How do you read?
Dylan in Ray's body: I always order the hamburger
This story wouldn't have worked so well with any other two characters. Kyla and Mason have so much chemistry and play off each other so well. The two of them are really great actors and the writing was so on point for this one. Ray getting comfortable in Dylan's body wasn't a twist I saw coming. I thought the stressing out would go in the other direction. Both Kyla and Mason delivered the lines with so much conviction and all those small details they put on their new respective roles.
Last and least there was the Escape room story. And while this wasn't a bad story it lacked some overall edge and felt rushed. Also, I was annoyed by how draggy they made Maya look. Yes, she is always late and doesn't get the concept of following rules but this way it just disrupted the flow of the episode and made those final moments insufferable.
Major shout out to Cedric Yarbrough he nailed every single MJ costume and I really hope we see more of his MJ side it really makes me lol a lot.
- S-h-Shipping -
And while the Halloween episode was my favorite of the season, episode 6 was a really good follow up, giving each kid a strong separate story. The amount of shame I felt during Dr. Miller's opening gag can't be measured and I won't be able to ever unsee it.
I really loved JJ's story. The topic of throwing disabled people together only based on the fact they are together is annoying to say at least. I enjoyed how the show handled this topic. Shipping is a really universal issue and something that was very well exploited through this story. Nora was a slight pain in the behind but I appreciate that they've cast Jessy Yates, another person with Cerebral Palsy and I'm sure she gave great insight on this topic.
JJ getting pushed over the edge by the girl he liked felt really natural. JJ is a good guy and loves the school and his friends and he wouldn't ever hurt them if they didn't hurt him back
The resolution to this story was hilarious as Lafayette decided to vote for the White couple and gave Nora some hope.
And while JJ had issues finding a girl, Ray had issues relaxing with Taylor. The two of them overly stressing about their future was hilarious and featured great puns as Maya swiftly got involved. The interaction between the two couples was great cause of their polar opposite inter couple interactions. Sedona and Mason play of each other very well and you can feel that Ray and Taylor share a sincere bond between each other. I enjoyed the writers staying true to Ray and make him over relax and push it over the edge.
I loved that the two of them thought about their disabled brothers while planning their future and lmao when they tried to hook Kenneth and Dylan up.
The serious turn the Maya-Jimmy story took caught me by surprise but the execution was perfect. John and Minnie really share a unique intimacy and the writing just followed it very well. Going back to the moment they found out JJ had CP was handled perfectly and showed how close they are indeed.
The writers ruining Prank season for Dylan was a divine move. Was it a little bit creepy to make her hang out with some old dudes? A little bit. But it was worth it, a BIG YES. The Vikings turning the page on Dylan was a hilarious move and Kyla made me laugh so hard with her sincere reaction to getting pranked for once. You can't fake that rush.
Dylan delivered the best lines of the episode for sure
Maya: What does that sign means?
Dylan: I think it means what it says. I don't respect you or your rules and wanna make you a Grandmother.
Dom: Come on, keep it clean.
Dylan: That isn't what your mom said.
So that was it from me. Hope you've enjoyed the read, as always feel free to share your thoughts in the comment section down below. Also don't forget to tune into a new episode of Speechless airing this Wednesday at 8:30PM on ABC.