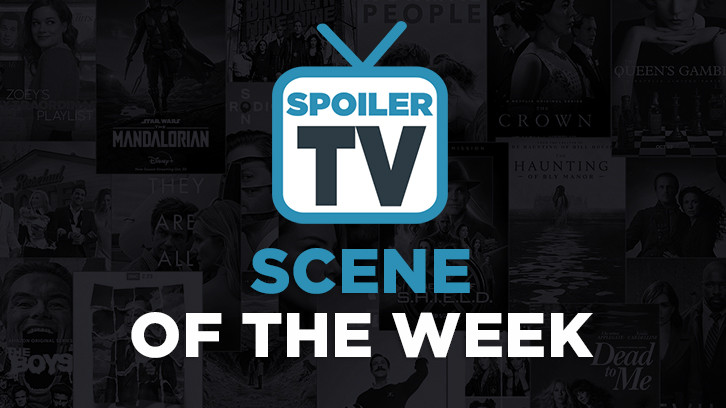 A weekly feature in which we're trying to find the most compelling, best acted, written, directed and just generally great, memorable scenes that we've seen in past seven days on TV.

ARROW, "Thanksgiving", November 23, 2017, Actors: Stephen Amell, David Ramsey
The Scene: Oliver confronts Diggle about the tremor
Marko: Holy intensity. We rarely saw Oliver and Diggle go head to head but this fight was definitely something special. So much tension, so much resentment and so much truth. Loved every single bit of it.

BROOKLYN NINE-NINE, "Two Turkeys", November 21, 2017, Actors: Andre Braugher, Marc Evan Jackson and more, The Scenes: The revelation that Kevin threw out the pie & Holt interrogates Terry, Rosa and Boyle
Samantha: Kevin is back! Finally! OK, it's only a really small guest appearance, but I will take it because this scene was absolutely hilarious. The first sign of Kevin's deceit being his claim the pie was better than a plain scone. The revelation Kevin gently puts trash into the bin, and Terry's very confused face. Then Holt asking Kevin why he did it and Kevin blurting out the pie is disgusting which Holt wasn't expecting at all. And Kevin trying to protect Holt, because he likes their annual trip driving in silence? Then of course, Holt suggesting they take the drive anyway, and Kevin's face at the idea of a trip with no purpose? Holt's reaction to Kevin's reaction? All I can think of is that epic 'Bone' scene, because you so know it is going down when they get home. But honestly, Kevin is the best. Marc Evan Jackson doesn't appear on the show anywhere near as much he should, but when he is here? He completely and utterly brings it. Also picked by Laura
Saloni: Holt interrogates Terry, Rosa and Boyle because he suspects they stole his favorite pie. What a hilarious scene, the writing was brilliant, and Andre Braugher, as always, nailed his dialogue delivery.

GODLESS, "An Incident at Creede", November 22, 2017, Actors: Jack O'Connell, Jeff Daniels
The Scene: Roy Goode betrays Frank Griffin
Milo: An excellent flashback used the train robbery as a way for the audience to be properly introduced to Goode's character, putting his journey in motion and standing up to the villainous Frank. Who doesn't love a good train robbery scene?

GOOD BEHAVIOR, "It's No Fun If It's Easy", November 19, 2017, Actors: Holland Taylor and more
The Scene: The introduction of Alice
Luana: Holland Taylor was amazing in every scene, and finding out where all of Letty's charms come from, was awesome.

LETHAL WEAPON, "Birdwatching", November 21, 2017, Actor: Clayne Crawford
The Scene: Riggs gets lost in the dark
Luana: I loved the ending when he decides to finally talk about his issues, but in this scene in the dark Clayne Crawford killed it, you could feel his confusion and the tension was palpable. Amazing work.

LONGMIRE, "Goodbye is Always Implied", November 17, 2017, Actors: Robert Taylor and more
The Scene: Final Montage
DJRiter: It was a beautifully crafted ending and appropriate farewell to the characters we've come to love in this excellent series finale. Also picked by Darth Locke

NCIS: LOS ANGELES, "This Is What We Do", November 19, 2017, Actors: Nia Long, LL Cool J, The Scene: Mosley reveals she has a son
Samantha: Since Mosley's introduction she's very much been a character hard to take to. Partially because she hasn't been explored really outside of the strict boss everyone hates, and talks about behind her back. This scene gave her a bit of humanization. I really wasn't expecting the revelation she has a son. Should've been obvious from the way she was able to get that little boy to drop his guard, when Kensi and Deeks couldn't, but it wasn't. Sam being the one she revealed this to was sweet, as they, to an extent, have something in common in losing a family member, though granted Sam's loss is permanent. I like the way Sam gently probed enough for Mosley to feel comfortable enough to give more details, but knew when to stop as she grew more emotional. It's definitely not a scene that would've worked with any of the other characters, and I really hope this is something the show further explores because I am really curious to see where this goes.

OUTLANDER, "Heaven and Earth", November 19, 2017, Actors: Caitriona Balfe, Albie Marber
The Scene: Claire finishes sewing up Elias' sack (picked by Darth Locke)

RUNAWAYS, "Reunion", November 21, 2017, Actors: Lyrica Okano, Virginia Gardner, The Scenes: The kids see their parents kill Destiny & Nico and Karolina talk in the bathroom
Justyna: I'm so glad I was able to see the first three episodes of the series this week. The only things I knew about the show before watching are the fact that it's from Marvel and has a big and diverse cast. Not much to go on, but I really enjoyed learning about this new world and the characters with fresh eyes. There were a number of memorable interactions and scenes that I could highlight but I wanted to go with the first shocking ending. As the viewers, we are led to believe that the parents are just regular people with occasional secrets. More importantly they seem like good people. And then, everyone who is not familiar with the comics and the premise of the show gets a shocking glimpse into the dark side of their lives. The kids confronted with that discovery have their own takes, a different theories and ideas that would exonerate the people they love, but with each moment they're getting closer and closer to the painful truth. It's a very interesting and engaging story and the ending scene makes the premiere absolutely memorable. Kudos to cast & crew!
Samantha: Nico and Karolina talk in the bathroom. I am so glad I can finally choose this scene. I've been waiting ever so patiently for months, because it's so adorable and just warms my heart. At first they still both got that front on, but then Karolina tells Nico she doesn't need all that makeup on to hide who she is and Nico of course points out Karolina hides behind her smile. It is brutal honesty, and I just love the first time both of them let their guards down is with each other.

SUPERGIRL, "Wake Up", November 20, 2017, Actors: Melissa Benoist, Chris Wood, The Scenes: Kara admits she doesn't sleep & Kara and Mon-El talk on the balcony
DJRiter: Kara's "I don't sleep" scene. So much about this scene helped make this moment so heartbreaking. Kara's pleas to Mon-El to explain his actions and her obvious torment brought tears to my eyes. Melissa Benoist's performance was amazing, she made Kara's anguish feel palpable. This wasn't the reunion she was expecting and all the hopes she'd allowed herself to have when he was first found were dashed. The tremor in her voice telling him "I don't sleep" because she kept thinking about him dead and disappearing in the black hole, and add to that the soulful score from a single piano added to the heart-rending tone of the scene. Then Kara's final declaration of "Shame on me for having a human heart," just the continuation of this season's theme of her deciding she's best off being just Supergirl because being human just hurts too much sometimes.
Luana: Kara and Mon-El talk on the balcony. This episode was heartbreaking and Melissa Benoist killed it, but it was especially bittersweet seeing these two on screen laughing together. Both Melissa and Chris were amazing.

THE FLASH, "Therefore I Am", November 21, 2017, Actors: Grant Gustin, Neil Sandilands, The Scene: The confrontation between Barry and DeVoe
Justyna: The entire story told in the episode, of how DeVoe became the Thinker, was such a fascinating one to see. The fact that he doesn't come across as just another villain, gives more depth to this character than some of the foes we've had before. I actually loved that little moment when Eobard Thawne meets DeVoe because there's a subtle similarity between them. The villain who doesn't simply fight in the name of revenge or power but also has a more personal and important goal to achieve is far more interesting to watch. Knowing who he was, knowing his desire, his hope to gain knowledge to save the world, the fact that he has a loved one by his side, it all makes quite a difference when it comes to understanding the Thinker and his motives. Though he was following his plan before and didn't reveal himself to the Team Flash initially, when the time comes, he speaks to Barry openly, with no fear or hesitation. He's ready for every scenario and patiently waits for the next opportunity. The honest exchange between DeVoe and Barry was definitely a highlight of the hour for me. And Neil Sandilands did a fantastic job throughout the episode. Kudos!

THE GIFTED, "threat of eXtinction", November 20, 2017, Actors: Stephen Moyer, Raymond J. Barry, Blair Redford and more, The Scene: Reed's father sacrifices himself to save his son
Milo: This was a very backstory heavy episode that explored Reed's character and gave his character some great development. Learning that his father, Otto was actually a mutant all along and Reed's illness when he was a childhood was actually Otto's attempt at stopping him from having mutant powers created a foreboding presence on his children's future especially when Otto came to the conclusion that all that he'd done was essentially for nothing. The sacrifice added further emotional weight to the character as Raymond J. Barry was able to make the most out of his performance. Also picked by Darth Locke

THE MIDDLE, "Eyes Wide Open", November 21, 2017, Actors: Neil Flynn, Eden Sher, The Scene: Mike visits Sue when she can't sleep
Saloni: Mike visits Sue when he learns she hasn't slept in 3 days after watching Silence of the Lambs and narrates his old school quarry stories, which always used to put Sue to sleep as a child. It was such a beautiful scene and also a staunch reminder of the fact that we're losing this gem of a show.
Klutzy girl: Mike visits Sue when she can't sleep after watching Silence of The Lambs. Their relationship is one of my favorite aspects, and I'm going to miss it when the show ends. I love that he knew exactly what to do when she couldn't sleep and that it worked.

THE PUNISHER, "Virtue of the Vicious", November 17, 2017, Actors: Jon Bernthal, Daniel Webber, Deborah Ann Woll, The Scene: Lewis locks himself in the freezer and detonates the bomb
Justyna: I had at least a dozen scenes from the second half of the season that I wanted to highlight in the article. The hostage exhange and family reunion, Frank vs. Lewis or Rawlins, or Billy, the memory of Frank's last morning with his wife, his choice to stay alive and keep fighting and many more. In the end I chose the ending of Lewis' story on the show. The way Frank reacted to Lewis threatening Karen on the radio, speaks volumes about their relationship. Frank doesn't have a lot of people in his life that he can trust. He actually doesn't have many people who know him and understand him for who he truly is. In the short time they've spent together, Karen became a part of Frank's family, someone he feels responsible for and he will not let anyone to cause her harm. He admits that to Micro in another great scene. In this moment, Frank comes to Karen's rescue at the hotel, he also tries to get through to Lewis but is not able to. Frank and Karen manage to work together and she gets away from danger while Lewis locks himself in the freezer. His story on the show is many things, but in this particular moment, it's truly sad. The echo of his words, the verses of "The Young British Soldier" poem, leave quite a lasting impression on me. Daniel Webber, who played Lewis on the series, did a fantastic job here. Lewis' spiral, the breakdown, every little thing that brought him to this choice, could have been so different... It feels like a lesson that while not everyone can be saved, we can still learn from each failure and help those in need. Frank is a fighter but for most of the series, it also seems like he's falling apart, barely holding on to life, to his struggle. The calm after a storm, the quiet, can break people too. The Punisher might look like a brutal and bloody action show, but it's far more than that. All the different parts that make this story great are exactly why I would recommend people to see it. I didn't quite know what to expect but ended up enjoying the series far more than I imagined. Certainly one of the best of Netflix Marvel shows for me. Kudos to cast & crew for their great work!

THIS IS US, "Number Two", November 21, 2017, Actors: Mandy Moore, Chrissy Metz, The Scenes: Kate breaks down in Rebecca's arms & Rebecca plays Kate's audition tape
Saloni: Kate breaks down in Rebecca's arms. These two have a complex but ultimately loving relationship. I loved seeing the warm side of it because who better than her mother to help her through the loss of her unborn baby. Mandy Moore and Chrissy Metz were a delight.
Marko: Rebecca plays Kate's audition tape. It was such an emotional heavy episode. The montage combined with Hannah Zeile's performance of Summertime was just soo heavy on my heart.
Klutzy girl: Rebecca shows up at Kate's apartment to comfort her after the miscarriage. Their relationship's come a long way since the beginning, and I loved Kate just collapsing in her mother's arms. They've both been through similar experiences so I'm glad Kate got the support she needed.