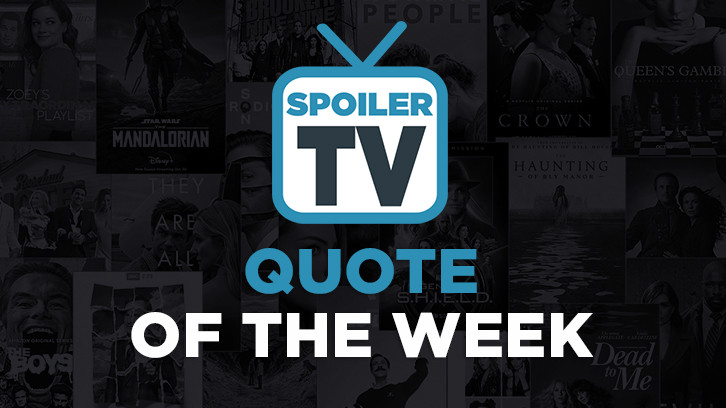 A weekly feature highlighting the best quotes on TV as picked by the Spoiler TV team. We'd love to hear your picks too so please sound off in the comments below.



American Horror Story:Cult -
1. Bebe: "The women of the world are waiting for you, legs spread, on their backs. Impregnate them! Help them give birth to their rage!"
2. Bebe: "We're sitting on the biggest bomb the universe has ever seen. Do you know what it is, Mr. Anderson? Female rage. The patriarchy has dammed it up for millennia. And Donald J. Trump is the first world leader to start hammering away at that dam. With every tweet, every eye roll, every pussy grab, he is slowly releasing the fury."
3. Winter: "Stroking my brother's paranoia is going to come back to bite you in the ass." (DarkUFO)
Brooklyn Nine-Nine -
1. Jake: "What do you say, bud? Will you be my BM? - Boyle: Yes! Yes, a million times, yes! In your face, Terry!"
Terry: "What? I'm holding a sparkler for you.
I helped organize a lot of this."
Boyle: "Well, you can stick that sparkler up your butt.
I'm the best man! "
2. Holt: "I was at rock bottom. I feel so embarrassed." T
erry: "I understand. I've been there. I once ate a box of uncooked rice in a movie theater."
Jake: "Wow, really?"
Terry: "Jake!"
Jake: "I'm sorry."
Holt: "I owe you two a tremendous debt of gratitude. I was overwhelmed by my addiction and you were there for me." (Samantha Benjamin)
How to Get Away with Murder -
1. Asher: "I would kill to build a real life with you, but I'm not OK being anyone's second choice." (Jimmy Ryan)
Lucifer -
1. Chole: "What is it?"
Lucifer: "It's the bullet from when you shot me. Remember in the warehouse, early in our partnership?"
Chole: "Yeah, I remember."
Lucifer: "Well, I thought since I will never likely penetrate you, I'd commemorate the time one you penetrated me." (Prpleight)
Mr. Robot -
1. Elliot: "Angela, is there something you wanna tell me?" (Jimmy Ryan)
NCIS: Los Angeles -
1. Deeks: "Have I, uh have I told you how much I missed you?"
Whiting: "No."
Deeks: "This is why."
2. Camille: "On the record, I can assure you we would never harbor a criminal in this office.
Off the record, is it is it Karen in HR?"
Callen: "Who's Karen?"
Camille: "Someone who can't seem to keep her hands off of other human's resources, if you know what I mean." (Samantha Benjamin)
Riverdale -
1. Veronica: "Come on, Betty, don't be such a wallflower! You're boyfriendless for a night! Have some fun!"
Betty: "Like you, you mean? I was gonna say you're making a fool of yourself.
Acting like some privileged, shallow, airhead party girl."
Veronica: "Excuse me?"
Betty: "Yeah. I mean, it's all recycled banter and plunging necklines and throwing shade to distract us all from the fact that there's really nothing going on underneath-"
Archie: "Betty, what the hell are you saying?"
Betty: "What we're all thinking. That the only reason Veronica hangs out with us is circumstance.
She's not our friend. The minute someone from her trashy past shows up, she starts using us for drugs or music or distraction, and why should we be surprised? Like father, like daughter, right?"
Veronica: "You better shut it down, Betty."
Betty: "Or what, Veronica? You'll have your dad put a hit on me? Or maybe you'll do it yourself, because you may have fooled all of them, but not me.
Try to reform all you want, but you're a bad person, Veronica. You'll always be a bad person."
2. Cheryl: "You can put your cape away, Archie.
The Pussycats already saved me."
3.
Betty: "Wasn't sure if you were going to call again."
Black Hood: "There's one piece of unfinished business."
Betty: "What's that?"
Black Hood: "The fact that you've been telling Archie about our chats. Betty, I've been watching you."
Betty: "You never said I couldn't tell Archie."
Black Hood: "You broke the rules, Betty, and now your sister will pay."
Betty: "Please don't hurt her."
Black Hood: "Then give me another name. Right now."
Betty: "What?"
Black Hood: "If you want to save your sister, give me another name. The name of someone guilty. Come on, Betty. One little name."
Betty: "I won't, I can't do that."
Black Hood: "Then I'll kill your sister.
And your mother and your father, and everyone you hold dear."
Betty: "Nick St. Clair. He's staying at the Five Seasons."
Black Hood: "I told you we were the same." (Samantha Benjamin)
Star Wars: Rebels -
1. Zeb: "When it get strange like this, it's a good thing." Ryder: "How have you people stayed alive so long?" (Milo M-J)
This Is Us -
1. Randall: "Sometimes I can't help but wonder if anyone's actually looking out for these kids."
Linda: "You wonder if, Randall, last month we got a girl who had an ear infection when she was an infant. Just a minor little ear infection. Totally treatable, except her birth parents didn't treat it.
They ignored it for six months, and now she's four and she's deaf. Do you know how hard it is to find someone who'll take in a deaf four-year-old? Do you know how many times I have held up a photograph of her and shown prospective foster parents, and I've watched their faces light up? And then I watched those smiles disappear when I tell them she's deaf. Do you know how to say, 'Sorry, sweetie, we still haven't found a family for you,' in sign language? Because I do.
So, please don't tell me you wonder if anyone's out there looking out for these kids." (Kristie Bihn)